Genius Tips For Keeping Your Eye Makeup From Smudging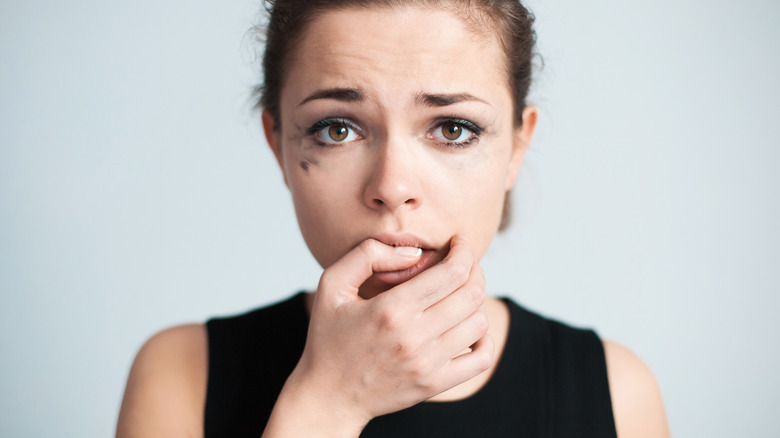 Golubovy/Shutterstock
There is nothing worse than applying killer eye makeup only to have it smudge before you can even step out the door. There can be several reasons why your eye makeup is smudging. According to Women's Health, the biggest mistake made when applying eye makeup is using too much product at once. Artistry's global makeup artist Rick DiCecca told the publication, "When applying eye shadow to your eyes, it's best to apply a little product at a time. It's easier to add, yet not so easy to subtract."
L'Oreal Paris also has some answers for why your makeup smudges. It could be that you forgot to add some makeup primer, your eyeliner isn't waterproof, or you're curling your lashes after putting on eyeliner, causing it to smudge from the eyelash curler.
If you've modified your routine and feel like you are doing everything right but still experience the occasional smudged eye makeup, here are some genius tips to keep your makeup in place.
Priming is the key to success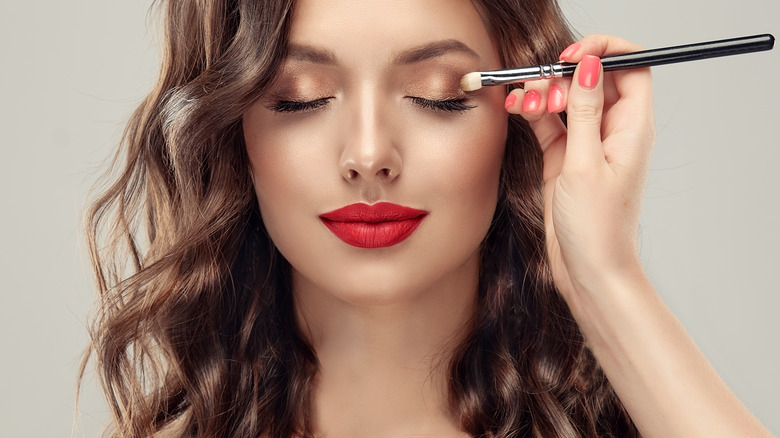 Sofia Zhuravetc/Shutterstock
Pure Wow's Jacqueline Lyons has put together the optimal checklist to keep your makeup in place. These tips are especially helpful if you have oily eyelids. You'll want to start by priming your eyelashes. You've heard of eyelid primer, but have you tried eyelash primer? If you haven't, you're missing out. According to Insider, using a bit of primer before putting on your mascara doesn't just help keep your mascara in place, it also plumps up your lashes, giving you a thicker and fuller look while providing more volume. The key is to apply your mascara shortly after priming your lashes to avoid unwanted clumps.
An eyeshadow primer is also recommended by Pure Wow to help keep your makeup in place. Eyeshadow primers do some heavy lifting when it comes to keeping your makeup from smudging, according to Byrdie. Gone are the days of touching up messy eye makeup when you find the perfect primer for your lids!
Setting will keep it all in place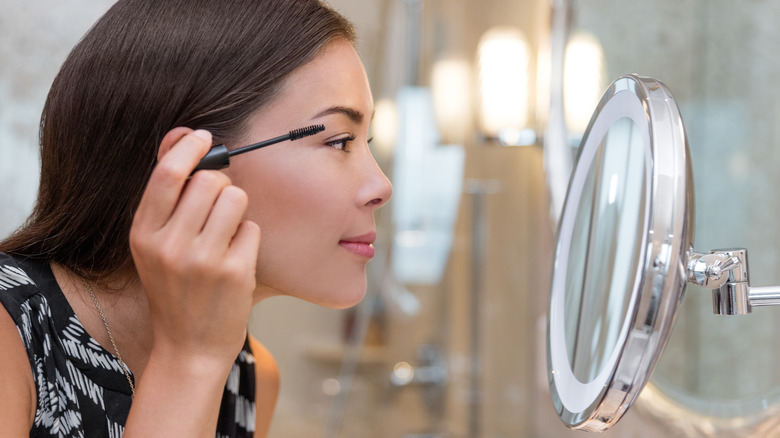 Maridav/Shutterstock
While priming is an important step when it comes to keeping your eye makeup from smudging, setting your makeup is crucial. According to Allure, you can set creamy eye makeup products with powdered shadows of a similar shade. You will still get the creamy look you desire while also making sure you are keeping the product in place. If you are using powder-based shadows, you can set them with a blotting or translucent powder.
If you are really serious about keeping your eye makeup in place, Bustle recommends using a clear sealant. This is something that makeup artists do all the time! These clear liquid sealants provide a barrier around your eye makeup, allowing it to lock in place and even become water-resistant. They recommend using Ben Nye's Liquiset, which can be found online for only $7.00!