Reese Witherspoon Reveals Her Daily Diet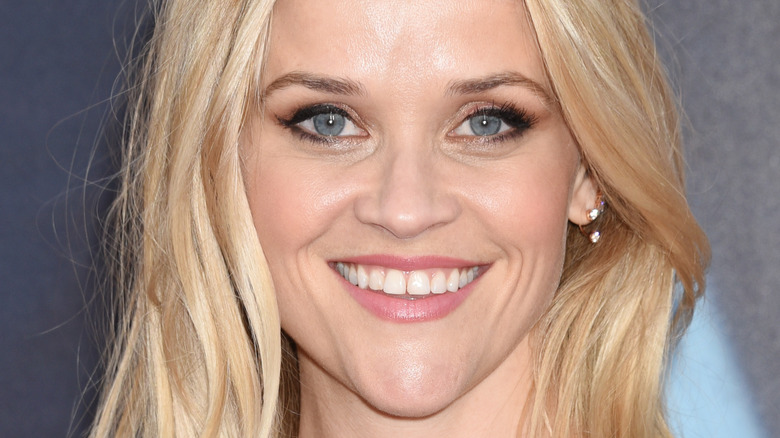 Ga Fullner/Shutterstock
Reese Witherspoon might be 45 years old, but the New Orleans-born actress is frequently said to look just like her 21-year-old daughter, Ava Phillippe (via Page Six). Despite her youthful looks, however, the star isn't one for strict diet plans or fads – instead, she likes to keep to a healthy, yet balanced, diet. "I don't believe in crash dieting or anything like that ... I work out all the time anyway just to stay healthy," she said in 2012 (via Hello!), and almost a decade on, it seems like not much has changed. 
According to Hello!, Witherspoon eats small meals and snacks and usually stays away from alcohol. She also exercises, incorporating six cardio sessions of at least half an hour each into her weekly routine, so all things considered it looks like she lives a pretty healthy lifestyle. Clearly, whatever the star's doing is working, so it begs the question of what she actually eats each day. Here's the answer and spoiler alert, she doesn't have to give up coffee or her favorite Southern food!
Reese usually eats pretty healthy at home
Like many of us, Reese Witherspoon starts her day off with that all-too-familiar caffeine fix. Yup, she gets going with a cup of coffee, and then goes for a healthy green smoothie. Her favorite is Kim Snyder's Glowing Green Smoothie, which is packed full of nutritious ingredients. Spinach, celery, romaine lettuce, pear, apple, banana, and lemon juice come together to make the smoothie, so it's not short on fruit or vegetables (via Hello!).
Fast forward a few hours to lunchtime, and kale is often on the menu for the actress. She often enjoys a kale salad with some lentils or grilled chicken for some protein, as well as kale and lentil soup – a favorite when it's a little colder outside. As for dinner, it's similarly healthy. She'll either decide on some whole-grain pasta or chicken or fish with some fresh veggies (via Hello!). You wouldn't bet against Witherspoon getting her five-a-day, that's for sure. 
She doesn't steer clear of treats
Despite eating healthy day to day, Reese Witherspoon is partial to the occasional treat too. 
As much as she likes grilled chicken, she'll often tap into her Southern roots – not only was she born in New Orleans, but she grew up in Tennessee too (via Insider) – and make some of her favorite hot fried chicken, while she also enjoys Cholula sauce, shrimp and grits. If she's got guests round, she'll often serve up a real Southern feast of fried chicken, biscuits, ribs, applesauce cake, and more. 
However, she also likes to go out with her husband, talent agent Jim Toth, and eat plenty of pasta at their favorite Italian restaurant too (via Hello!). She has a sweet tooth, too. Last Christmas, she shared via Instagram her love of making gingerbread houses as a family, admitting that "we mostly just eat the candy." 
Who needs fad diets when you can eat healthy food and enjoy treats too?