The Best Podcasts For New Moms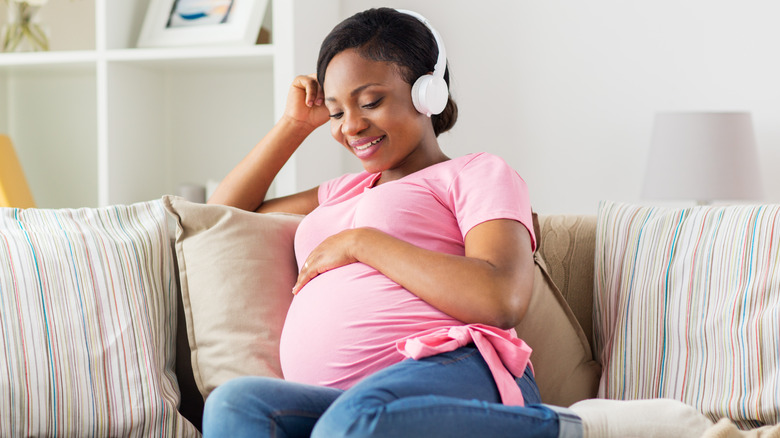 Syda Productions/Shutterstock
Especially for new moms, pregnancy and motherhood can be overwhelming. It's likely that you're nearly overcome with questions and anxiety that leads you to spend hours researching every aspect of motherhood — from breastfeeding to postpartum depression. Rather than sifting through thousands of articles on the internet, perhaps you'd rather enjoy a hands-free learning experience. To date, dozens, if not hundreds, of experienced mothers have crafted podcasts to help other mothers navigate the sometimes treacherous waters of brand- new motherhood. Here are just a few podcasts that are sure to help new mothers take on motherhood with a renewed sense of ease.
One of the most popular podcasts about motherhood is The Longest Shortest Time, hosted by Hillary Frank, who also contributes to the popular podcast "This American Life." According to The Tot, the podcast features interviews with famous mothers like comedy writer Jessi Klein and journalist Katie Couric. Each interview provides listeners with brutally honest insights into motherhood. 
For those new or expecting moms who feel as though they are without a community of other mothers to dispel useful knowledge, the Newbies Podcast provides the village every new mother needs to tackle issues like postpartum mental health, sex after pregnancy, diaper rashes, and more (via Very Well Family).
Nearly every pregnancy and postpartum question has been answered in a podcast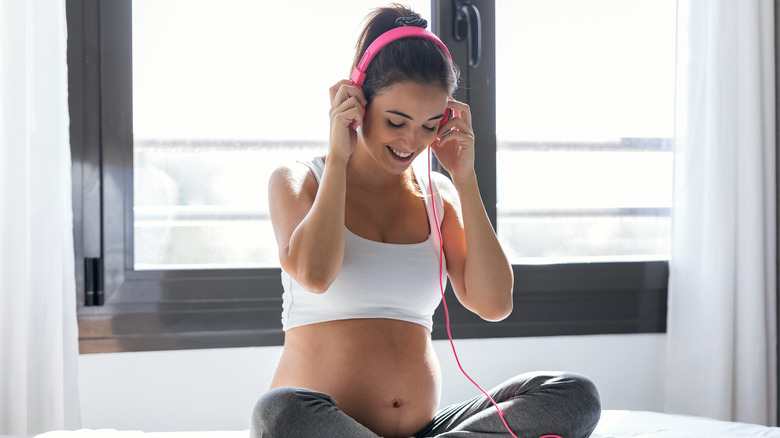 Josep Suria/Shutterstock
The Pregnancy Podcast is the brainchild of Vanessa Merten, who created the podcast after feeling overwhelmed with the vast amount of information that existed about pregnancy online. Each episode of the podcast tackles different aspects of pregnancy and postpartum life. Occasionally, Merten will also interview experts on the topics she covers, which include labor positions, traveling while pregnant, and birth plans. Each podcast episode is easily digestible at only 20 to 30 minutes in length. 
Looking for something infused with a bit of humor? The One Bad Mother podcast admits the thing that many other mothers are perhaps unwilling to admit: sometimes, the madness of pregnancy and new motherhood is actually hilarious. The strictly parents-only podcast consists of mothers dishing on the most embarrassing (read: hilarious) moments of motherhood.
New mothers experiencing postpartum depression and anxiety will find some peace of mind by listening to the Mom & Mind podcast. On each episode of the podcast, host and psychologist Dr. Katayune Kaeni gives honest advice about how to tackle mental health issues during and after pregnancy. 
The Best of Both Worlds podcast, hosted by Laura Vanderkam and Sarah Hart-Unger, helps new mothers navigate their professional lives during and after pregnancy. According to The Source, common themes discussed during the "Best of Both Worlds" podcast include finances, maternity leave, barriers mothers often face in the workplace, evening routines, and more.
No matter the question, your pregnancy and postpartum anxiety can be eased by listening to a podcast.