Dwayne Johnson's Response To His Police Officer Twin Has Twitter In A Tizzy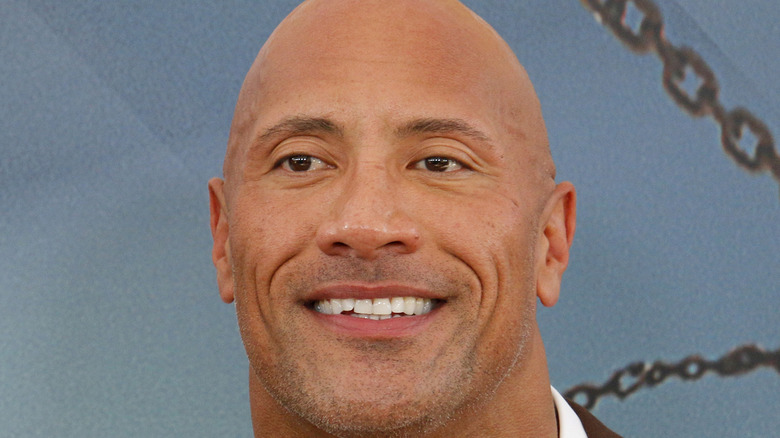 Tinseltown/Shutterstock
It is always hard to believe, but there are people out there who share uncanny similarities with celebrities, looking like their real-life doppelgängers. For Patrol Lt. Eric Fields of the Morgan County Sheriff's Office in Alabama, that celeb twin is none other than Dwayne "The Rock" Johnson.
According to WHNT News 19's website, a local girl shared a photo of Lt. Fields on Tiktok, and it went viral. The two do look very much alike, and Lt. Field's wife has joined in on the fun by creating an action figure of her husband out of The Rock's action figure! (via Twitter).
The Morgan County Sheriff's Office is also hoping to get some good out of this viral moment by inviting Johnson to a ride-along. While this would be fun for the community, it would be for a special cause, too: The county's Sheriff's Sgt., Chris Dillard, is one year away from retirement and is battling Lou Gehrig's disease, a terminal illness with no known cure.
The Rock responded to the viral news of his doppelgänger, saying Patrol Lt. Eric Fields is 'way cooler'
On Tuesday, Bleacher Report tweeted a side-by-side comparison of Eric Fields and Dwayne Johnson ... and The Rock retweeted it, saying, "Oh s***! Wow. Guy on the left is way cooler. Stay safe brother and thank you for your service. One day we'll drink @Teremana and I need to hear all your 'Rock stories' because I KNOW you got 'em."
Fields responded through social media by thanking Johnson and toasting him with some Teremana, which is The Rock's tequila brand (via WHNT).
The official Twitter account of the Morgan County Sheriff's Office retweeted Bleacher Report's tweet and The Rock's reweet, shared a news link to the article about the ride-along for a good cause, and showed that they truly have their own celeb on their hands now: "We can't take Lt. Fields anywhere nowadays," the account wrote, along with a picture of Fields posing for photos with some of his fans!