Is Honey Boo Boo In A Relationship?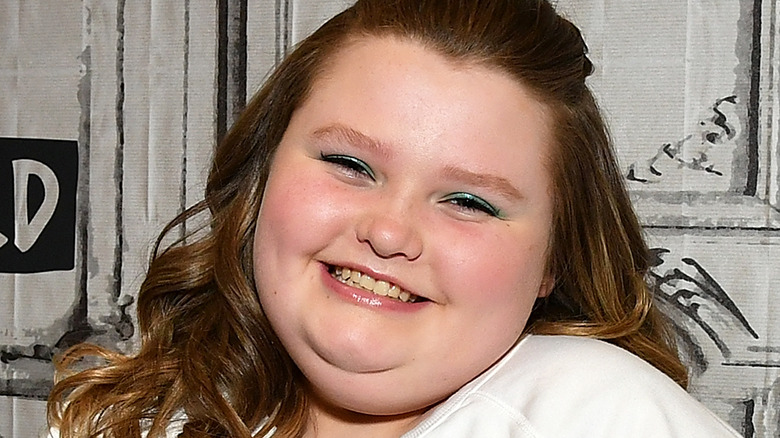 Slaven Vlasic/Getty Images
Alana "Honey Boo Boo" Thompson rose to fame through "Toddlers & Tiaras," TLC's show about child beauty pageants. Her big and bold personality led to her and her family getting their own reality series, "Here Comes Honey Boo Boo."
Now, though, Thompson is a 16-year-old girl who told Teen Vogue that "I want to be the best I can be, and I want to make my money, and I also want to make straight As, so I just try my hardest." She spoke of how she is not that young pageant participant any longer and that she doesn't have many friends. "I feel like folks are so much like, 'Oh my God, I'm friends with Honey Boo Boo.' I don't trust nobody really."
The former reality star, who lives with her 21-year-old sister, Lauryn "Pumpkin" Shannon (who is also Thompson's legal guardian), does have a special someone in her life, though.
Alana Thompson and her boyfriend are 'attached at the hip'
Six months ago, Alana "Honey Boo Boo" Thompson went Facebook official with Dralin Carswell (via The Daily Mail). Before the pandemic, the 20-year-old — who, reportedly, got the stamp of approval from this child star's sisters — went to a technical school in Nashville, but he lives in Georgia now, close to Thompson.
"Dralin and Alana are attached at the hip and hang out together all the time," a source told The Sun. "He was quiet at first, but he's like one of the family now. He's just as fun and crazy as the rest of them."
As mentioned, Thompson is working hard in school and to make money, and one of her goals is to purchase her own vehicle. "He has a Camaro that's like his baby, and he lets her drive it sometimes," the source continued. "Right now she is saving up for her own car, though. She wants a Jeep."