Meet The Designer Who Made Jackie Kennedy's Wedding Dress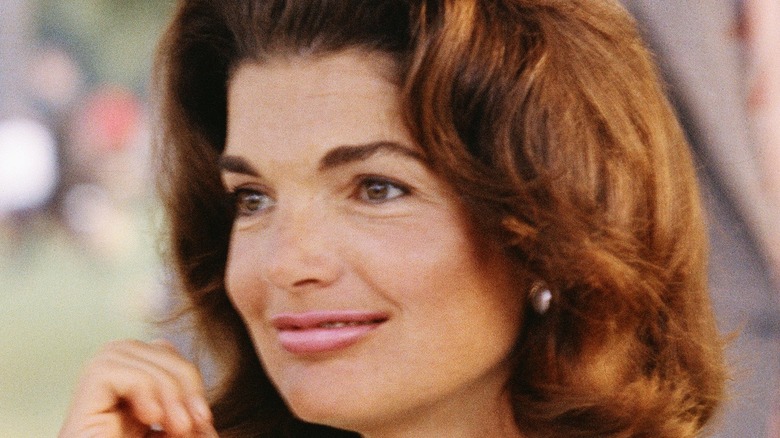 Michael Ochs Archives/Getty Images
When New York heiress Jacqueline Bouvier wed Massachusetts Senator John Fitzgerald Kennedy, it was the stuff of fairytales — and not just because the bride and groom came from families that were considered American royalty, able to give them all the trappings of a grand affair. Their romance garnered the attention of the public and the press, with Life Magazine capturing a photo of them sailing and printing it on the cover with the headline: "Senator Kennedy Goes a-Courting" (via Brides).
The pair met in 1952, and, on Sept. 12, 1953, they wed seaside in the upscale ocean town of Newport, Rhode Island. The bride wore an ornate ivory silk gown with off-the-shoulder sleeves and an A-line cut that flattered and accentuated her famous tiny waistline. The Kennedy wedding featured 10 bridesmaids who wore similar gowns, but the designer of those gowns — who also designed for such elite families as the Roosevelts and Rockefellers — never quite got the credit she deserved for her exquisite creations, according to Brides. Find out to keep reading who she was.
Jackie Kennedy's wedding gown designer spent a life behind the scenes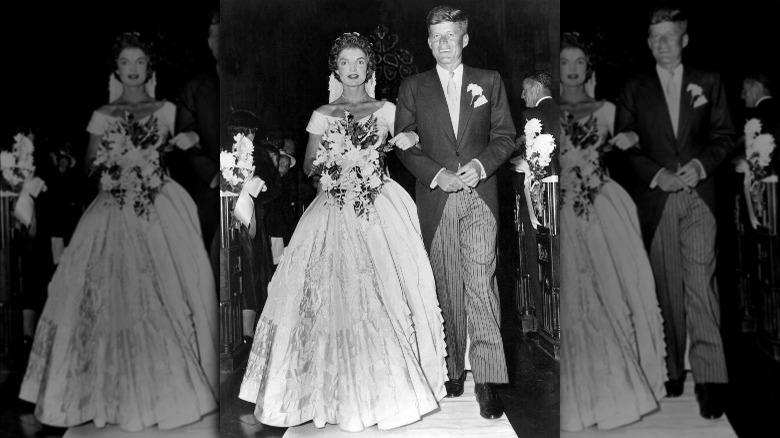 Keystone/Getty Images
The gown seen by hundreds in the church — and still thousands after John F. and Jackie Kennedy made their way outside to a public clamoring for a glimpse of the bride (via CNN) — comes with quite a story. First, it almost never made it to the wedding as a burst pipe in the designer's studio ruined the original creation as well as the bridesmaid gowns. That forced the designer and her team to work non-stop for 10 days to make sure Kennedy had the wedding of her dreams.
That designer was Anne Lowe, a Black woman who quietly did her work without much fanfare, despite designing an iconic gown that's been seen the world over in the decades since. "That dress she made for Jackie Kennedy was widely photographed. A lot of people saw it and it no doubt influenced average American wedding dresses and ball gowns," said Elizabeth Way (via CNN), an assistant curator at The Museum at FIT (Fashion Institute of Technology). "The fact that [the dress] came from the creativity of a Black woman really speaks to how instrumental Black people have been in shaping American culture."
Jackie Kennedy's dress designer took pride in catering to high society
Keystone/Getty Images
The Saturday Evening Post described designer Anne Lowe, who passed away in 1981, as "society's best kept secret" (via CNN), and she was picky about whom she would take on as clients. In addition to creating Jackie Kennedy's wedding dress, Lowe designed the gown that Olivia de Havilland wore when she won her Academy Award (pictured above).
According to FIT's Fashion History site, Lowe came from a family of dressmakers in Montgomery, Alabama, with her grandmother being an enslaved seamstress and her mother an embroiderer. In 1917, at just 19 years old, Lowe moved to New York to take sewing classes and stayed, establishing her own business. By 1950, she opened Anne Lowe Gowns and took pride in her clientele. "I love my clothes and I'm particular about who wears them," Lowe told Ebony Magazine (via CNN). "I'm not interested in sewing for cafe society or social climbers. I do not cater to Mary and Sue. I sew for the families of the Social Register."
Ironically, the famous dress she designed for Jackie wasn't exactly the bride's cup of tea, according to CNN. In fact, she didn't like the gown at all. It was Joe Kennedy, her soon-to-be father-in-law, who hired Lowe, and Jackie later said the gown was not what she wanted — comparing it to a lampshade.