Of All Of Lizzo's Looks, This Stands Above The Rest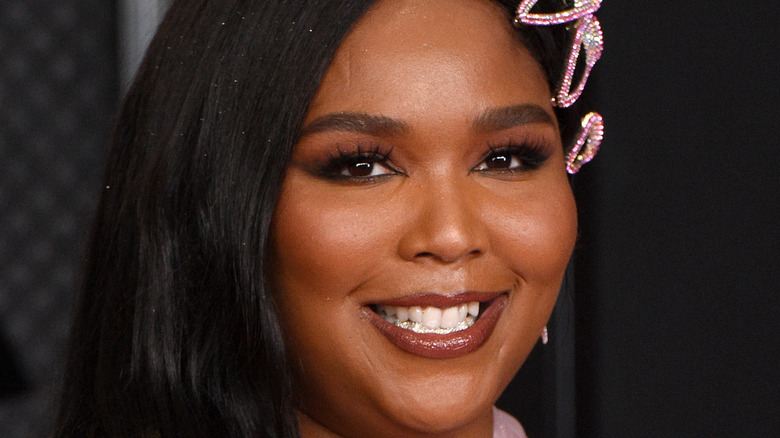 Kevin Mazur/Getty Images
Unless you've been living under a rock, you know the name Lizzo. The twerking, flute-playing, all around iconic pop star has had an explosive rise to superstardom in the past few years. She first gained major popularity when her girl power, breakup anthem "Truth Hurts" made a resurgence in 2019, two years after its initial release, after going viral on TikTok (via Billboard). Lizzo's success is no mistake however, and since that reentrance into pop culture, the groundbreaking artist boasts three Grammy wins and eight nominations to her name — plus an adorable friendship with Harry Styles to boot!
Lizzo is a beacon of self-love, and has been a champion of the body-positivity movement since the beginning of her career. So it's not surprising that along with her outstanding musical talent, her style has put her at the forefront of pop culture conversations. She's not one to shy away from bright colors, outrageous patterns, or anything revealing — which is what makes this article so hard to write. After all, how can someone compare her all-denim look for the Made In America festival in Philadelphia with her BRIT Awards Hershey Bar look (via Elle)?
Lizzo's 2020 Grammy Awards look was iconic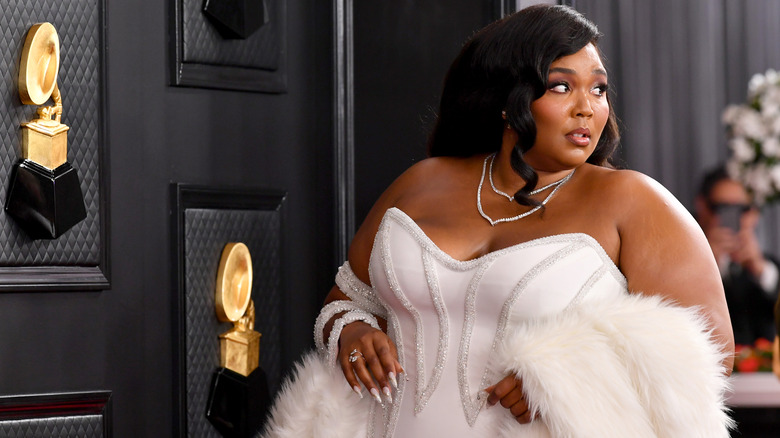 Amy Sussman/Getty Images
In all honesty, there's probably no right answer as to what Lizzo's most iconic look is, so we gave it our best shot. Lizzo absolutely stunned the red carpet at the 2020 Grammy Awards — her first time at the ceremony and where she won all three of her Grammy Awards — in a vintage, white sleeveless gown (via Elle). The classic, elegant dress was designed by Versace, and sported a sexy, high leg slit with beading around the bust. As if that wasn't enough, the singer was adorned in layered diamond necklaces, dangling diamond earrings, a matching purse, a white faux fur shawl, and sparkly white stiletto nails.
Never one to shy away from the spotlight, that was not Lizzo's only look of the night. The gorgeous white gown came first in a series of looks — she changed to a black, jeweled, ball gown for her performance of "Cuz I Love You," to a neon corset and bodysuit for her performance of "Truth Hurts," and then finally into a custom sheer Versace dress with hand-crafted crystal fringe (via Insider). So we guess in reality, Lizzo's look that stands above the rest is actually four looks spanning across one night, all representing the different and best parts of her.