Was Harry Really Hoping This Tragic Event Would Help His Relationship With William?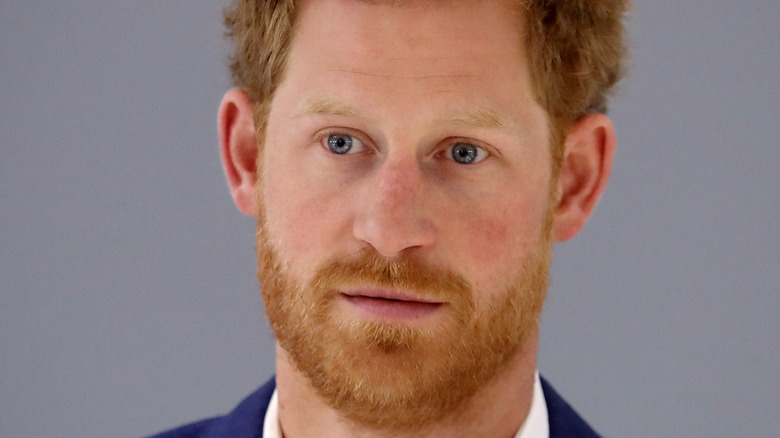 Chris Jackson/Getty Images
When Prince Harry returned to the U.K. for the first time since he and his wife Meghan Markle exited the royal family, all eyes were on the Duke of Sussex and his older brother, Prince William. Harry and William reunited in public for the first time in over a year at the funeral of their grandfather, Prince Philip. Cameras and viewers watched the brothers closely as they walked in the funeral procession and entered the church, where they sat apart from one another due to COVID-19 protocols (via USA Today). Following the service, William and Harry were seen speaking to each other outside of the church, and fans were encouraged by the sight. However, one royal expert claims that the meeting only sparked more tension between the brothers (via People).
"Within minutes of the siblings getting inside the castle and beyond camera vision ... they started quarreling again," royal historian Robert Lacey said. "There they were, at each other's throats as fiercely as ever," a friend of the family reportedly told the author. "The rage and anger between those two has grown so incredibly deep. Too many harsh and wounding things have been said." Lacey added, "There was no reconciliation, and no brotherly sit-down or 'mini summit' following Prince Philip's funeral on April 17."
Sadly, the brothers didn't mend fences amid the time of grief in the royal family, although new reports suggest that Harry was hopeful to bury the hatchet during his trip home.
Harry hoped to mend fences at Prince Philip's funeral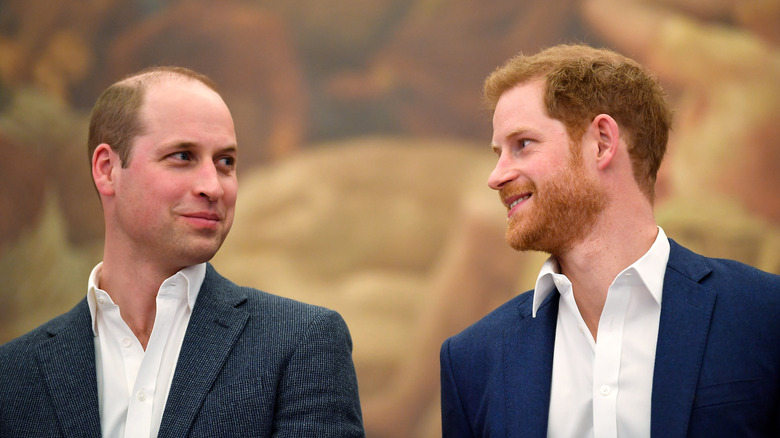 Wpa Pool/Getty Images
This week, an updated version of Prince Harry and Meghan Markle's biography, "Finding Freedom," was released. Among the newly added information were claims that Harry wanted to end his rift with his brother Prince William when he flew home to the U.K. in April to attend Prince Philip's funeral (via Yahoo). Although Harry was unsure about how he'd be received among his family, he hoped "that this trip might also present an opportunity to come together and talk without the filter of staff as go-betweens," the book states.
However, that didn't happen. The brothers did speak, but they used the brief time they had together to talk about their next reunion, which came in July as they unveiled a statue of their mother, Princess Diana, in honor of her what would have been her 60th birthday. "It was a far cry from the tense silence shared between the brothers at March 2020's Commonwealth Service," author Omid Scobie and Carolyn Durand wrote in the updated version of the book. "Though the brothers had shared brief exchanges over the past year, this was their first face-to-face conversation in almost 15 months. At least two further conversations took place between the brothers during Harry's eight-day trip, according to sources."
Although Prince Philip's death didn't appear to bring Harry and William back together, they're now rumored to be growing a bit closer amid their rift. Royal expert Stewart Pearce tells Us Weekly that the brothers and their wives have been speaking via video call over the past few weeks.