The Best Podcasts To Encourage Self Love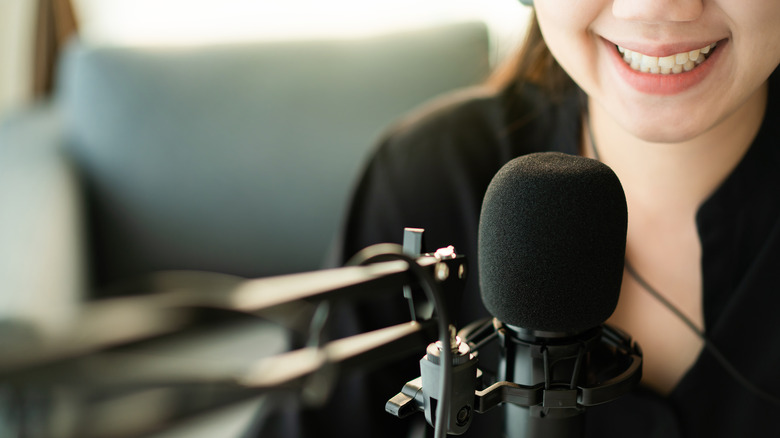 DG FotoStock/Shutterstock
There are over 48 million podcast episodes available on various streaming services (via Podcast Insights) — that's a lot to listen to! There are podcasts out there for everyone; ranging from true crime to inspirational shows to comedic relief, there's an endless stream of entertainment and education at your fingertips. And, if you want to focus on loving yourself, there are podcasts for that, too!
But, what exactly is self-love? A way to conceptualize self-love, according to Thrive Global, is to "observe our actions and words with compassion as if we were our own best friend."
"Just as when you think of being fully in love with a partner, you experience feelings such as unconditional love, adoration, compassion, and forgiveness — and when you experience self-love, you have these feelings about yourself!" therapist Carolyn Cole told Bustle. "You look at yourself in the mirror and remind yourself of how amazing and lovable you are." That can be easier said than done and hard to do on your own, so here are some highly respected and well-reviewed podcasts that can help you develop this valuable skill.
Be inspired to love yourself with these podcasts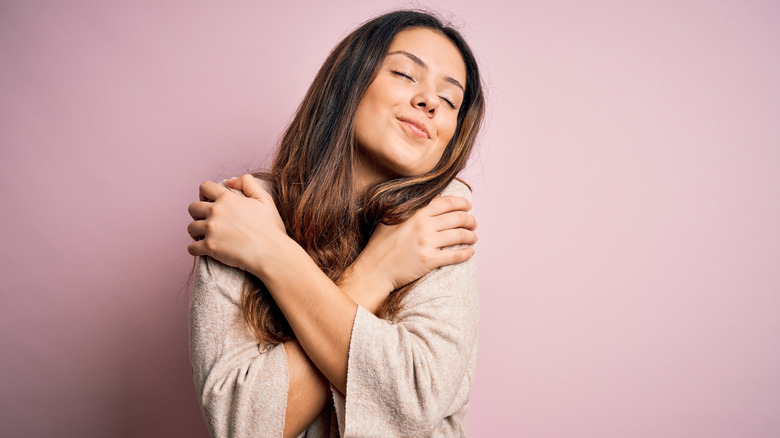 Krakenimages.com/Shutterstock
Host Ashley Baxter's catchphrase at the end of "The Restoring Heart Podcast" (titled The Courageous Worth Podcast in most podcast libraries) is "Do something restoring to your heart, and the heart of someone around you." The content can be intense, as she talks about her sexual assault, but in telling her story, she inspires listeners to love themselves (from We Edit Podcasts).
In "Goddess Boss," host Kris Britton helps listeners focus on building healthy relationships with others, themselves, and the world. Britton is a life and business coach, and she works, according to her website, to "empower women to clear all the blocks that hold them back from confidently living their dreams." One of those blocks includes barriers to truly loving yourself.
Gretchen Rubin is well-known in the self-help world as well. Her 2009 book, "The Happiness Project: Or, Why I Spent a Year Trying to Sing in the Morning, Clean My Closets, Fight Right, Read Aristotle, and Generally Have More Fun" sold over 1.5 million copies, and she continued writing about happiness after its release. Along with her books, she has her podcast called "Happier With Gretchen" where Rubin and her sister talk about how to be more productive, healthier, and, of course, happier.
These podcasts can help you join a community of others learning to love themselves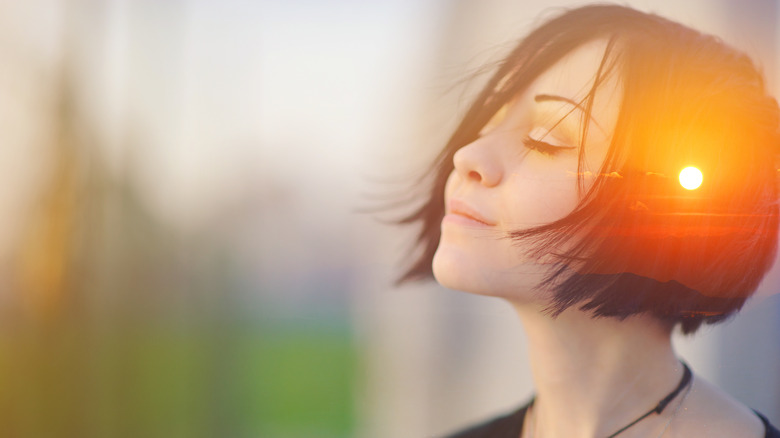 sun ok/Shutterstock
"Mary's Cup of Tea Podcast: the Self-Love Podcast for Women" is hosted by Mary Jelkovsky, who also founded "Mary's Cup of Tea," which is "a community of empowered women and learn to love yourself unconditionally." One reviewer wrote, "This podcast is amazing. Mary is so open and real. I have really enjoyed listening to ways to learn to love myself. I have struggled my whole life with self love and self esteem. I feel like I am finally on a journey that can change that, and Mary, her podcast and book are a big part of that. If you also struggle, this is an amazing podcast for you!"
Finally, Sas Petherick has a master's degree in self-doubt, and in her podcast "Courage and Spice: the podcast for humans with Self-doubt," she provides coaching tools, evidence-based resources, and interviews with other experts all designed to help stop self-doubt from holding you back. Between these options, you'll likely find the support you need on your journey toward self-acceptance and love.