What You Didn't Know About Jackie Kennedy's Iconic Pink Suit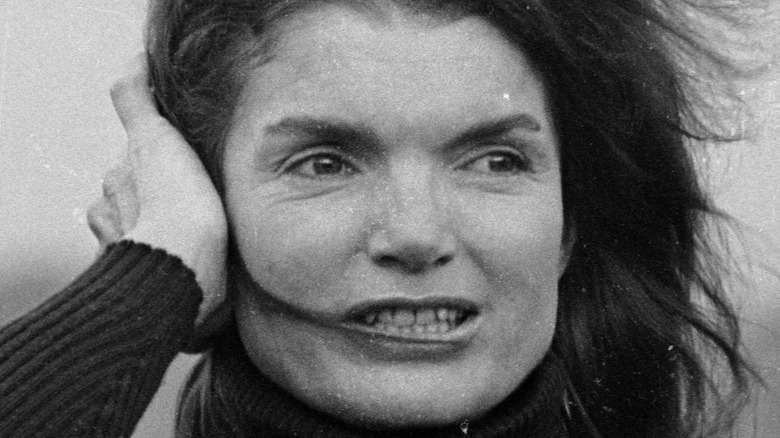 David Cairns/Getty Images
It's a day few people who lived it will forget, and images of that day have been embedded in our minds even if we weren't yet born on November 23, 1963. President John F. Kennedy's motorcade traveled through Dallas, Texas, and a bullet suddenly hit the president's head, leaving his wife, Jackie Kennedy, stunned and devastated as she sat next to him in a perfect pink suit, now with blood all over it as she saw her husband's skull break open.
Perhaps that suit lives on in our minds because Jackie wore it for what felt like days on end as she traveled to a Dallas medical center to learn her husband had died, and still wore it on the plane as Lyndon B. Johnson was sworn in as the new president before the former president's body ever made it back to Washington, D.C. That pink suit has become so iconic that so many of us can close our eyes and see it, but there was also a reason Jackie insisted on wearing it, despite changes of clothing being available to her, according to L'Officiel USA.
Jackie Kennedy's famous pink dress was a fashion classic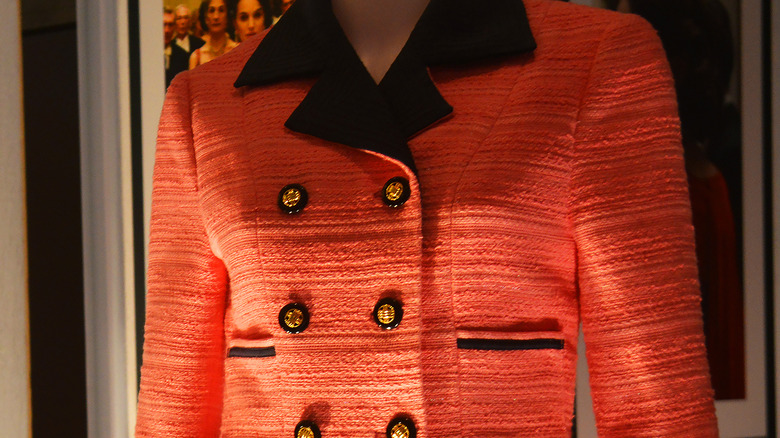 Sarunyu L/Shutterstock
Being born of American aristocracy made Jaqueline Bouvier Kennedy into someone who chose her outfits very carefully. After all, a local newspaper named her "Debutante of the Year" when she was in her teens (via Biography). Her wedding gown was designed by a well kept secret in society, an African-American woman who rarely got the credit but chose to only cater to high society like the Rockefellers and Roosevelts (via CNN).
When it was time for her to perform her duties as first lady on that fateful day in 1963 that was supposed to be nothing more than a campaign stop for her husband's re-election bid the next year, she chose a pink Chanel suit made from boucle fabric with gold buttons and a navy-blue lapel. She paired it with a matching pink pillbox hat to create that perfect first lady look she was known for — feminine, yet elegant and understated (via L'Officiel USA).
Jackie Kennedy refused to take the dress off for a reason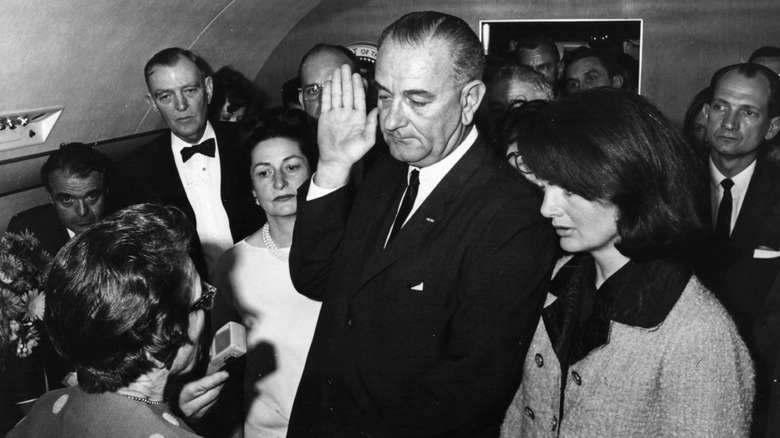 Keystone/Getty Images
The 2016 movie "Jackie" starring Natalie Portman (via IMDb) in the titular role told the story of November 23, portraying aides to Jackie Kennedy offering her a change of clothes amongst a flurry of activity. In the film, you could see how she was acutely aware of the blood stains as she turned down the chance to change and rid herself of all that blood. She actually waited until she was back in Washington, D.C. and back at the White House to change. According to The Washington Post, that was the last time she'd be in what is known as "The People's House" for years.
Jackie had good reason for keeping that dress on and it was clearly a deliberate move, despite the heartache and shock she was going through at the time. She wanted the dress and the blood to become a symbol of the tragic, history-altering day that took President John F. Kennedy's life. "Let them see what they've done," she told her aides. She clearly wanted the world and anyone responsible for her husband's assassination to see the blood and remember why her pretty pink dress now looked as it did.
Eventually, the dress was cleaned and preserved, with Caroline Kennedy sending it to the National Archives after her mother passed away in 1994. However, it was sent with one stipulation to avoid bringing up bad memories for family members. The stipulation is that it not be displayed publicly until 2103 (via L'Officiel USA).