Here's What We Know About Queen Latifah And Jada Pinkett Smith's Friendship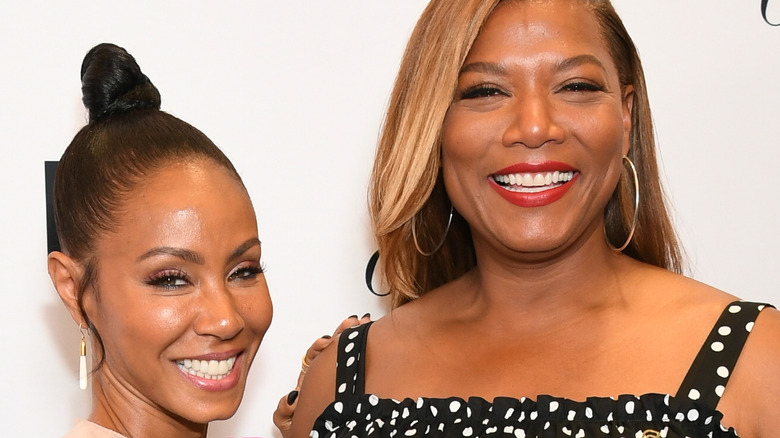 Paras Griffin/Getty Images
"Girls Trip" co-stars Queen Latifah and Jada Pinkett Smith's charisma on-screen is undeniable. As many fans know, the duo starred in their first movie together in the 1996 film "Set It Off." Since then, each actress has grown into their place as a respective Hollywood icon.
Starring in the '90s classic sitcoms "A Different World" to big blockbuster hits like "The Nutty Professor," Pinkett Smith made a career dominating both the big and small screen (via IMDb). The "Matrix Reloaded" actress currently hosts her talk show titled "Red Table Talk." She, alongside her mother, Adrienne Banfield-Jones, and daughter, Willow Smith, bear it all in a series of candid conversations. Each woman represents a different generation and viewpoint. This past award season, the hit web series won its first Emmy-winning for the Outstanding Informative Talk Show category.
Queen Latifah has also used her platform to soar into superstardom. Regarded as Hip Hop's First Lady, Queen Latifah was "one of the most prominent female hip-hop artists on the scene for over a decade" (via IMDb). The rapper crafted lyrics that combated the misogyny in the realm of hip hop while creating music that everyone enjoyed.
Although "Set it Off" marked the start of the duo's dynamic one-screen friendship, according to PopSugar, the charming leading ladies met years prior at a club in Baltimore.
Queen Latifah and Jada met as teens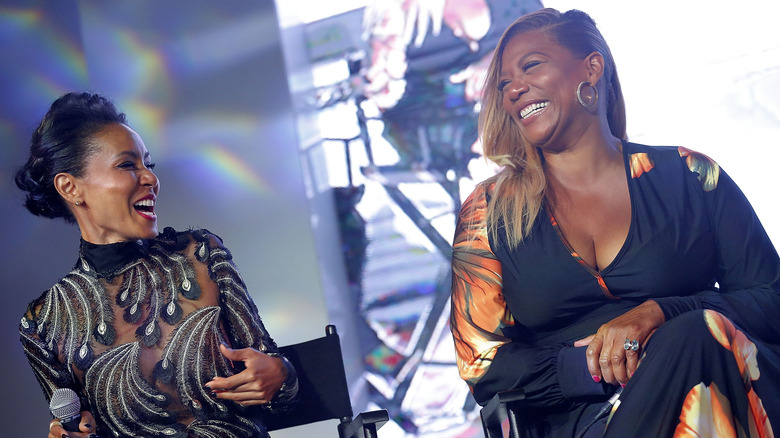 Jonathan Bachman/Getty Images
Actress Queen Latifah and Jada Pinkett Smith's friendship started way before they were on-screen best friends/bank robbers. The pair originally met at a chance encounter in a Baltimore club as teens. During a press tour for their 2017 film "Girl Trip," Pinkett Smith tells People that she met the former female rapper while sneaking into a Baltimore nightclub as a teen.
"It was in Baltimore at a club where she was performing," Pinkett Smith told the outlet. "I'd never seen anyone like her before, this female rapper named Queen Latifah. I convinced the promoter to let me introduce her." Drawn to her style and presence, Pinkett Smith ended up taking the mic and introducing the rising star, Queen Latifah.
The former rapper recalls their chance meeting, remembering how young they both were. "My mother was with me," she recalled. "That's how young I was." Pinkett Smith reminisces about the evening as well, adding that she too was only a teen, quipping, "I had no business being in that club!" 
Queen Latifah thanks Will and Jada for her acting career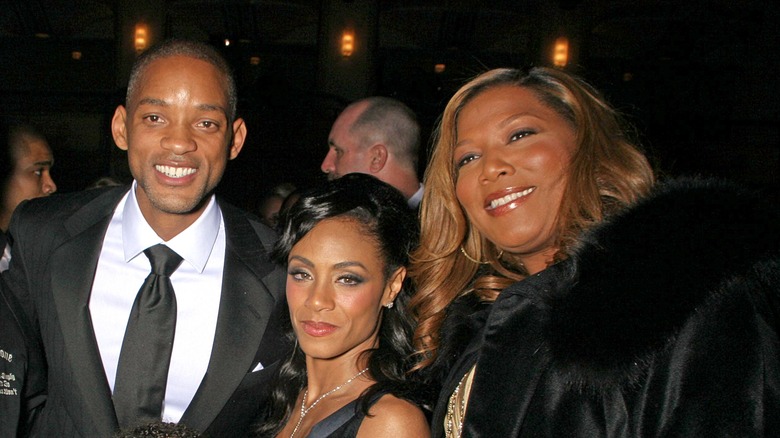 Everett Collection/Shutterstock
Queen Latifah and Jada Pinkett-Smith's friendship deepened after sharing the screen in 1996's "Set it off". Through the following years, Latifah became closer to the Smith family. She even credits Jada and her husband Will Smith, they wed a year after the film, for helping cultivate her acting career. The rapper-turned-actor gave Latifah her first acting job. According to Capital Xtra, Latifah starred on Smith's '90s hit television show "The Fresh Prince of Bel-Air" twice. First, she portrayed Marissa Redman and then Dee Dee in the series.
"Will, of course, and Jada, have been there, like, my entire career," Queen Latifah shares with PeopleTV. "Anytime I do something or want to try something, I mean, Will is like [on it]." Latifah also explains how the show's director, Ellen Gittelsohn, helped to evolve her acting skills. Later, Gittelsohn became the director for Latifah's sitcom "Living Single," which debuted in 1993.
After over 30 years of friendship, the "Gotham" actress jokes in a red carpet interview with E! News about partnering with her childhood friend and creating a "classic."
"We can't wait another 21 years to do this," Pinkett Smith told E! News in a red carpet interview. "We've worked together a lot. She's produced me; I've produced here, but we can't wait 21 more years before we get on the screen." Since first meeting as teens in a nightclub, Queen Latifah and Pinkett Smith have defined the term supportive friends by helping one another's career reach new heights.