The Truth About Queen Latifah And Tupac's Friendship
Jamie Lamor Thompson/Shutterstock
When celebrities pass away, the world loses a personality, but those close to the deceased lose a friend or loved one. It is often through these living connections that fans learn more about their late heroes. For example, did you know that Tupac Shakur went to a gay bar with Queen Latifah? Yes, you read that right. Here's the truth about Queen Latifah's friendship with Shakur. 
Latifah's 2012 performance at the Long Beach Lesbian & Gay Pride Event led to much speculation about her sexuality, according to Kollege Kid. And while the singer later made it clear that her performance there was not her coming out, she does look back fondly at the night. Speaking with Entertainment Weekly about the performance, the "Girls' Trip" star noted that "doing a gay pride show is one of the most fun things." 
In the interview, she also reminisced about a night she spent at a club with the late rapper. "My first show that paid more than $10,000 was in a gay club on New Year's Eve in San Francisco," she recalled. "Tupac happened to be in town, so he came to kick it with me. This was the early '90s. And the boys were like, 'Take your shirt off, Tupac!' He wasn't doing that. But we had a blast in there."
Queen Latifah remembers Tupac with this actress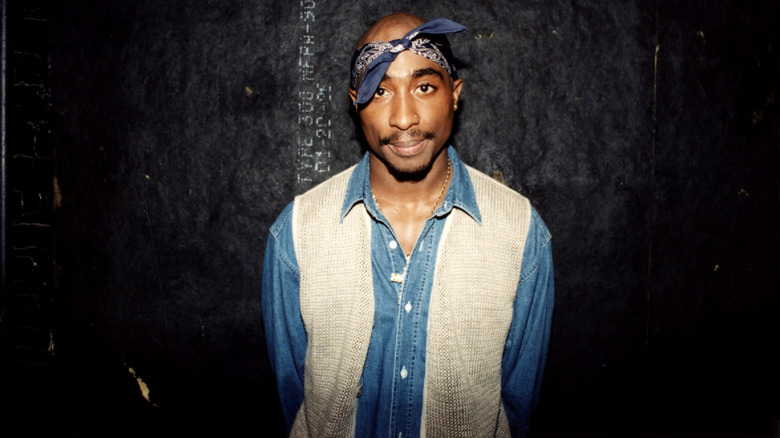 Raymond Boyd/Getty Images
Along with hanging out at gay bars with Queen Latifah, Tupac Shakur also attempted to form an all-female hip hop group with Jada Pinkett Smith, (per Rolling Stone). While on "Carpool Karaoke" with Latifah, Pinkett Smith recalled a Shakur anecdote of her own and the two remembered their lost friend. "He tried to put me in a female rap group," Pinkett Smith explained. "We had all these little corny battles 'cause we went to high school, and he wanted to put a bad-ass chick group together. He's like, 'Yo, Jada, I'ma write your raps. I'ma show you the flow.'"
She went on to explain the flaws she saw in Shakur's logic."I couldn't rap," Pinkett Smith confessed. "[Tupac] used to be like, 'You act like you ain't got no rhythm at all.'" 
Pinkett Smith has been open about her friendship with Shakur in the past (per Us), and it was surely a sweet moment for her and Latifah to look back on fun memories of the late rapper. For fans, stories of Shakur trying to convince friends to start bands, and dancing in bars, are pleasant looks into the lighter side of his life.