The Surprising Reason Donald Trump's Company Sued The Maker Of Ivanka's Shoe Line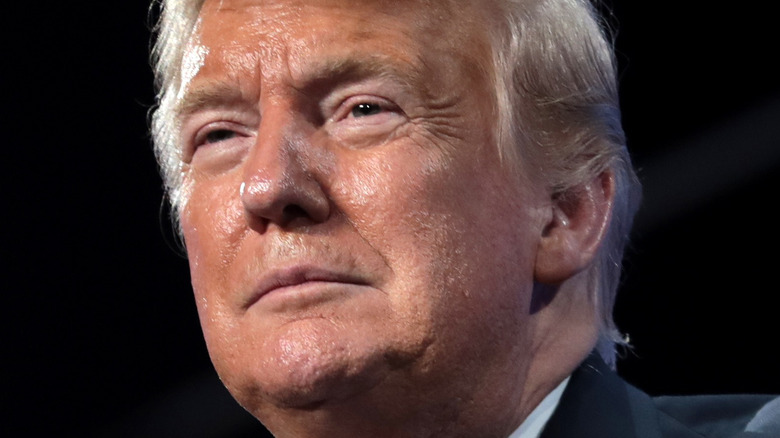 Nuno21/Shutterstock
While he still believes that he was robbed of a second term in office, Donald Trump is adjusting to his return to life as a private citizen. Now making his home at his Mar-a-Lago estate in Florida, Trump spends his time on the golf course, at GOP rallies, and at his computer writing scathing critiques of the Biden administration on his personal website. 
Not everything in his life is returning to normal, however. Trump is reportedly on the verge of selling the leasing rights to the Trump Hotel in Washington, DC, per Axios. The deal would involve taking the Trump name off the property so that an established hotel chain can take over the management. Trump is expected to lose money on the transaction. Now it seems that the future of another famous Trump property is in question. Business Insider reports that Trump Tower, the former president's luxe Manhattan office building, has seemingly run into trouble with tenants who have fallen behind in their rent. And since this is Fifth Avenue we are talking about, that monthly rent is more than many people earn in a year. 
Among the tenants that once boasted a Trump Tower address are Marcraft Clothes, a designer suitmaker; Legacy Business School, a private business-skills program once chaired by Kris Jenner; and a company with a particular personal connection to Trump himself. 
Ivanka Trump's clothing line was a victim of the times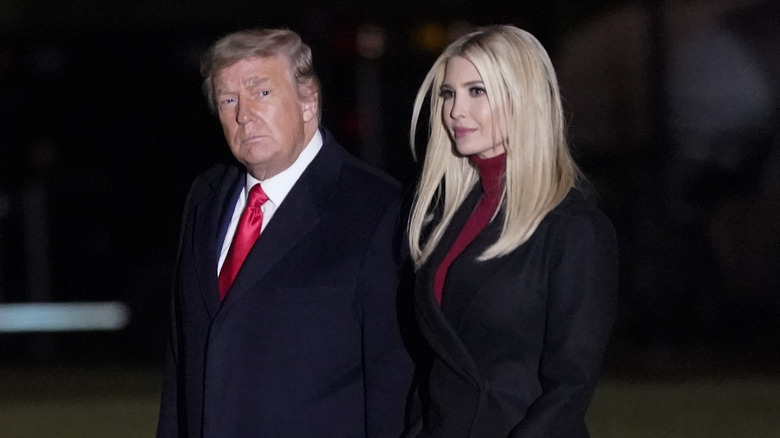 Drew Angerer/Getty Images
According to The Washington Post, another Trump Tower tenant in arrears was Marc Fisher Footwear. The company once manufactured a shoe line branded under the name of former first daughter Ivanka Trump. It was part of Ivanka's clothing and accessories line that began with her high-end jewelry brand in 2007 and expanded to include 150 styles of shoes.
Ironically, President Donald Trump's rise helped lead to the fall of his daughter's enterprise. The former president's policies and history of misogyny did not sit well with many consumers, who called for a boycott of any Trump-based products. In response, stores began to drop the Ivanka line, and even Ivanka herself stepped away from her leadership role with her company (via Business Insider). Finally, in 2018, the first daughter announced that she was closing her fashion business for good in order to focus on her life in Washington and her advisory role in the White House (via NBC).
The Trump Organization sued Marc Fisher Footwear for $1.4 million in unpaid rent in early 2021; the suit was quickly settled out of court. Trump Tower does have one reliable client remaining — the Make America Great Again PAC (Political Action Committee). The PAC pays nearly $38,000 per month for the space, which is "used to help President Trump build a financial juggernaut to help elect America First conservatives and flip both the House and Senate to the Republicans in the midterm elections," according to a spokesperson who spoke to the Post.
As for Ivanka, she is currently enjoying a quieter life with her family in their new Miami digs. However, despite her proximity to her father, she reportedly is opting to spend less time with him, per New York Magazine.