How Sewing Can Increase Dopamine Levels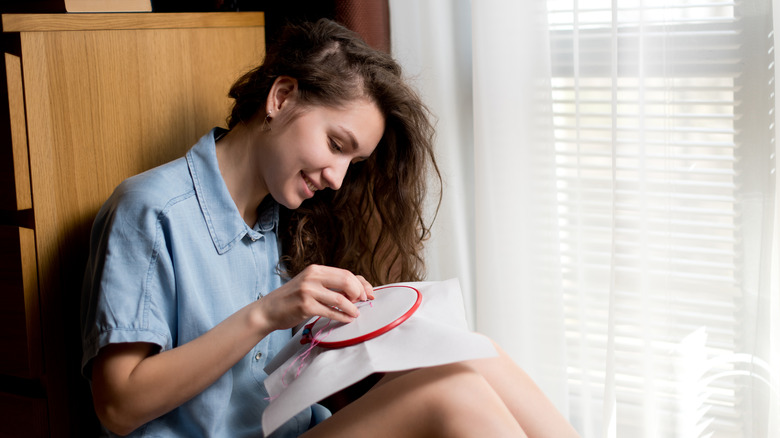 Slava Dumchev/Shutterstock
The pandemic has reignited a passion for crafting among many. In the U.K., for example, the nationwide craft store Hobbycraft recorded a 200% increase in online sales (via The Guardian) for those wanting to spend their time at home learning a new skill or returning to a familiar hobby in quarantine.
One of the most popular crafts during this period has been sewing, mainly through counted-thread embroidery like cross-stitch (via Craft Club). By focusing on creating patterns based on pop culture like "Animal Crossing" (via Etsy), many crafters found solace and relaxation by just focusing on their needle and thread.
Even before the increase of interest in sewing during the pandemic, the craft has often been used as a calming tool due to its bounty of mental health benefits (via TAPinto Chatham). This is mainly down to its ability to increase dopamine levels, which is often referred to as the "feel-good hormone" (via Healthline).
Many integrate sewing into their self-care routine as a meditative activity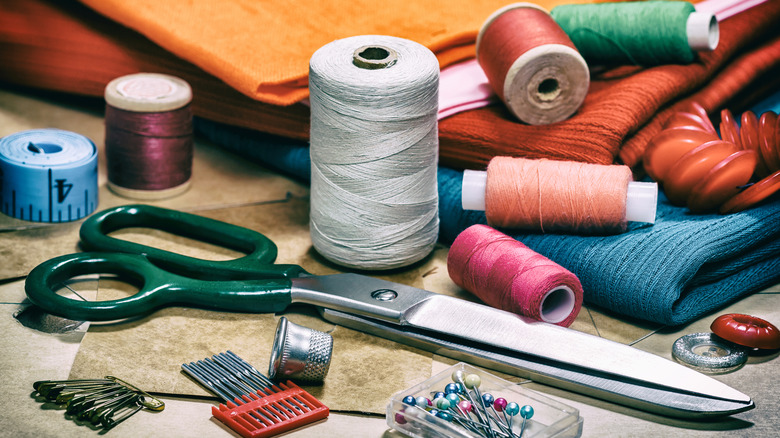 Arkadi Bulva/Shutterstock
A type of neurotransmitter in the brain, dopamine is instrumental in how humans feel pleasure (via Web MD). It also helps the mind focus on things that bring joy and interest, which is why sewing can become such a captivating hobby.
This increase in dopamine levels can help regulate your mood, too (via Good Therapy), leading to fewer feelings of anxiety and stress. Many use activities like cross-stitching and embroidery as meditation practices due to this increase in dopamine (via Caterpillar Cross Stitch), which comes from being focused on one project and completing it.
As TAPinto Chatham sums up, focusing on following a pattern and replicating it allows stitchers to "completely immerse" themselves in the craft and subsequently forget about their worries while also improving focus (via The Spruce Crafts).
Completing a project can result in a major boost in dopamine levels since it provides a major boost in self-confidence (via Better Humans) from feelings of success and accomplishment after completing such an intricate project.