When Will Pat Sajak And Vanna White Retire From Wheel Of Fortune?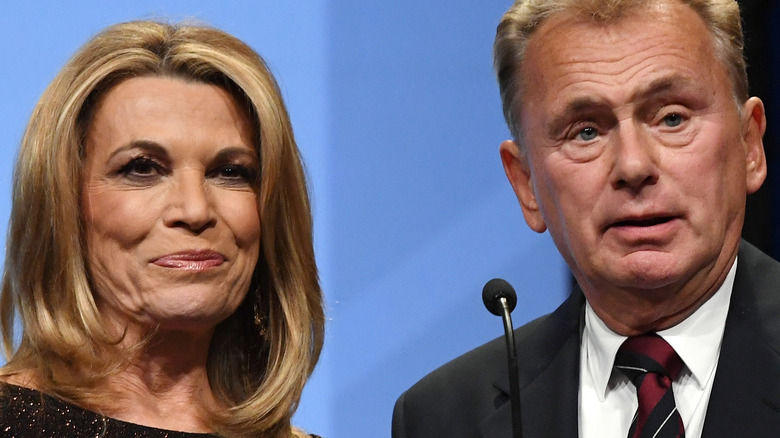 Ethan Miller/Getty Images
We would like to buy an 'E' because it feels like Pat Sajak and Vanna White have been bringing us evening television game shows ForEVER. Honestly, we can't really imagine a world without an evening of spinning the "Wheeeeeel of Fortuuuuune," but we realize all good things must come to an end. As host Sajak and letter-turner-extraordinaire White discuss the mind-blowing accomplishment of filming their 7,000th episode, they express their own surprise at the staying power of this television staple (via USA Today).
"I thought, 'Well, this is gonna be fun, but I can't imagine it lasting that long,'" said White, reflecting on the show's beginnings. "I remember sitting in the chair next to Pat saying, 'I wonder where we'll be in 10 years?' ... And here it's been 36." Not only is White still with the show, but she joins host Sajak in an unprecedented run. Sajak is the official Guinness World Record-holder of longest career as a game show host for the same show (via Guinness World Records).
With a series that has this type of longevity, the idea that it may end just feels sort of wrong. Will the show be rebooted after they retire, much like "The Price Is Right?" Sajak expresses that it isn't his show, and he has no opinions after he leaves, while White can't imagine anyone else on her letterboard.
Alas, all good things must come to an end, however, and Sajak has some thoughts on this.
Pat Sajak and Vanna White may retire from Wheel of Fortune at the same time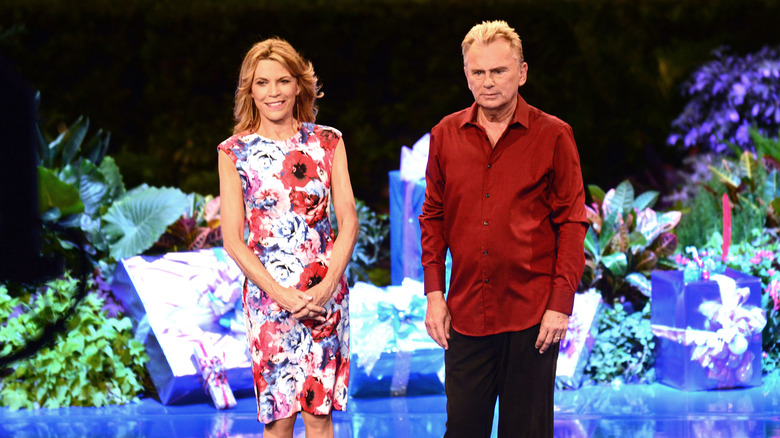 Gerardo Mora/Getty Images
First off, the letter puzzle duo isn't done yet — there's still time to spin that wheel. But while not done yet, Pat Sajak does see an end in sight for the show, and he expects it will be less than 10 years from now (via USA Today). Vanna White is currently 62 years old, and Sajak is 72, making both near prime retirement age. Yet, says Sajak, "We're sort of a safe-haven half-hour where nobody gets hurt, and everybody has fun." In a day where reality TV, action, and drama rule the networks, "Wheel of Fortune" remains unique in its simplicity.
As to how that ends, Sajak has some thoughts as well. "I'd like to leave while the show's still popular, and I'd like to leave before people ask me to leave, and I'd like to leave before people tune in and see me and go, 'Ooh, what the hell happened to him?'" says the show host. Sajak adds, "When I do leave, it won't be because I'm sick of it or burned out by it; I'll leave because it's time to go." And while that time isn't here yet, Sajak predicts it is likely he and White will leave together, just as they started.