Is This What Jennifer Garner Really Thinks About Ben Affleck And Jennifer Lopez's Reunion?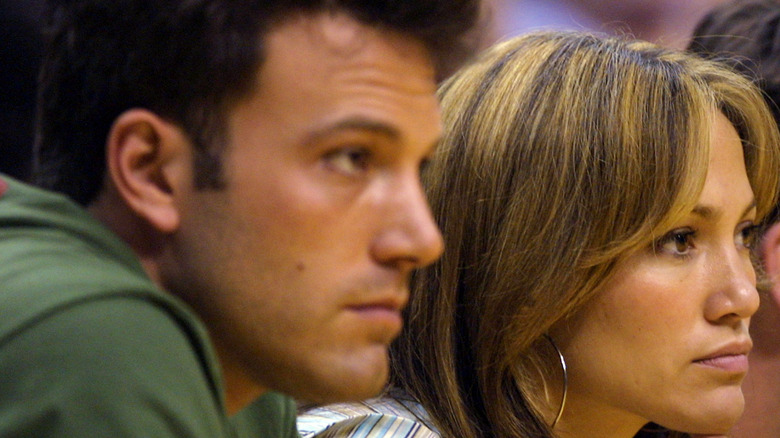 Joe Llano/Getty Images
Before Jennifer Garner and Ben Affleck became an A-list Hollywood pair — marrying, having children, and then divorcing — there was another Jennifer and Ben in the form of Jennifer Lopez and Ben Affleck, known as the first "Bennifer." Now, the celebrity couple shuffle is giving us deja vu, thanks to Affleck and Lopez getting back together again.
The two actors first met in 2001 when they both starred in the gangster film "Gigli," but Lopez was married to Cris Judd at the time. Affleck claims that, since they couldn't be together romantically, they were able to get to know one another better on the set, according to Insider. "When I met her we became really, really, really good friends," he told Vanity Fair. "But at first, because she was married, there was no thought of a romantic relationship, so that created the opportunity to get to know each other without any of the falseness that goes with courtship because you're trying to make a good impression."
By 2002, Lopez filed for divorce from Judd, and she and Affleck went public with their relationship. But it didn't last. While they became engaged and starred in another movie together, "Jersey Girl," they finally split in 2005 (via Insider).
Ben Affleck and Jennifer Lopez move on to whole new lives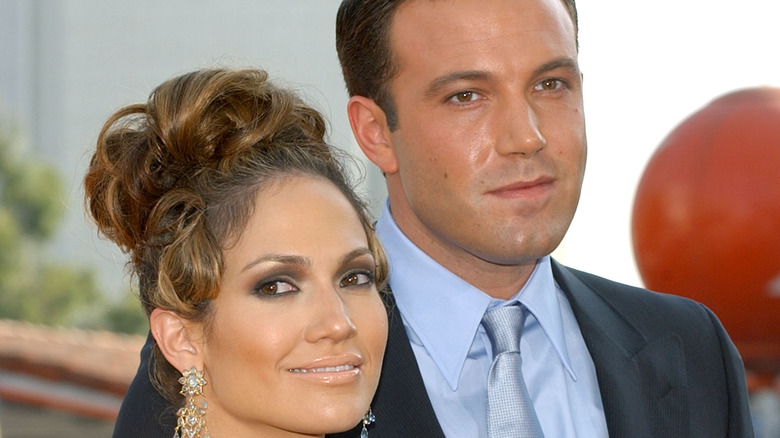 DFree/Shutterstock
In 2005, Ben Affleck created a new version of "Bennifer" when he married actress Jennifer Garner and started a family. During their marriage, they had three kids together, Violet, Seraphina, and Samuel (via Vulture).
Jennifer Lopez also found happiness again in 2004 when she married singer Marc Anthony. They became parents when Lopez gave birth to twins in 2008, Emme and Maximillian. That marriage didn't last, however, and the couple divorced three years later, in 2011, according to Vulture. 
Affleck's marriage lasted much longer, and he and Garner didn't divorce until 2018. Lopez was dating baseball player Alex Rodriguez at the time, and the pair nearly wed but called off their engagement in early 2021. By the spring of 2021, Lopez and Affleck were reportedly together again as paparazzi kept seeing them out together. And, by June, photographers finally caught them kissing, signaling to the world that the original "Bennifer," which started two decades prior, was on again (via Vulture).
But how does Garner feel about all this? After all, she was married to Affleck for 13 years and shares three children with him.
Jennifer Garner seems to want Ben Affleck to be happy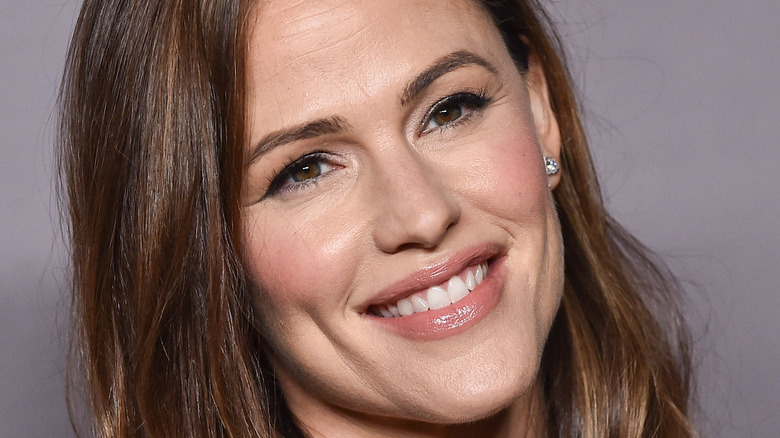 DFree/Shutterstock
When it became apparent that Jennifer Lopez and Ben Affleck were officially back on again, the world wondered what the woman he had been married to for more than a decade would think. Apparently, Jennifer Garner is just fine with her ex-husband's new-again romance.
"Jen isn't bothered by Ben hanging out with J.Lo or anyone else. She wants what is best for Ben," a source told ET Online in May 2021. "What matters most to her is Ben being a great dad. They've been in a good groove when it comes to co-parenting for a while and their kids' happiness is Jen's main priority."
Another source told Us Weekly something similar, noting that Garner and Lopez have never been rivals. "J.Lo has Jennifer Garner's seal of approval," the source said. "J.Lo thinks Jennifer is a kind and wonderful person and an amazing mother."
As for Garner's love life, she is happily dating John Miller (via Closer Weekly), a man who is decidedly un-Hollywood: He's the CEO of CaliGroup, a restaurant and technology company. 
It looks like a case of "all's well that ends well" for Ben Affleck and Jennifer Garner — and Jennifer Lopez. We love to see it.