The Truth Behind Madonna's Horse Injury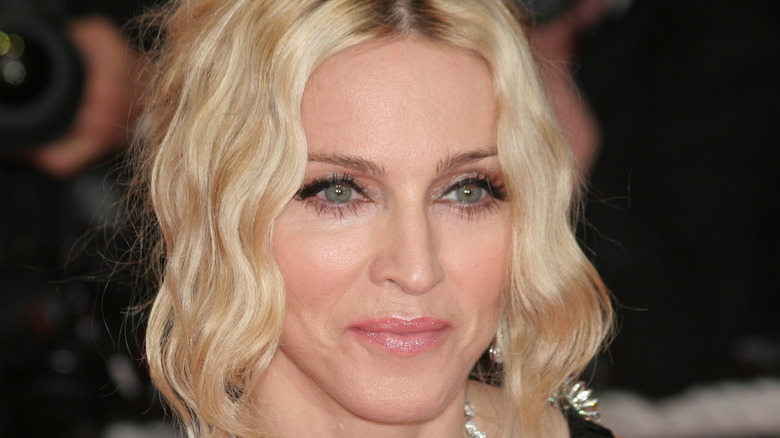 Denis Makarenko/Shutterstock
It may feel like Madonna never stops working, but even the Queen of Pop needs some downtime now and again. One of her favorite hobbies has to do with riding and caring for horses, which she became interested in pretty late into her life.
In 2005, it was reported that Madonna had started taking riding lessons in Richmond, and borrowed two horses to ride around the Wiltshire estate she shared with then-husband Guy Ritchie (via The Guardian). That same year, Ritchie gifted her a horse for her 47th birthday (via the Dallas Burston Polo Club). Per Wales Online, the gift horse was a grey gelding named Tom, and the singer was taught to ride her horse by British Olympic silver medalist William Fox-Pitt. Madonna and Ritchie went all out for her hobby, reportedly building a jumping course at the Wiltshire estate they previously shared.
However, this birthday celebration didn't exactly go to plan. Six months before eventually choosing Tom, Madonna made a grave mistake by jumping on the back of a polo horse that took off faster than the star expected, subsequently throwing her off to the ground.
The musician rekindled her love of horse riding in 2021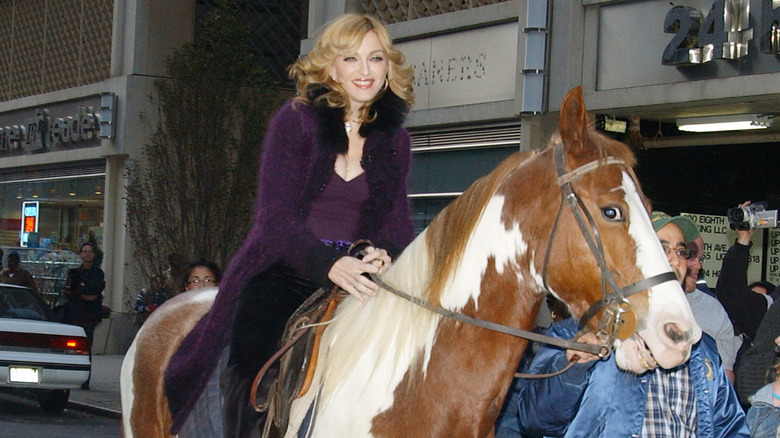 Arnaldo Magnani/Getty Images
As her spokesperson at the time told Billboard, Madonna sustained some pretty major injuries including three cracked ribs, a broken collarbone, and a broken hand. The singer seemed to be eager to get back on the saddle as soon as she could, but her record company managers were "not very keen on the idea" of the star potentially injuring herself again (via the Daily Mail).
"It was a wake-up call to appreciate my life, to be more grateful for what I have," the style icon said following the accident (via Wales Online). "It reaffirms my continued aspirations to learn and do as much as I can while on this earth."
It wasn't long until the star was back on a horse, though. In October 2005, she and talk show host David Letterman took to 53rd Street on horseback for an episode of "The Late Show" (via Fox News). "I have a bit of excitement tainted with fear," she told Letterman. Madonna briefly returned to the stables in 2009, but suffered "minor injuries" from another fall in South Hampton.
In April 2021, Madonna shared her return to the saddle with an Instagram post of her trotting around a stable. "Back in the saddle where I belong!" she captioned the post. "Never say never." The singer continued to share her time on horseback, with an additional Insta post in July 2021.