Jordan Alexander Shares The Face Wash She Uses To Keep Her Skin Clear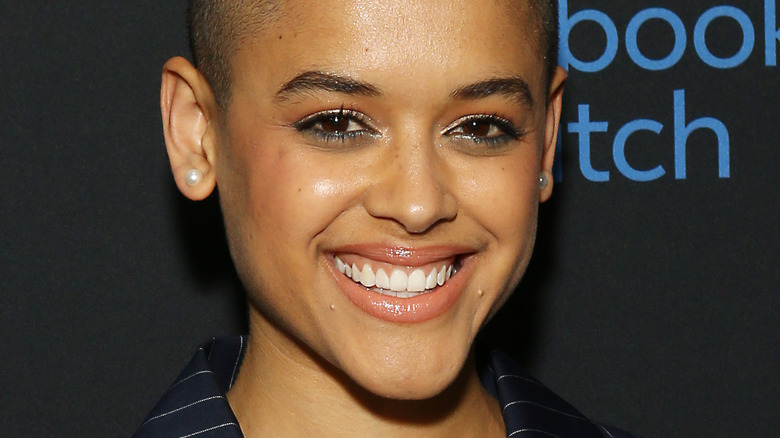 Michael Tran/Getty Images
Actress and Toronto native, Jordan Alexander has been busy playing the social media-savvy lead character, Julien Calloway, in the 2021 revival of the iconic CW show, "Gossip Girl." The natural beauty told Byrdie that before filming the show, she only wore makeup around once a month, but once she became the star of the series, she had to wear a full face every day for the cameras. 
Because of this, Alexander has to find a way to take care of her skin under the demanding conditions — including how to properly take her makeup off at the end of the day. "I've had to become a lot more regimented about [my skincare], which is nice because you have this routine you get into. Especially after coming off the set, I like to have a wind-down," she said to the outlet. Finding the right face wash was an essential step of this process, and she appears to have been successful. 
Even though Alexander reported that she's struggled with breakouts in the past, her skin looks as glowy as ever on "Gossip Girl." With dedication and a few choice products, she's transformed her skin. 
Jordan Alexander uses a Korean face wash with volcanic clusters
Jordan Alexander told Byrdie that she uses the Pore Clearing Facial Foam with Volcanic Clusters from Innisfree, a Korean beauty brand carried by retailers like Sephora. Formulated with volcanic clusters that absorb excess oil from your pores and exfoliating lactic acid, this cleanser is best for oily or combination skin. With over a 97% recommendation rate from shoppers, according to PopSugar, this cleanser has proven to be a worthwhile purchase for more than just the actress. "[It] keeps my skin clean, clear and blemish free! Never get pimples since using!" one satisfied customer wrote on the Innisfree website. Plus, at only $12, it can help get rid of your acne even if you're on a budget.
Lather this cleanser in your hands, massage over your face, then rinse with lukewarm water and you'll be left with a smooth, shine-free complexion just like Alexander's (via Shape).