What Strange Gift Did Governor Kristi Noem Give Donald Trump?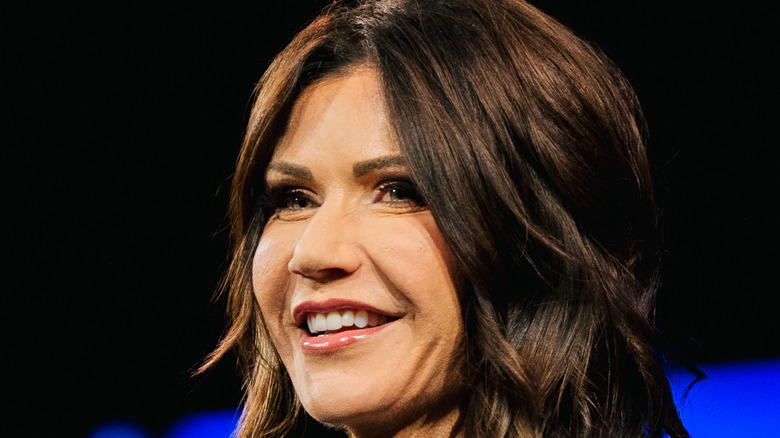 Brandon Bell/Getty Images
Back in the summer of 2020, Governor Kristi Noem gave former president Donald Trump an eyebrow-raising gift. According to The New York Times, the governor of South Dakota had cajoled Trump for quite some time into visiting Mount Rushmore for an extravagant Fourth of July celebration. And when he did in fact attend the event, Noem made sure to make it worth his while. She introduced him to the crowd with tremendous praise, equated him to Theodore Roosevelt, and criticized liberals who protested the controversial history of the monument. Then, in a private meeting, the governor gifted the former president a four-foot replica of Mount Rushmore with his own face added next to George Washington, Thomas Jefferson, Abraham Lincoln, and Theodore Roosevelt.
Why was Noem working so hard to get on Trump's good side? Many speculated that at one time, Trump was considering her as a potential running mate for reelection, via The South Dakota Standard. Though Noem eventually made it clear that she was not seeking former vice president Mike Pence's job, she is now being considered as Trump's running mate for the 2024 election. In fact, Noem may even become a presidential candidate.
The history behind Donald Trump and the Mount Rushmore replica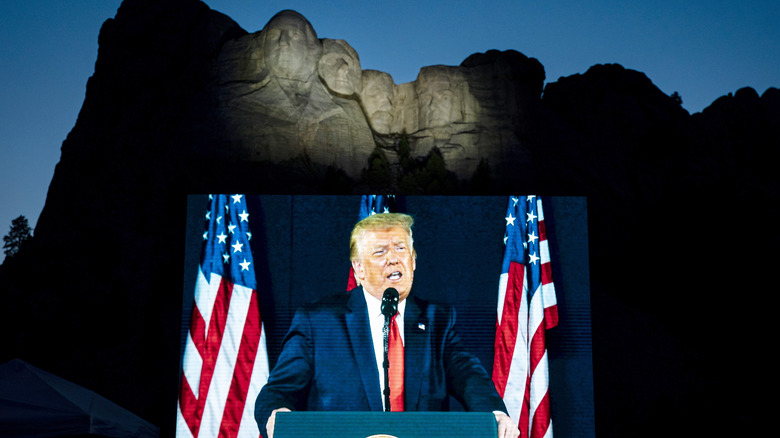 Bloomberg/Getty Images
Governor Kristi Noem didn't just gift former president Donald Trump a Mount Rushmore replica including his face without reason. As noted by The Daily Beast, Trump had reportedly been asking for his face to be added to the monument for quite some time. Noem couldn't alter the national monument, but she did her best to make it up to Trump.
Before Trump attended the July 4 celebration at Mount Rushmore, Noem's staff contacted Dallerie Davis, an art agent and realtor who works with sculptors in South Dakota. They asked her to find a sculptor who would carve the replica in a month's time, so Noem chose Lee Leuning and Sherri Treeby, a South Dakota sculpting duo who are also Trump supporters.
Leuning and Treeby created three copies of the replica. One went to Trump, of course, while the other two went to two anonymous donors. Leuning told The Daily Beast that the works were bookshelf-sized and created using "lost wax" casting. A picture of the replica didn't become available until it was published by The Daily Beast on September 5, 2021.