The True Story Of How Jared Kushner Met Ivanka Trump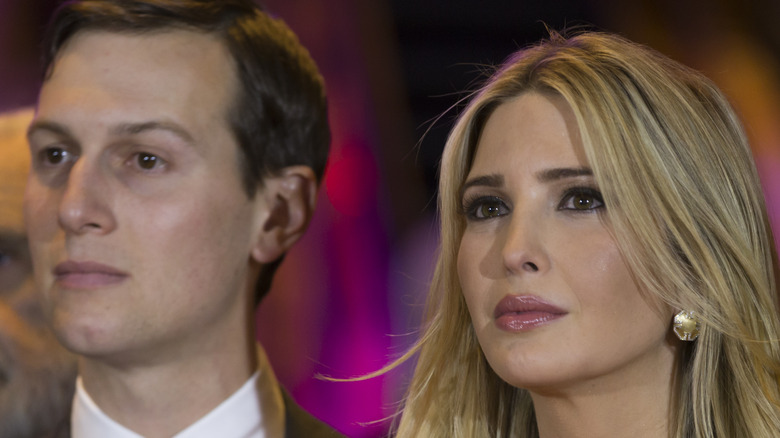 lev radin/Shutterstock
They were both from families who made their names and fortunes in New York real estate. And, today, they are known to many as "Javanka" — Jared Kushner and Ivanka Trump, perhaps the two people who had the most influence on former President Donald Trump during his four years in office. 
Both were given positions as senior White House advisors, with Kushner advising the president on everything from how to achieve peace in the Middle East to how to fight the coronavirus pandemic, while Trump's role was somewhat vaguer (via NBC News). Despite anti-nepotism laws that exist so presidents don't hire relatives unqualified for the job, Trump and Kushner were a constant White House fixture for four years. But how did they meet and become one of the most well-known couples in the world?
Jared Kushner was born on Jan. 10, 1981, and grew up as the son of major real estate developer Charles Kushner, who eventually ended up in prison for financial crimes (via Biography). Ivanka Trump was born on Oct. 30, 1981, as the second child and only daughter of Donald and his first wife, Ivana Trump (via Biography). They both grew up in New York society circles during the same era, so it seems like destiny that they'd eventually meet and become a power couple — first in New York and then across the world.
Jared Kushner and Ivanka Trump: Two business-minded young adults come together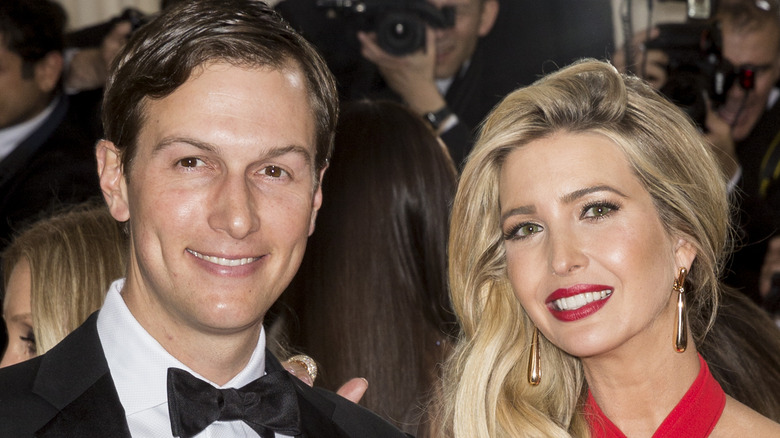 Ovidiu Hrubaru/Shutterstock
The year was 2007, and Jared Kushner and Ivanka Trump had mutual friends who thought their professional ambitions would turn them into great business partners, so those mutual friends set up a business lunch. Business quickly turned personal, and Kushner and Trump began dating. But, the next year, things took a turn, and the pair broke up, according to Marie Claire.
The reason for the breakup seemed to be their religious differences. Kushner was raised to practice Modern Orthodox Judaism, while Trump comes from a Christian Presbyterian background and, at the time, would frequently sport a silver cross around her neck. He was expected to marry someone with the same religious beliefs, so the two called things off. However, their friends in high places really wanted them together, so Trump's friend Wendi Deng — who was once married to Fox News owner Rupert Murdoch — invited them both on a yacht trip, and a reconciliation took place (via Marie Claire).
Jared Kushner and Ivanka Trump marry and become a power couple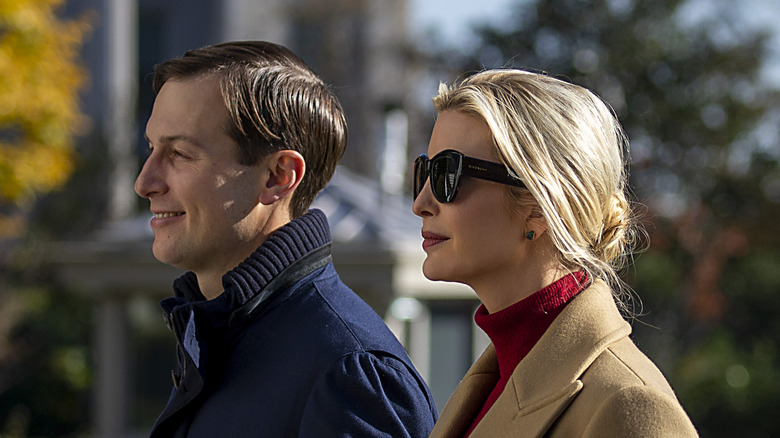 Tasos Katopodis/Getty Images
Being on a luxury yacht on the high seas seemed to do the trick because Ivanka Trump chose to convert to Judaism, which led Jared Kushner to present her with a five-carat diamond engagement ring. In 2009, they were married at the Trump National Golf Club in Bedminster, New Jersey, with 500 guests in attendance, and the bride even wore jewelry from the Ivanka Trump line (via Marie Claire).
The pair soon went on to start a family, and, as of this writing, they have three children, Arabella, Joseph, and Theodore, who spent four years of their young lives around the White House. The trio adorably left their handprints in the Children's Garden, a gift to the grounds from President Lyndon B. Johnson, just before their grandfather's term in office came to an end (via The New York Post).
Since leaving their roles in the White House, the world hasn't heard much from Kushner and Trump as they've tried to distance themselves from her father and his claims that he actually won the 2020 election. According to CNN, Javanka and their children moved to a Miami high-rise as they waited for their new mansion to be built on a private island in the area.