Here's What Using Moroccan Oil Can And Can't Do For You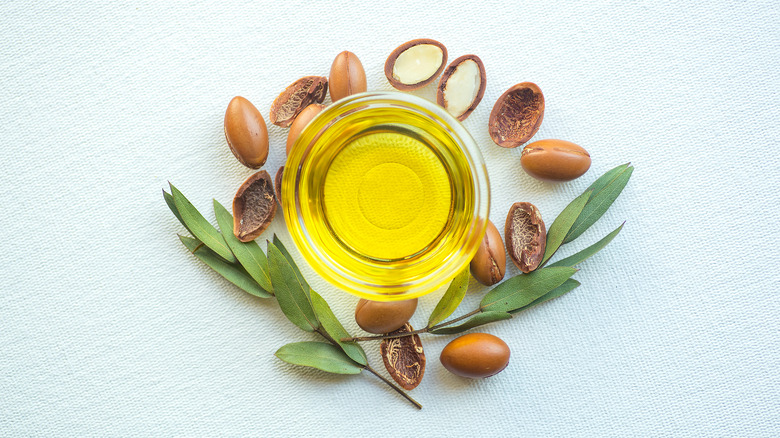 vovidzha/Shutterstock
Moroccan oil, often referred to as argan oil, is an oil extracted from an argan nut, which can only be found in southern Morocco, hence its name. It is packed with vitamin E and omega fatty acids, and has moisturizing and anti-inflammatory qualities, as noted by Byrdie. Due to the high demand, argan oil has been incorporated in a plethora of hair and skin products on the market nowadays, such as face masks, moisturizers, eye creams, and haircare. But why all the hype? Moroccan oil has proven to be a godsend for many when it comes to their hair and skin concerns.
Although the oil has been proven to have multiple benefits when it comes to the skin and hair, there are some things to consider before rushing to buy the nearest product with Moroccan oil in it. Here is what using Moroccan oil can and can't do for you.
The pros and cons of using Moroccan oil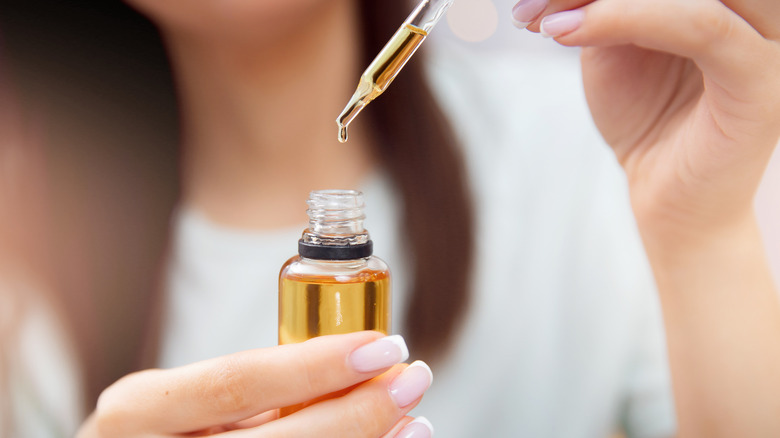 Parilov/Shutterstock
Argan oil is perhaps best known for restoring shine and preventing breakage to the hair. "Argan oil is an age-old beauty secret that has many uses, namely helping to hydrate and soften the hair," celebrity hairstylist Kevin Hughes told Byrdie. According to Prevention, its anti-inflammatory benefits can also combat dandruff, while its fatty acids and antioxidants protect against styling and sun damage. Meanwhile, its phenols (organic compounds that can be beneficial in small doses, per Healthline) can even stimulate hair growth.
For skin, argan oil has great moisturizing properties due to having vitamin E, which can also help lessen dark spots. It also has anti-aging benefits, as it has been found to improve the elasticity of the skin. "It's essentially nature's protective, nourishing superfood for your skin," Josie Moran, founder of Josie Moran cosmetics, told Marie Claire.
With all of these benefits, who wouldn't want to lather as much argan oil on themselves as possible? However, it is important to note that those with oily skin should be cautious around products that have Moroccan oil in them, due to the fact that it can clog pores. "If you are acne-prone and experience breakouts often, I would not use too much of any oil," dermatologist Debra Jaliman told Health. 
Since Moroccan oil is considered to be somewhat rare, cosmetic products with it tend to be on the pricier side, per Self. However, if you don't mind a splurge and don't have oily skin, argan oil could be your best friend.