Prince Harry And Meghan Markle's Oprah Interview Was Booed At An Award Show In England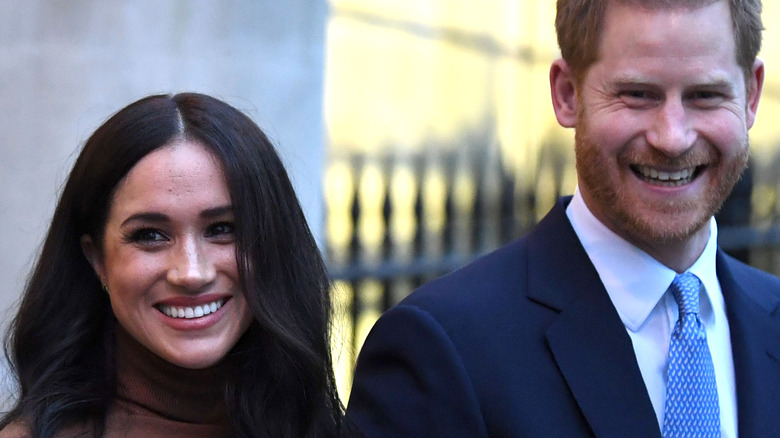 Wpa Pool/Getty Images
Six months after Prince Harry and Meghan Markle sat down for their groundbreaking, boundary-pushing interview with Oprah Winfrey in March 2021, the world has yet to stop obsessing over it. As The New York Times reported at the time, there were several wild revelations from the wide-ranging chat. Among other things, Meghan admitted that she'd suffered from debilitating mental health issues during her time with the royal family, but despite asking for help from superiors, she was ignored.
Elsewhere, both Meghan and then-unborn son Archie were allegedly subjected to racist attacks, particularly when a senior royal inquired as to what shade the child's skin would be. Likewise, although Meghan and Harry were consistently targeted by the British press, the monarchy did nothing to defend them and reportedly even assisted in spreading the false narrative surrounding the duchess. The famous couple was widely heralded for being so frank about their experience, but certain corners judged them for it. 
Now, an incident at a British awards show suggests that those hurt, betrayed feelings continue to exist throughout the country. 
Attendees were not impressed by the Harry and Meghan footage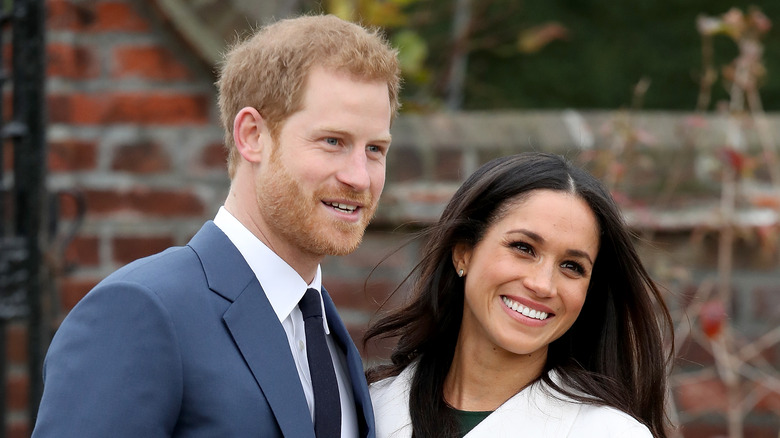 Chris Jackson/Getty Images
According to The Sun, at the National TV Awards in London in September 2021, footage from Prince Harry and Meghan Markle's explosive interview with Oprah Winfrey was met with loud boos. "As soon as Meghan and Harry appeared on screen the audience started booing," one source revealed, before adding, "And then everyone joined in, it was really loud and funny." The short clip was included in a collection of TV highlights from the preceding year, as is customary at the glitzy, annual event, but viewers watching at home wouldn't have heard the audience response. Neither Harry, Meghan, nor Winfrey were present. The Daily Mail seconded the account, with an attendee noting the Sussexes were also "loudly jeered" by those gathered at the star-studded show. 
The insider reported, "Immediately, there was audible booing throughout the arena. It was as though they were pantomime villains." A celebrity source, meanwhile, claimed the negative reaction was mainly aimed toward Meghan, whom they claimed was "obviously not too popular on the night." The Oprah interview caused major repercussions throughout the royal family, with the Sussexes believed to have broken the monarchy's sacred trust. In fact, Harry's relationship with brother Prince William has yet to recover from it. Following the broadcast, the queen released a statement confirming issues would be dealt with in-house, and that was that (via Page Six). However, it seems the British public remains very much on the side of the royals in this instance.