Here's What We Know About Nicki Minaj Canceling Her Performance At The VMAs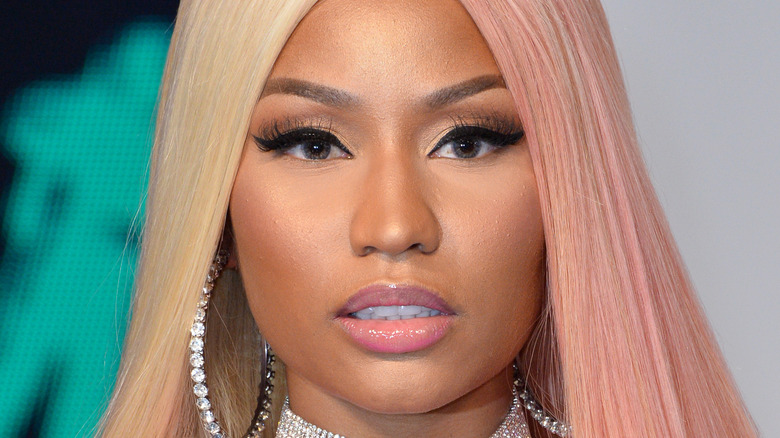 Featureflash Photo Agency/Shutterstock
Nicki Minaj is responsible for several iconic moments at the MTV Video Music Awards. For instance, one year she cleared up a case of bad blood with Taylor Swift during a shared performance (via YouTube) and ignited beef with Miley Cyrus (via YouTube). "Miley, what's good," she snapped at the "Wrecking Ball" singer while picking up a trophy. No matter what, the "Chun-Li" rapper is reliable for nabbing headlines. Sadly, her defining moment in 2021 is coming ahead of the September 12 awards show. That's because she canceled a planned performance before it was even announced.
Minaj hopped on Twitter to spill the tea about her scrapped VMAs set during a Q&A with fans. "I just pulled out," Minaj tweeted when asked about the rumored performance. Why? That's not totally clear. She promised an explanation later and shouted out someone named Bruce. Us Weekly speculated that it is likely producer Bruce Gillmer and noted her announcement came shortly after news broke about her husband's legal trouble. Although she won't be taking the stage in 2021, it appears Minaj already has the 2022 ceremony penciled in on her calendar. "Next year we there baby," she promised.
MTV has seemingly not commented on Minaj's canceled performance. Her appearance at the show had not been confirmed by the network prior to her tweet. However, Billboard noted that MTV announced a wave of new performers, including Normani, shortly after Minaj commented. Interestingly, this isn't the only lineup change that's happened going into the show.
Lorde also canceled a planned performance at the 2021 VMAs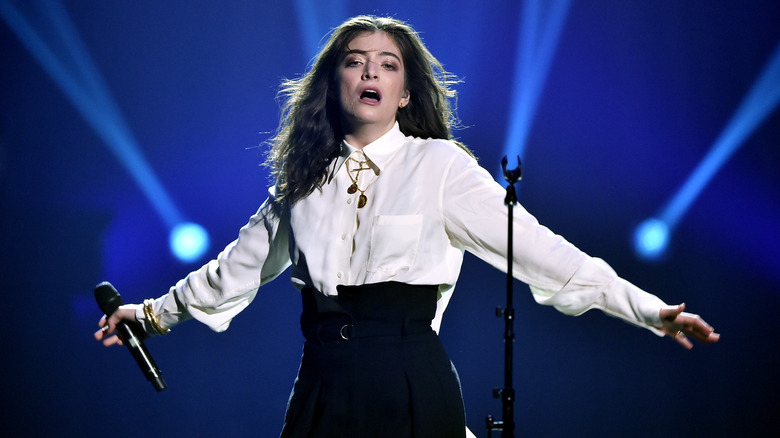 Steven Ferdman/Getty Images
While Nicki Minaj's performance at the 2021 VMAs was only rumored, Lorde — who recently dropped her new album "Solar Power" — had confirmed plans to perform at the awards show. MTV revealed that plans changed in a tweet less than two weeks ahead of the ceremony. "Due to a change in production elements, Lorde can no longer perform at this year's show," the tweet read. They also made sure to clarify that there was no bad blood between the network and the "Royals" singer.
Lorde assured fans that she was "totally fine" and explained what happened in a newsletter. According to her, the cancelation had to do with her desire to put on an "outstanding" performance. "We were planning this insanely amazing many-bodied intimate dance performance, not fully understanding the (very necessary!) safety protocols that are in place, and the masking and distancing just meant it wasn't gonna be what I dreamed," she explained (via People).
Despite the last-minute shake-ups, the 2021 VMAs still boasts a talented list of performances. Up-and-comer Kim Petras will take the stage during a pre-show event. Then the likes of Kacey Musgraves, Lil Nas X, Olivia Rodrigo, Shawn Mendes, Camila Cabello, and Doja Cat — the evening's host — will entertain viewers from inside Brooklyn's Barclays Center during the main event.