Why Madonna's VMA Appearance Has Twitter In A Tizzy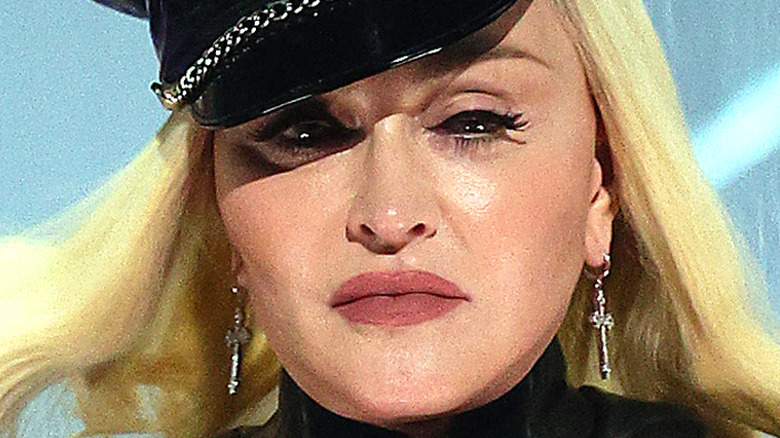 Theo Wargo/Getty Images
The 2021 VMAs are here, on September 12, and who better to introduce the award show than the Queen of Pop? 
Of course, it's not the first time that the singer-songwriter/actress that's shocked fans from every corner of the world. Remember her iconic performance in 2003 with the Princess of Pop, aka Britney Spears, and Christina Aguilera where she kissed both young women on stage (via New York Post)? Over a decade later, and some of us are still surprised at the shock factor of the legendary moment.
But if you think you were shocked then, think again. Madonna has once again made her presence known in front of thousands, but honestly, who would expect less at this point? She's called the Queen of Pop for a reason. 
During her appearance at this year's VMAs, social media is in the mix, unlike in the early 2000s. Her outfit, which featured a leather barter dress, fishnet stockings, and a hat, has Twitter in a frenzy, per the social media app. And, let's not mention her hair — the artist sported a platinum blonde wig! Is anyone else getting "Burlesque" vibes, here?
Madonna showed fans a sneak peak at the 2021 VMAs
Though Madonna hasn't come out with music lately, it doesn't negate her standing as the Queen of Pop. Why? Just the introduction of her at the VMA was enough to make Twitter go crazy. And, what's even funnier is that she didn't perform. She simply showed up like the Queen she is — walked up to the stage, smiled, and strutted off. 
nd if her presence wasn't already the gift, fans watching got a peek-a-boo look at the singer's rear end. What is her workout routine? She's pushing over 60, and her body looks just as good as an everyday 20-year-old! As one fan tweeted, "She's an icon, she's a legend and she is the moment." 
Aside from her gorgeous leather outfit, can we talk about her makeup? Flawless! The minimal look with the pink lipstick was the perfect addition to her burlesque look. Though the award showing only started, we're hoping to see more of our Queen.