Zac Clark Reveals Why He Almost Wasn't Cast On The Bachelorette - Exclusive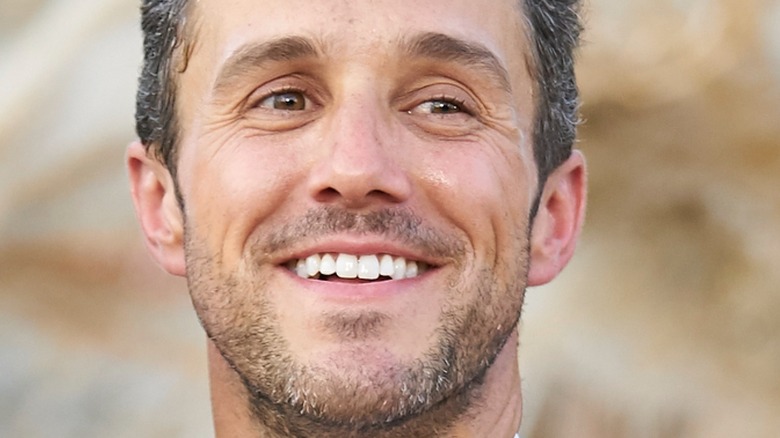 ABC/Craig Sjodin
These days, everybody seems to be looking for love, and it's not easy to find. There are all sorts of apps, speed dating events, and blind dates (which will send shivers up some of your spines), but another way to find it today is on reality television. "The Bachelorette" began helping ladies find their soulmates all the way back in 2003, and the successful series hasn't stopped since (via IMDb).
During Season 16, Zac Clark discovered the love of his life on the show. Yet, being cast wasn't entirely his idea. In fact, it was all thanks to his sister, Kathryn. "Her and my mom always longed for me to find someone naturally," he explained during an exclusive interview with The List. By 2020, it still hadn't happened, so his sister decided to sign him up for the reality series.
From the producers' standpoint, Clark was the perfect candidate for the show. As casting was in full swing, he quickly received a call to meet with them. However, there's a surprising reason he almost didn't end up on the series.
At first, Zac Clark had no interest in being on The Bachelorette
When Zac Clark first got the call that producers were interested in him for "The Bachelorette," he nearly ended his chances at ever being a reality star. "My first thought was 'Lose my number. You have the wrong number. I don't know what you're talking about,'" he told us. Yet, after further discussion, he realized that his sister was the one who had set him up for the phone call — so he decided to carry on the conversation.
After a few more phone calls and meeting with producers, Clark was officially cast as one of the eligible bachelors on the series, fighting for the love of Clare Crawley. Spoiler alert, if you didn't already know: that never happened. Fast forward a few episodes, and Crawley was already out the door with a man named Dale Moss (via Glamour). Season 16 was one that completely changed the game for the show, and funnily enough, Clark didn't know any differently. "I had maybe seen a couple episodes over the years," he confessed.
Luckily, a bachelorette named Tayshia Adams walked in, and Clark's life changed forever. He ended up winning her heart at the end of the season, and now the two are engaged. "I didn't have much idea of what I was signing up for," he admitted. "But sometimes that's better. Right?"
Zac Clark, along with his family, recently received the Richard J. Caron Award of Excellence for their support of Caron Treatment Centers and is slated to run the London Marathon and New York City Marathon to raise funds for the Release Recovery Foundation.