Is This How Melania Trump Really Reacted During The Capitol Riot?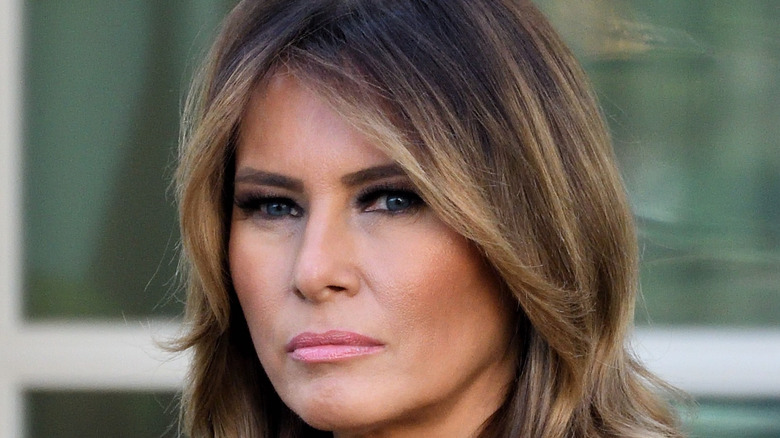 Evan El-Amin/Shutterstock
On January 6, 2021, thousands of Donald Trump supporters stormed the U.S. Capitol building, as votes were being counted to confirm Joe Biden's electoral victory. This led to lockdowns, evacuations, arrests, injuries, and even deaths. Less than two miles from the Capitol, Donald had been talking to his supporters, saying that the race had been stolen from him due to fraud (via CNBC). While chaos erupted, what was Melania Trump doing at this time, and what was her reaction to the riot?
Stephanie Grisham, who served as the White House press secretary when the 45th president was in office, is the author of an upcoming book titled "I'll Take Your Questions Now: What I Saw in The Trump White House." In the book, she states that the then-first lady was at the White House, getting ready for a photo shoot.
In regards to the book, a statement from the office of Melania Trump said, "The intent behind this book is obvious. It is an attempt to redeem herself after a poor performance as press secretary, failed personal relationships, and unprofessional behavior in the White House. Through mistruth and betrayal, she seeks to gain relevance and money at the expense of Mrs. Trump," (via POLITICO). But is there truth to Grisham's words, and did she reveal more about that tragic day and its events? 
The former White House press secretary called Melania Trump 'dismissive, defeated, detached'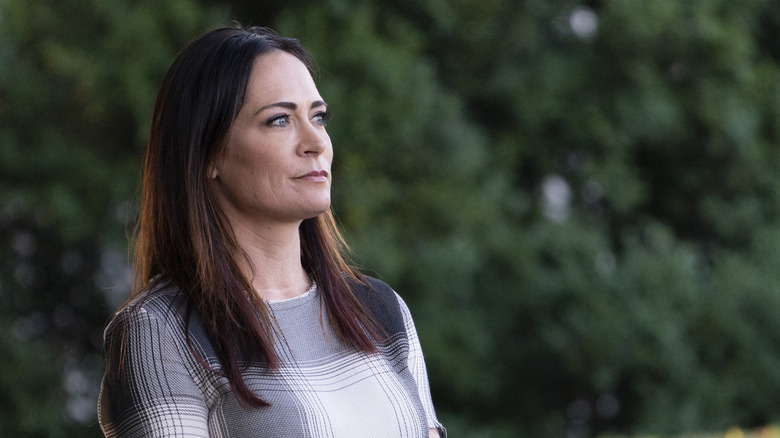 Bloomberg/Getty Images
Soon after the rioters broke through barricades at the United States Capitol, Stephanie Grisham texted Melania Trump, saying, "Do you want to tweet that peaceful protests are the right of every American, but there is no place for lawlessness and violence?" A minute later, a reply came, "No." Grisham resigned a few hours later, and while her statement at the time referenced her appreciation of the first lady and her agenda (via USA Today), it's clear from Grisham's upcoming book that things were not as rosy as they seemed. 
On January 11, 2021, the former first lady did say she was "disappointed and disheartened" by the events and that she thought it was "shameful that surrounding these tragic events there has been salacious gossip, unwarranted personal attacks, and false misleading accusations on me — from people who are looking to be relevant and have an agenda." It's unclear if she was referencing Grisham at the time. 
Grisham said that the response she received to her text "broke" her. She had defended Trump against accusations that she was a Marie Antoinette-type, but now, she sees her as "the doomed French queen: Dismissive. Defeated. Detached," (via POLITICO). Grisham's highly anticipated book is set to hit the shelves on October 5, 2021.