Daniel Radcliffe Reveals His Favorite 'Harry Potter' Movie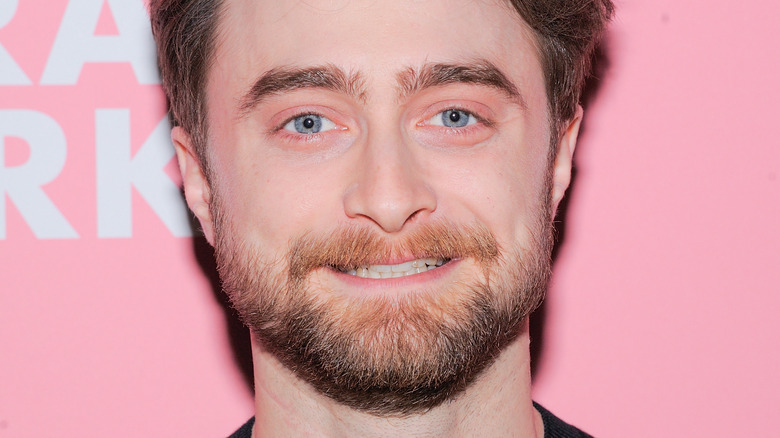 Lev Radin/Shutterstock
Every "Harry Potter" fan has a favorite scene and film from the franchise. According to Rotten Tomatoes, the best one is "Harry Potter and the Deathly Hallows: Part 2" from 2011, which received 96% on the Tomatometer and 89% for an audience score.
The actors from the series have their own favorite installments. For Helena Bonham Carter, she liked impersonating Hermione in "The Deathly Hallows: Part 2" while Michael Gambon enjoyed dancing with Maggie Smith in "The Goblet of Fire" (via Ranker). But, what about when it comes to the franchise's star, Daniel Radcliffe? When speaking with Wired, he was asked what his favorite "Harry Potter" movie was.
He stated that his favorite movie to watch is, indeed, "The Deathly Hallows: Part 2." When it came to acting, though, he had a different answer, and that was because of his co-star, Gary Oldman. In fact, on "The Late Show with Stephen Colbert," Radcliffe shared that Oldman was the first person he remembers being starstruck by, and his favorite behind-the-scenes moment involved the Sirius Black actor, too, as Oldman taught him how to play "Come Together" on the bass guitar (via Hollywood Life).
Daniel Radcliffe's pick for his favorite film from the franchise has to do with Gary Oldman
So, when discussing his favorite "Harry Potter" film with Wired, Daniel Radcliffe said, "The fifth one, which is not one that most people cite as one of their favorites. But I got to work with Gary Oldman a bunch in it."
These two stars first worked together in "The Prisoner of Azkaban" and had one scene together in "The Goblet of Fire." But in "The Order of the Phoenix," there were several big moments, including Sirius Black's death.
In a behind-the-scenes video from the making of "Deathly Hallows: Part 2," Radcliffe went on to reveal more admiration for Oldman. "I think the two best performances that I've given in these films so far are three and five, and I think that is, in part, to do with the fact that I had Gary Oldman around at the time, because I learned so much when he was around. I raise the stakes of what I'm doing just because I know he's involved" (via Insider).