Only An Athlete Could Wear Simone Biles' Met Gala Dress. Here's Why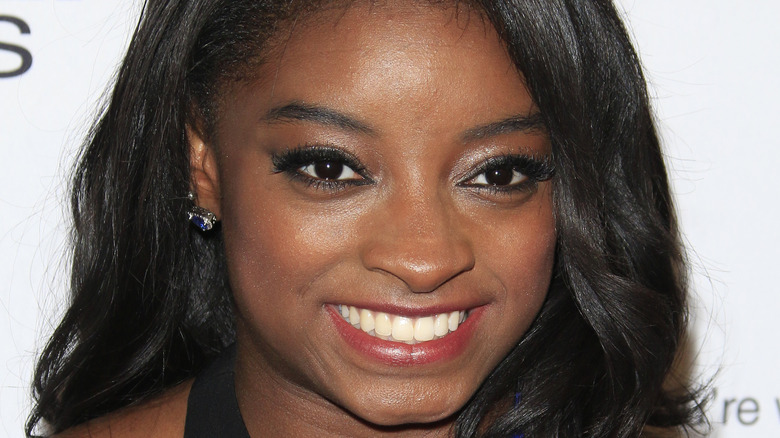 Kathy Hutchins/Shutterstock
The internet is aflutter, discussing all the looks that stars wore to the Met Gala with its theme of "In America: A Lexicon of Fashion."
One dress that many oohed and ahhed over was designed by Beckett Fogg and Piotrek Panszczyk of Area and worn by Simone Biles, who attended the event as a guest of Athleta. The ensemble was actually made up of three different outfits: a black catsuit, a mini dress, and a crystal-covered skirt (via Page Six). According to Vogue, it was inspired by showgirls — especially Josephine Baker, who made history as an activist and was also the first major Black female movie star. The stunning creation took over 100 people 6,650 hours to complete — a task that was finished up at about 4:00 a.m. the day before the Gala. 
Athleta actually came to Area for a piece for Biles, who is a brand partner of Athleta. "When we talked to them, even though they come from such a different place from us, we talked about the same things," said Athleta's chief brand officer, Kyle Andrew. "Okay, you have your active brand, you have an athlete, and you have a hyper- glamorous label from New York. Where do we all intersect? What's the common ground? And the one word was performance."
'It's definitely heavy,' Simone Biles said of her Met Gala look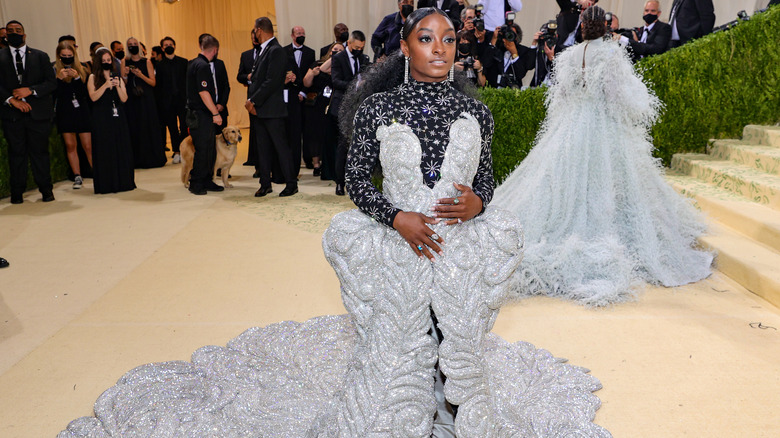 Theo Wargo/Getty Images
Simone Biles' Met Gala look was incredible, and it took a great deal of effort to complete. But not just anyone would be able to handle wearing it. Why? Well, the skirt alone, embellished in Swarovski crystals, weighs 88 pounds!
"It's definitely heavy," the gymnast said at her fitting (via Vogue), "but I feel beautiful, strong, and empowered." The skirt is also padded, as designers Fogg and Panszczyk wanted Biles to be comfortable, which is where the three different pieces come into play. As the night went on, she had the option to remove layers.
As mentioned, her ensemble was a collaboration between Area and Athleta, and this was the first time for either of these brands to attend the Met Gala, as well as Biles' first time. "I personally don't think anybody's dress is gonna be better than mine," she went on to say. "I'm sure everyone feels like that going in, but this is going to be a statement."