The Origins Of Dabbing
fizkes/Shutterstock
Do you feel like taking a trip down memory lane? It starts in 2015. Dabbing is at the height of its popularity. Kids are doing the move everywhere at school, using it to gain attention and laughs while creating a hazard in the halls. Panthers quarterback Cam Newton and other NFL players add the dab to their dancing repertoires at the end of successful touchdowns, gaining attention on YouTube.
A few years later, the move was still wildly popular. Jennifer Lopez taught Jimmy Fallon how to dab in a dance battle on "The Tonight Show" (also on YouTube) in 2017. And who could forget Rihanna at the 2016 VMAs, dabbing live on MTV (via YouTube) after Drake told her he and her fans loved her?
While viral dance moves now come and go with lightning speed since the creation of TikTok, the dab was something of a cultural phenomenon at its peak. The oh-so-famous celebratory move became more than just a gesture. It transcended generational gaps and was simple enough to be used by everyone. No one was spared the embarrassment of their parents picking it up. How, then, did dabbing become so popular in the U.S.? Who invented it?
Dabbing likely originated in Georgia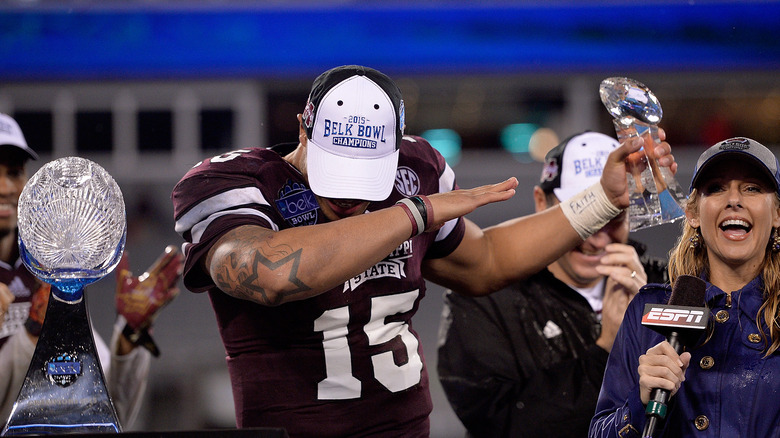 Grant Halverson/Getty Images
According to Know Your Meme, the dab likely started in Atlanta, Georgia in 2013. The hip-hop scene in this southern city was already known as the origin place for viral songs and famous artists. In fact, hip hop enthusiasts believe that the dance move began with a number of hip hop artists signed with Quality Control Music, such as Migos, OG Maco, Skippa Da Flippa, and Rich The Kid.
In 2015, the dab started to gain traction. Skippa Da Flippa gave a nod to the move in "How Fast Can You Count It." Migos published the song "Look at My Dab." The sporting world was next to pick up the gesture, and it spread like wildfire in football, basketball, and soccer, per Culture Kings.
It wasn't long before people began to argue about the dab's history. As noted by Know Your Meme, a Fox Affiliate News station initially claimed that the move was named after Dabo Swinney, the head football coach of Clemson University. Rapper Bow Wow thought the term was linked to another definition of dabbing: Smoking hash oil in high concentrations. Both theories were dismissed as false.
Quavo from Migos put the arguments to rest when he said, "It wasn't even called dab. We didn't even know it was called dab. Y'all just called it the dab." In other words, we've been able to figure out a lot about the move's origins, but we will probably never know who first invented it.