What We Know About Norm Macdonald's Son Dylan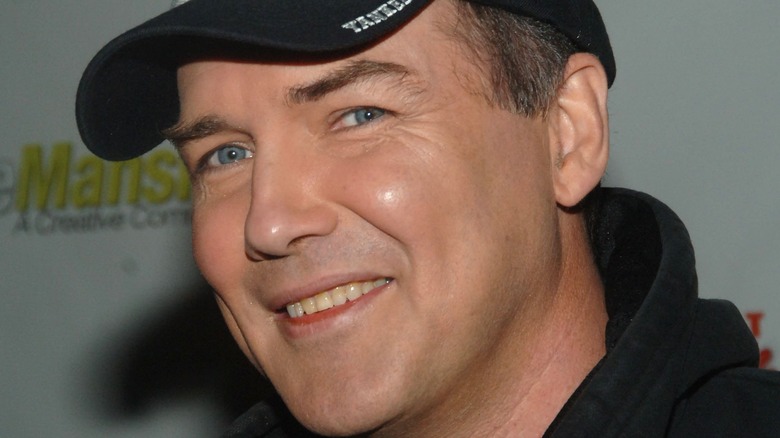 Brad Barket/Getty Images
Norm Macdonald, known for his comedic prowess and deadpan delivery on "Saturday Night Live," died earlier today, Deadline reported. The comedian was privately battling cancer for nine years; he was only 61.
His longtime producing friend, Lori Jo Hoekstra, was with him at the time of death and said, "He was most proud of his comedy ... He never wanted the diagnosis to affect the way the audience or any of his loved ones saw him. Norm was a pure comic. He once wrote that 'a joke should catch someone by surprise, it should never pander.' He certainly never pandered. Norm will be missed terribly."
MacDonald first made the rounds around comedy clubs in Canada in 1992. He made headway into the show business right after, when he joined the cast of "Saturday Night Live" (via Variety). The hilarious Weekend Update anchor was succeeded by Colin Quinn in the segment, but was remembered for his approach to political comedy and impressions. MacDonald was also survived by his son, Dylan Macdonald, who appears to also be into comedy. Read on to know more about him.
Dylan Macdonald does comedy sketches online
A Reddit user from the subreddit NormMacdonald posted an old black and white picture of Norm with his son, Dylan Llyod Macdonald. According to Celebrity Mirror, he was born on the 28th of October, in 1992, to Norm and his ex wife, Connie Macdonald.
Dylan is definitely under the radar when it comes to his career and internet presence. However, he did appear in a widely circulated video of a Tom Green show, with his father. "Your father and I grew up maybe only 10 blocks away from each other," Green told a very young Dylan, who was on screen only briefly.
But a Reddit chain did find a YouTube channel featuring Dylan and his friends in comedy sketches. The channel is named "3rd Triumvirate" with content ranging from Vine-worthy sketches and home videos with random titles like "Spelling Bee" and "Idiot Savant" as well as obscure sports jokes from a segment called "The Lead." However, there have been no uploads since 2015. While we're not sure if Dylan's still into creating comedy, his sketches are on-brand for Gen-Z humor and TikTok culture.