Stars You Won't Recognize Without Their Signature Look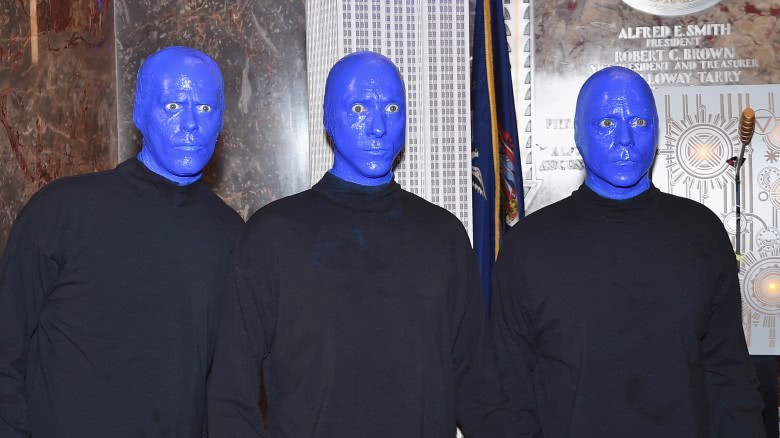 Getty Images
Dating all the way back to the halcyon days of Charlie Chaplin and Marilyn Monroe, over the years countless stars have cultivated memorable and iconic looks that set them apart from the crowd, and ensure that we'll always remember their faces (even if we can't see them).
We get so used to celebrities' appearances that it can be somewhat shocking to see what our favorite actors and musicians look like when they forgo their signature accessories, hairstyles, or masks.
Read on to see what these celebs look like without their usual getup.
Marilyn Manson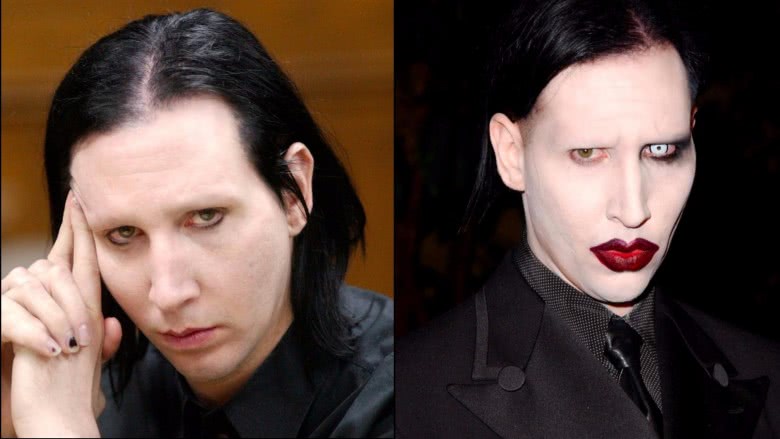 Getty Images
With disturbing music videos and outlandish performances, rocker Marilyn Manson has gone out of his way to shock over the years. However, showing up without his usual look might just be the most surprising stunt he can pull.
Manson himself notes his talent at getting glammed up, and has developed his own affinities for certain brands to perfect his look. He told fans during a Reddit "Ask Me Anything" appearance, "I can do my own makeup probably in less than 5 minutes, depending on what type of makeup I'm doing. I usually use a combination between M.A.C. and AquaColor and Makeup For Ever. And Christian Dior."
In Manson's mind, makeup has given him the freedom to explore bold new creative frontiers. He explained to Fader in 2015, "I suppose my fascination with makeup comes from me having a great imagination and not being able to contain it just to a piece of paper or a piece of music ... I can say things other people wouldn't get away with because I'm wearing lipstick."
Melanie Martinez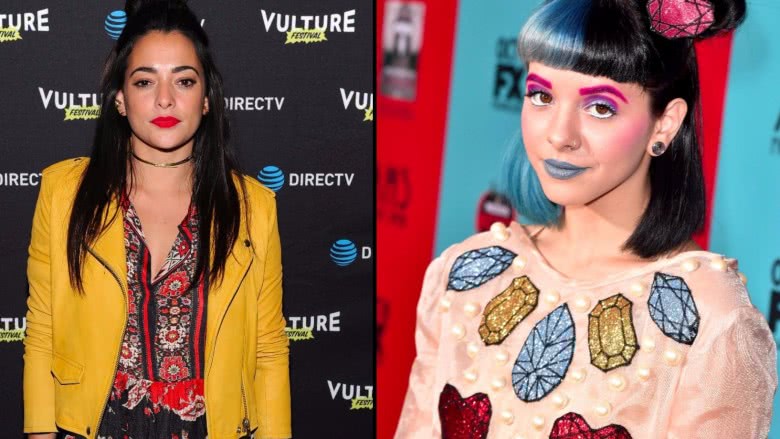 Getty Images
Singer and The Voice alum Melanie Martinez has cultivated quite the unique look, with colorful makeup and elaborate costumes and accessories. According to Martinez herself, her appearance is very much related to her creativity; she told Hello Giggles that "I always have phases, stylistically, and they also go with what music I make, too."
In 2015, she discussed her love of getting dolled up with Teen Vogue, saying that "I change my eyebrow color every single day." Her passion for makeup even extended to creating her own lipstick hue, a bright blue shade called "Cry Baby," with the cosmetics brand Lime Crime.
But Martinez can also rock a more demure style, as her appearance sans multicolored eyebrows on the red carpet at the 2016 Vulture Festival proved. The girl's got major versatility, and we dig it.
Blue Man Group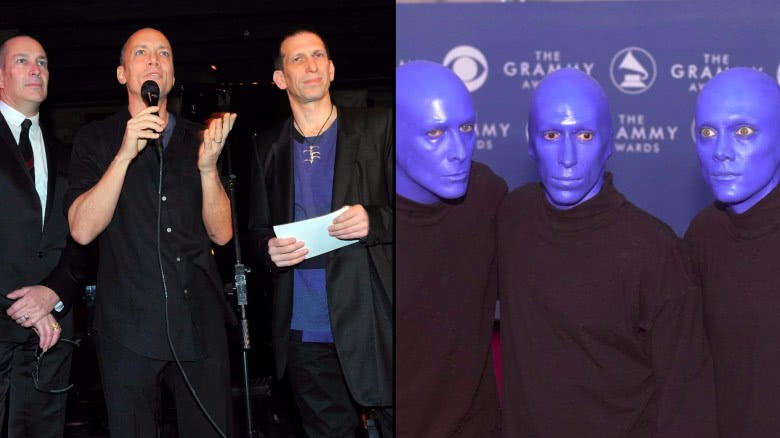 Getty Images
The Blue Man Group has been performing covered in blue body paint around the world since 1991, when Chris Wink, Phil Stanton, and Matt Goldman realized that audiences were clamoring for (in their own words) "a euphoric exploration of art, technology, and music."
The group's look became so iconic that their creation was even featured in a recurring (and hilarious) storyline on the hit TV show Arrested Development.
But it turns out that, beneath all that blue baldness, the three men of the Blue Man Group are just ... well, men.
Daft Punk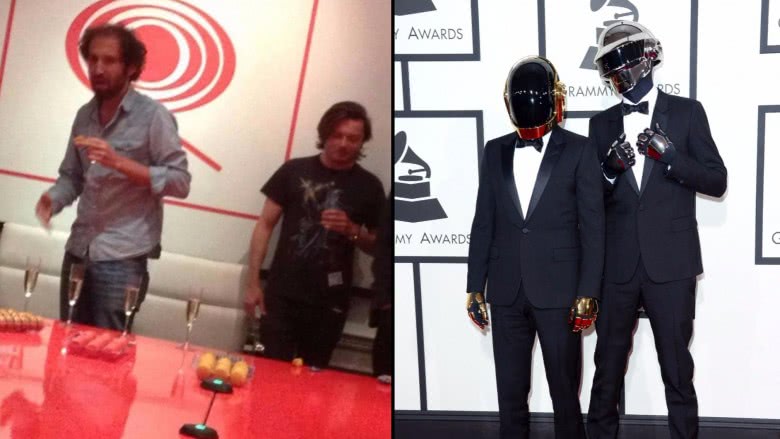 Imgur via @bout2callbovice (L) / Getty Images (R)
French duo Daft Punk (real names Guy-Manuel de Homem-Christo and Thomas Bangalter) are infamous for appearing on red carpets and in performances wearing their signature helmets, which have become an important part of their public image. As Homem-Christo told Rolling Stone in a 2013 article, "We're not performers, we're not models – it would not be enjoyable for humanity to see our features ... but the robots are exciting to people."
The helmets also grant the pair a degree of anonymity, which can be alluring when you're part of a Grammy-award winning band who had arguably one of the biggest songs of the 2010s. "One thing I like about the masks is that I don't have people constantly coming up to me and reminding me what I do," Bangalter explained to Rolling Stone.
However, they've been caught on camera a few times out of costume, including in a now-deleted Facebook post of the duo reportedly playing champagne pong, and the truth is that we don't know that we'd "get lucky" guessing who they are without their masks on.
Sia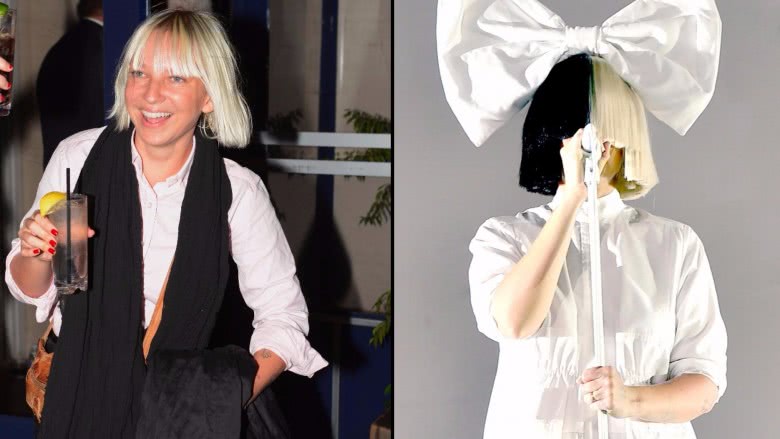 Getty Images
A big part of singer Sia's mystique is the way that she's hidden her true appearance over the years, accessorizing with large wigs and eye-catching bows and dodging paparazzi. For Sia, her disguise is integral to the longevity of her career; she discussed how it might extend her artistic shelf-life with Kristen Wiig in a conversation for Interview Magazine, saying, "I would like to be able to make great pop music for another 20 years. And it feels like creating a sort of inanimate blond bob ... affords me a little bit more freedom in terms of my expiration date."
Sia even made an entire appearance on ABC News' Nightline with her back to the camera, telling Chris Connelly she hides her face in order to avoid scrutiny: "I don't want to be famous, or recognizable ... I don't want to be critiqued about the way that I look on the Internet."
But, every now and then, her friendly face appears in public, though not necessarily to Sia's liking. She reiterated to Kristen Wiig in that same Interview chat, "I'm not willing to give up my actual self." Whatever Sia needs to keep the hits coming, we're cool with.
DeadMau5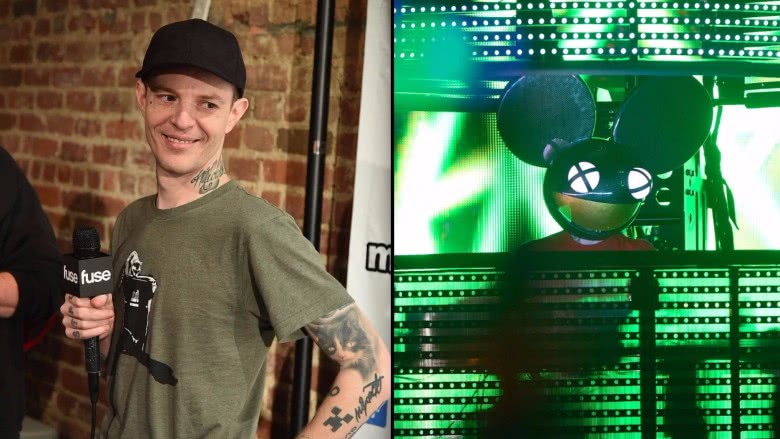 Getty Images
Like Daft Punk, Grammy-nominated DJ Deadmau5 (a.k.a. Joel Zimmerman) is known for performing to packed crowds with a helmet on. In his case, it's a large, grinning mouse head.
According to The Hollywood Reporter, Zimmerman's attempts at trademarking his Deadmau5 head nearly got him into some hot water with the Disney company, creator and owner of arguably the world's most famous mouse. However, the parties were able to amicably resolve their dispute, so the signature helmet isn't going anywhere soon.
And thank goodness, because without it, we'd frankly have no idea that the guy on the left was, according to Forbes, one of the world's highest paid DJs.
Cara Delevingne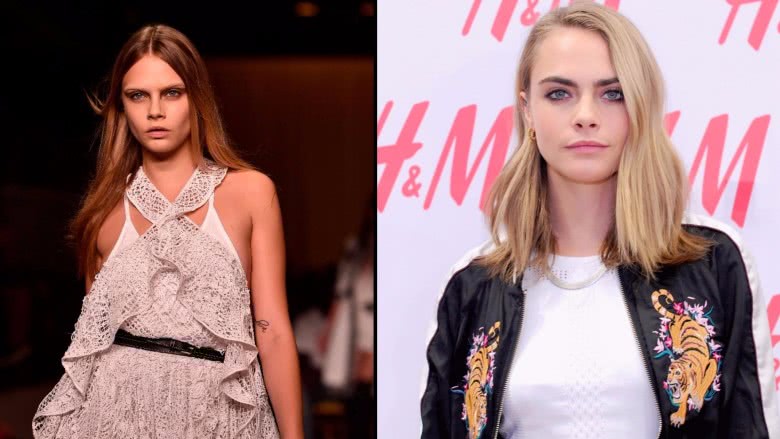 Getty Images
Supermodel and actress Cara Delevingne has nailed down a killer signature look with her beautiful dark eyebrows. According to Delevingne in an interview with The Times, her brows are actually pretty low maintenance. "I pluck a few, but I don't shape them. I usually don't let other people touch them, just in case. Of course, they're insured for millions ... I'm joking."
Without them, Delevingne looks like a totally different person, as we saw during her appearance on the Givenchy runway during Paris Fashion Week 2014.
Delevingne's eyebrows are so iconic, Buzzfeed did an experiment to see what other celebs would look like with them. Side note: as weird as Delevingne might look without the eyebrows, other celebs look pretty bizarre with them, as Buzzfeed proved. Even more props to her for always rocking them.
Ariana Grande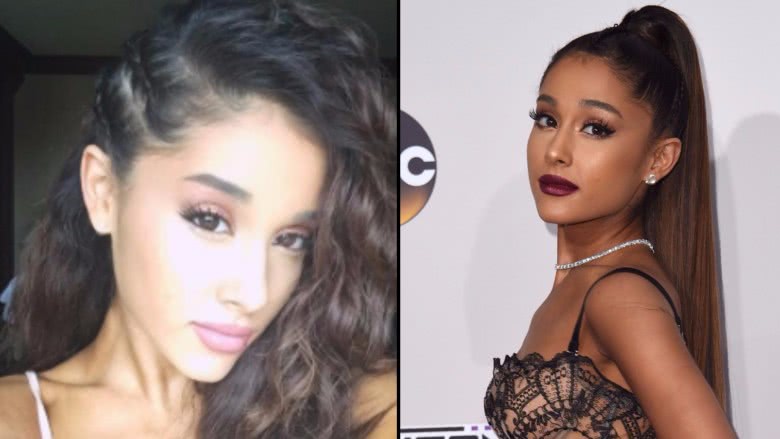 Instagram via @arianagrande (L) / Getty Images (R)
Over the years, it's been rare to catch a glimpse of singer Ariana Grande without her trademark pony tail. In a 2014 Facebook post, Grande explained the reason behind her signature hairstyle, claiming that it was due to damage caused by years of aggressive on-set styling, and "apologizing" to her haters. "As annoying as it is for y'all to have to look at the same hair style all the time, it's all that works for now."
Grande posted an au naturel pic to her Instagram page in 2015, noting her "healthy curls... long time no see." It's a different look for her, and we dig it. But it doesn't sound like the pony is going anywhere anytime soon.
In fact, Grande told Byrdie, "Every time I put my hair up, it's like a surprise. Like, I forget how much I love it, and then I tie it back and I'm like, 'I love this look! Ooh, girl!' Every time I tie it up is like the first time. It's like true love."
Zooey Deschanel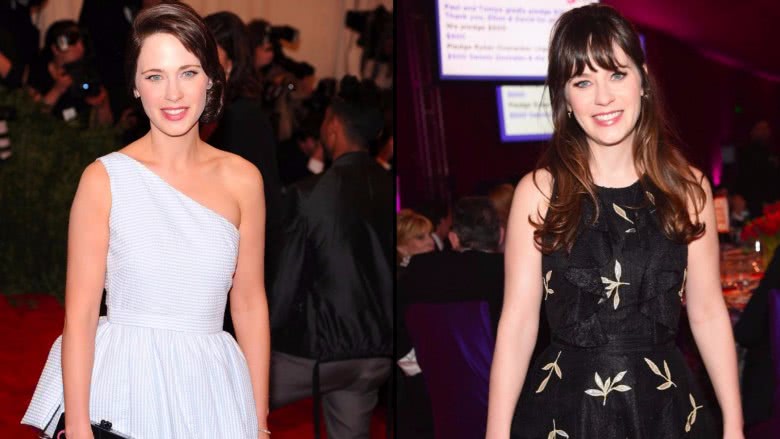 Getty Images
Ask anyone about New Girl star Zooey Deschanel's style and it's likely that they'll mention her iconic bangs. Deschanel herself understands the power of her fringe, telling Glamour, "I really don't feel like myself without them ... You could say that I'm hooked on bangs ... people know me as the girl with bangs. They're not for everyone ... but they work for me."
In fact, without them, Deschanel literally looks like a different person, as she revealed on the 2013 Met Gala red carpet. If nothing else, she's got a handy disguise if she ever needs one.
Pamela Anderson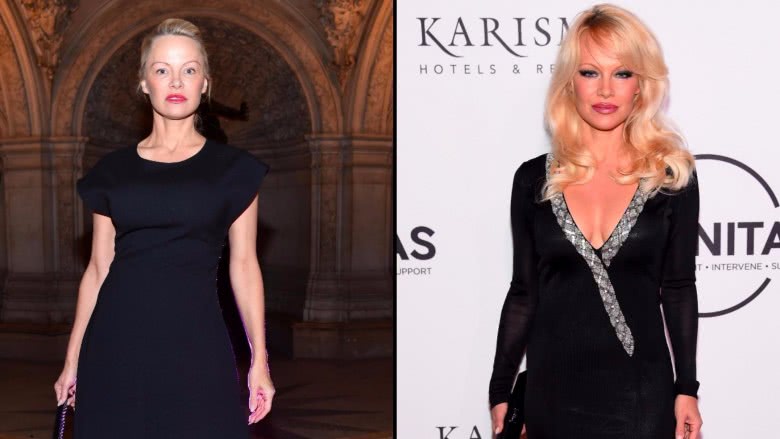 Getty Images
Pamela Anderson has made her mark over the years with her signature dark makeup, penciled eyebrows, and flowing blond hair. Combined with her red Baywatch bathing suit, she became one of the most enduring icons of the '90s. Anderson herself noted the importance of cultivating a signature style to the Los Angeles Times in 2010, advising readers that "the right hair and makeup make you feel more confident ... Just play with it.... It's exciting, and it can be more fun than people make it."
Seems like Anderson took some of her own advice, debuting a more demure style at a series of appearances in 2017 that had outlets like Good Housekeeping, Allure, and The Huffington Post making a pretty big deal about her fresh-faced look.
We've got to say, she looks amazing without the layers of makeup and over-the-top hair—even if we didn't know it was her at first.
Boy George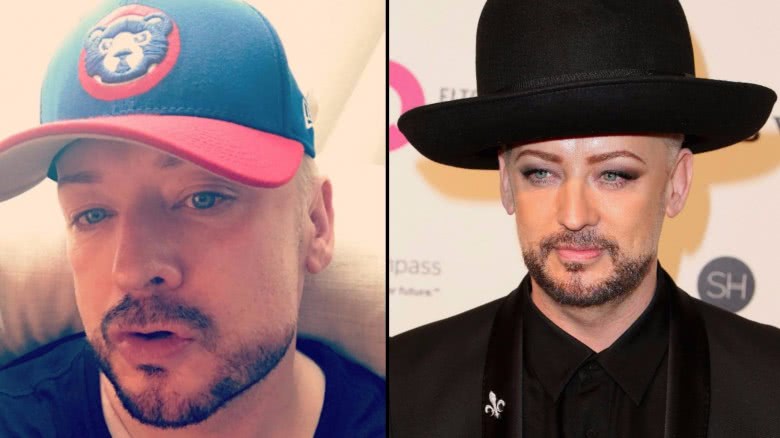 Instagram via @boygeorgeofficial (L) / Getty Images (R)
"Karma Chameleon" singer Boy George is himself quite the colorful character, and his elaborate makeup and headwear have defined his image since the 1980s.
George occasionally posts snaps sans makeup on his personal social media pages, and his fresh-faced appearance is rather a departure from his usual glamorous red carpet look.
For more proof of all the work that goes into his look (and some tips!), check out this video tutorial from Paper Magazine, where the singer gives a lucky model a full-on Boy George makeover.
Stars are people too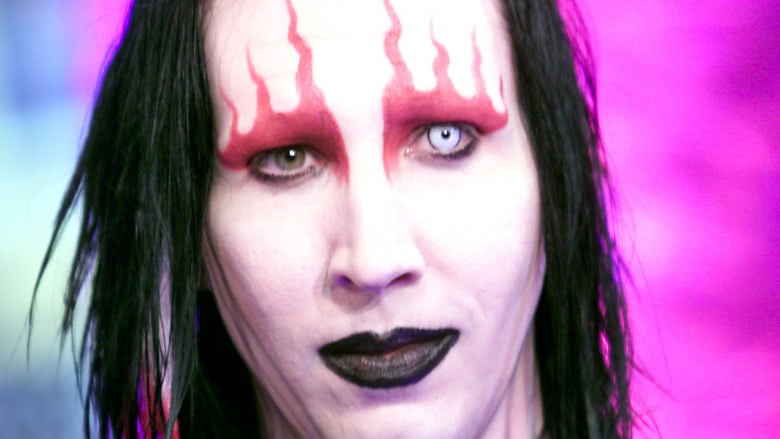 Getty Images
Even stars can get bored with the same ol', same ol', so we can't blame them for wanting to change up their look sometimes, or even for going full incognito.
No matter what, we love their bold looks, so we say, "Keep us guessing!"