Who Is Donald Trump Relying On To Increase His Popularity With Women Voters?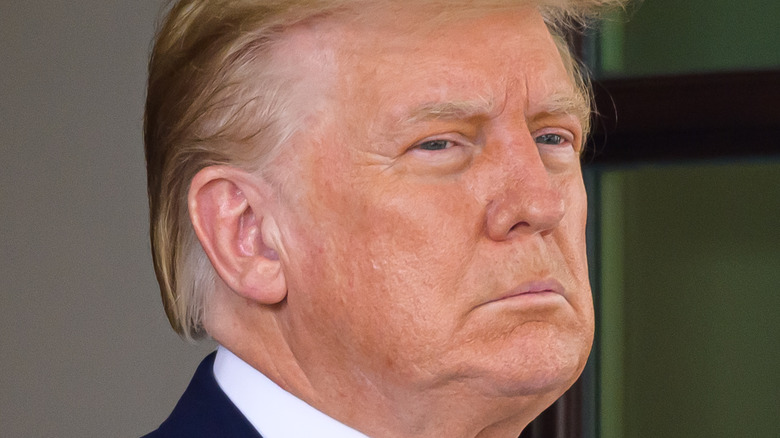 noamgalai/Shutterstock
Although Donald Trump spent much of his presidency touting the fact that he earned 52% of white women voters in 2016 based on what are often flawed exit polls, a Pew Research study in 2018 found the actual number he won was more like 47%, which means a majority of white women did not vote for him, according to Time. In fact, Trump's unpopularity with women was evident from his first full day in office when a Women's March across the country brought millions of women (and some men) out into the streets to protest his presidency. With an estimated 4.6 million people in attendance in cities throughout the United States, January 21, 217 produced the largest single day protest in American history (via Britannica).
In 2020, exit polls showed that Trump fared slightly better with white women than Joe Biden (via Vox), but overall, Biden won all women by a 15 point margin, according to NBC News. Biden was helped in that overall number by winning a whopping 91% of Black women. As Trump continues to hint about a possible third try for the presidency in 2024, he knows he has to increase his number with American women if he has any hopes of winning, but according to moderate conservative writer Jennifer Rubin, he is relying on the wrong women to get there.
Donald Trump always likes to keep it all in the family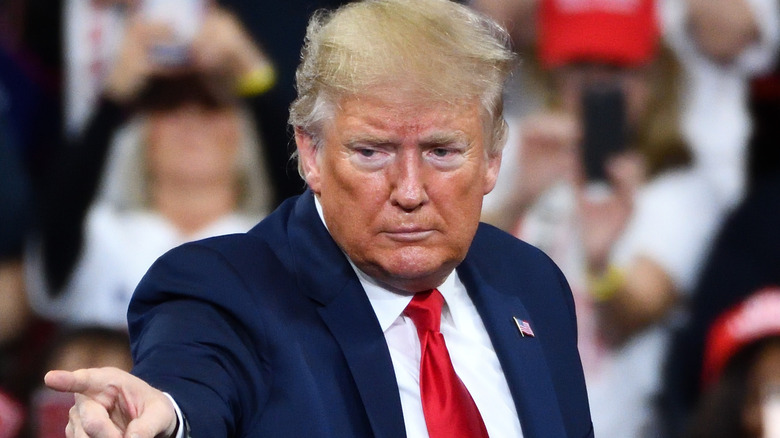 Evan El-Amin/Shutterstock
Much like he did with the Trump Organization, Donald Trump put his family members into White House roles, including his daughter Ivanka, and her husband, Jared Kushner, who had senior White House advisor positions. He also used family members on the campaign trail. That is what Jennifer Rubin says was a mistake in her new book, "Resistance: How Women Saved Democracy From Donald Trump" (via She Knows).
Rubin credits the new women who have joined Democratic party, as well as the party's work in attaining and retaining female voters, in defeating Trump. She contrasts that with the Republican party letting Trump rely on family members like Ivanka and wife, Melania, to attract women voters. Even the Republican National Convention used a member of the former president's inner circle to broaden Trump's female appeal. Few will ever forget the speech that was essentially yelled by Kimberly Guilfoyle, the girlfriend of Trump's son, Donald Jr.
"The Democrats could feature so many women because so many of them had run for, won office, and ascended to national prominence ... Instead of a slew of prominent women lawmakers who had risen in the party, the Trump team relied heavily on Trump relatives like Melania, Ivanka, Tiffany, his sons, and his sons' significant others," Rubin writes in her book. "At times it seemed the only women willing to tout him were those who stood to inherit something."