The Best Strapless Bras On Amazon In 2022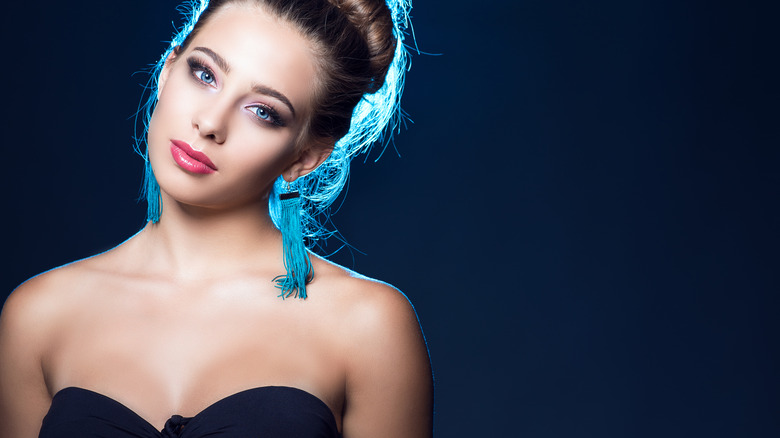 Olga Brik/Shutterstock
We may receive a commission on purchases made from links.
A good strapless bra is a must in every woman's wardrobe. Regardless of bust size, there are simply too many outfits that require bare shoulders or a bare back, lest we ruin the overall effect. Although plenty of us would like to be cool enough to show off our bra straps Carrie Bradshaw style, most of the time those unsightly lines can ruin an outfit. There are also plenty of looks that simply don't allow for a bra, such as backless gowns and particularly intricate tops. 
Finding a good strapless bra can be tricky, however. Sometimes, the fit is right but the support is lacking. Often, they're too tight and make it difficult to get comfortable (even if the outfit is on point). Locating a decent strapless bra is a minefield for ladies blessed with a bigger bust, especially, since the mechanics for keeping everything in place are just not there. Thankfully, there are plenty of great options to suit every woman and, crucially, the most complicated outfits too. 
These are some of the top picks for strapless bras to suit any occasion. 
How we selected the strapless bras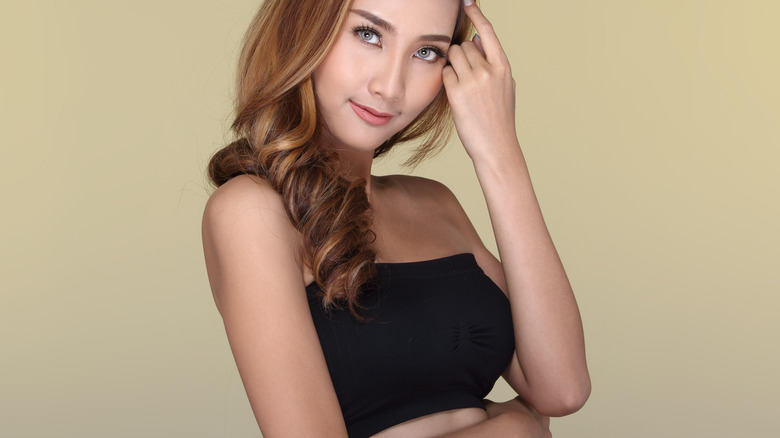 Jade ThaiCatwalk/Shutterstock
Someone has to take one for the team and dive into Amazon's strapless bra department to find the best of the best, and if it means everyone gets to wear comfortable bras from now on, we were willing to put in the work. Therefore, we scoured Amazon for the best strapless bra materials, prices, and construction to see if any were good enough to make our list. Naturally, we also consulted customer reviews and overall star ratings to see which are on-trend, and which simply fall flat.
For bras, we also wanted to make sure the varieties we chose had nice size coverage. After all, no one's body is the same, but everyone deserves something comfortable and fitting to wear. Even still, we wanted to find cute bras, if possible, that matched our other criteria. Bras don't have just be something we hide. They can be cute, as well as form-fitting and constructed well.
With all of this in mind, we took to the Amazon search bar to uncover which strapless bras are worth your time and money.
Best strapless bra overall
When it comes to strapless bras, you really can't go wrong with this super tough underwired addition. The cups are lightly lined, so it won't show up under your clothes, while the no-slip silicone ensures the bra will stay put even when you're dancing the night away. Boasting removable, adjustable straps, which allow the bra to be worn a multitude of different ways including across your back, for racerback tops, halter style, and even one shoulder, this is actually several strapless bras in one. It's also available in a handy 3-pack for all manner of different outfits.
Purchase the Vanity Fair Women's Beauty Back Smoothing Strapless Bra on Amazon starting at $14.00.
Best bandeau style strapless bra
Sometimes, a regular bra just won't do, particularly for ladies with a less generous bust who can get away with nothing more than a bandeau. In that case, this little number is totally seamless, so it should be invisible under clothing, and is ideal for everyday wear if you're looking to be comfortable but still supported. It's also available in white, beige, and black for all different looks. 
Purchase the Boao Bandeau Bra from Amazon starting at $18.99. 
Best strapless bras for a large bust
Finding the right strapless bra for bigger breasts can be incredibly frustrating, since support is key but there's also a major concern about unsightly lumps and bumps. This full-busted, and crucially fully-underwired, strapless bra promises to solve all those problems thanks to its stretch foam cups and tough silicone strip, which runs along the top and bottom edges, ensuring as little movement as possible. Elsewhere, bulge isn't an issue thanks to the smoothing band and sides. Straps are included, allowing for multiway use just in case you need a little extra support.
Purchase the Wacoal Women's Red Carpet Strapless Full Busted Underwire Bra from Amazon starting at $40.80. 
Best adhesive strapless bras
Strapless bras don't necessarily have to be plain. This corseted variety, which promises to be totally invisible under clothes despite its eye-catching design, provides ample cleavage thanks to its deep-V design. The viscous, lightweight material is soft and comfortable but promises to stay in place. It comes in a black and beige variety, both of which are ideal for a sexier look under an evening gown, for example.
Purchase the Afinniee Sticky Strapless Push-Up Bra from Amazon starting at $18.99.
Best strapless and backless push-up bra
Sometimes, strapless isn't enough, we need a bra without a back too. This variety promises to be completely invisible and to provide a natural fit with a push-up effect thanks to its self-adhesive nature and low-cut shape. Biological glue, located inside each cup, safely sticks to your skin ensuring no uncomfortable slips — though you're advised not to get too sweaty, since the adhesiveness will be adversely affected. If you've got a particularly complicated dress to wear for an event, this is your best bet.
Purchase the Dopheuor 2 Pack Self Adhesive Invisible Bra from Amazon starting at $23.99. 
Best seamless strapless bra
Even some of the best strapless bras somehow show up through our clothes, but with this variety, you're guaranteed to be line-free. The breathable, lightweight mesh design on each side easily smooths out the danger areas under the arms and across the back, while a sculpted neckline offers a fancier look than the typical T-shirt bra. Support won't be an issue either thanks to the ultra-thin foam and no-slip technology, while adjustable straps allow eight different ways to wear it. 
Purchase the Bali Women's One Smooth U Side & Strapless Multiway Underwire Bra from Amazon starting at $17.99.
Best lace designed strapless bra
Sometimes, showing a little bit of bra is okay. And for those occasions, this pretty lace bandeau top is ideal. It slips right on, and the lace and spandex combination material is comfortable while also providing the requisite support. This bandeau is perfect for wearing under V-neck T-shirts, or loose fitting shirts, to give plain outfits a little extra something. The pack contains three different color varieties too, for easy matching, or even contrast, no matter the outfit.
Purchase the Boao 3 Pieces Women's Floral Lace Tube Top Bra Bandeau from Amazon starting at $16.99. 
Best strapless bra without padding
Underwiring is obviously important, particularly when it comes to strapless bras, but padding isn't always necessary. This bra boasts underwire that provides ample support no matter your breast size, while anti-slip silicone strips placed at both the top and bottom ensure it won't move. The key element here is the non-padded cups, which feature breathable fabric lining and a smooth look. Optional straps are included, allowing for several different uses.
Purchase the DELIMIRA Women's Strapless Bra from Amazon starting at $26.95. 
Best pasties for when you don't want to wear a bra at all
Pasties are already beloved of burlesque performers, but they can actually come in quite handy if you've got a particularly complicated outfit and/or don't feel like wearing a bra. Particularly for less well-endowed women, pasties are a godsend. These provide a seamless effect thanks to their ultra-thin matte material, which also guarantees imperceptible coverage all day long. In fact, you might forget you're even wearing anything. Waterproof, reusable, and easy to clean and transport, these pasties are ideal for use under sheer tops or particularly skintight dresses — just bear in mind they will give you an uncanny Barbie look, too.
Purchase the Nippies Nipple Covers for Women from Amazon for $25.00.
Best strapless bra without underwire
As crucial as underwiring is for strapless bras, there are often times when it simply won't do. This strapless, sweetheart-cut bra foregoes underwire in favor of wire casing instead, while the lined foam ensures extra comfort and support. The silicone elastics, meanwhile, keep it from moving an inch. Adjustable, removable straps provide the option to wear this bra many different ways.
Purchase the Maidenform Women's Love The Lift Demi Strapless Multiway Bra from Amazon starting at $14.96. 
Best convertible strapless bra that you can wear with everything
This strapless bra is such an all-rounder you might not need to buy another one ever again. Complete with multiple straps, it's like buying several different bras in one. It features thick, padded and molded cups with underwire to provide moderate support and a natural shape for daily wear. Given its push-up nature, this bra is slightly sexier than others, so it's also ideal for low-cut dresses, in particular. 
Purchase the Plusexy Women's Push Up Strapless Bra from Amazon starting at $21.88.