Scalp Psoriasis Vs. Dandruff: The Best Shampoos To Treat Each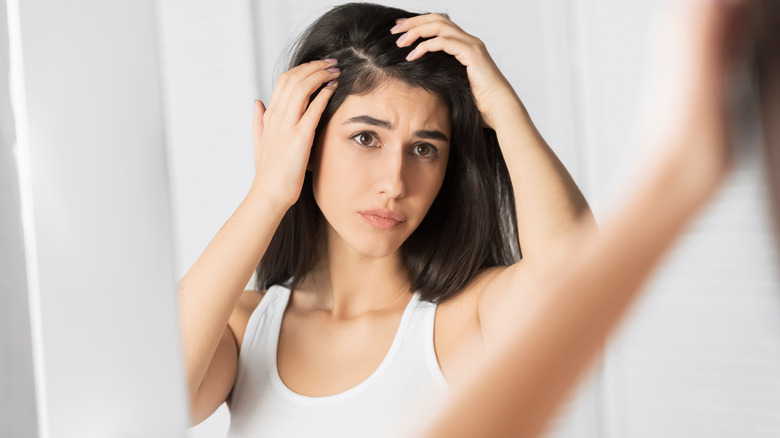 Prostock-studio/Shutterstock
We may receive a commission on purchases made from links.
If you're suffering from an itchy, flaky scalp, your first instinct may be to think that you have dandruff. While dandruff is a very common skin condition that can be treated at home, according to WebMD, it could be something more serious. Scalp psoriasis is a chronic autoimmune disease that requires diagnosis by a doctor who can give you a treatment plan that often starts in the shower.
Whether your irritation is caused by unpleasant dandruff or something more severe, such as scalp psoriasis, don't fret because there are ways to alleviate the symptoms for both. One of the best ways to tone down your itchiness and irritation is with an effective shampoo that utilizes certain ingredients to fight against your condition. Whether you have dry or color-treated hair, it's best to do your research to find what is right for you. Here are some of the best shampoos for both dandruff and scalp psoriasis.
The best shampoos to treat dandruff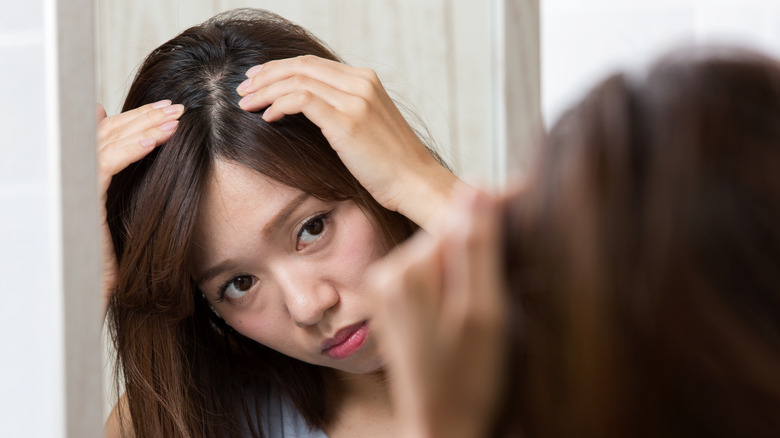 kei907/Shutterstock
Joshua Zeicher, director of clinical research at Mount Sinai Hospital, and Francesca Fusco, a New York City-based dermatologist, both recommend the following shampoos that contain pyrithione zinc, a primary ingredient that reduces dandruff, according to Prevention. 
Th Dove DermaCare Scalp Anti-Dandruff Shampoo ($4.88) is unique because it doesn't dry out your scalp like many anti-dandruff shampoos do. That's due to its use of the moisturizing ingredient shea butter. So, not only will this shampoo help combat pesky flakes, but it'll leave your hair looking shiny as well.
If you have color-treated hair, it's best to opt for L'Oreal Paris' EverFresh Anti-Dandruff Sulfate Free Shampoo ($11.16). While anti-dandruff shampoos are notorious for stripping hair color, this one works as a two-in-one for both treating flakes and remaining free of sulfates, salts, and surfactants. Those ingredients can be your hair's worst nightmare if you want your color to stay vibrant after washes.
Redken's Scalp Relief Dandruff Control Shampoo ($23) contains glycerin and lavender oil for hydrated, soft strands. The best part? It's clean, minty smell that isn't potent or overpowering like many medicated shampoos can be.
Best shampoos to treat scalp psoriasis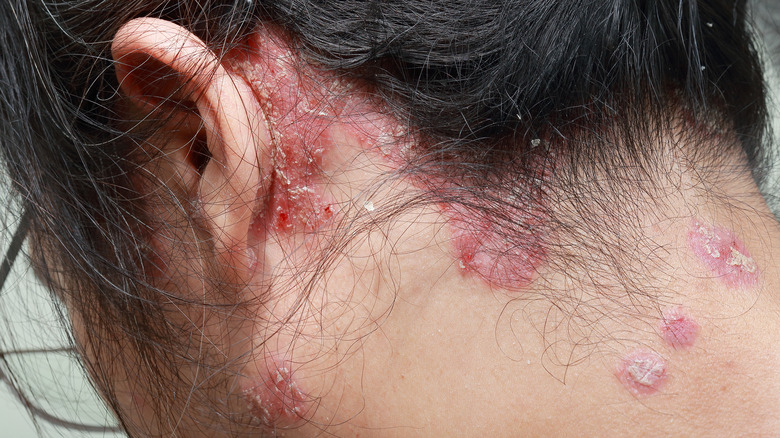 surachet virunsap/Shutterstock
The two main ingredients that can help fight scalp psoriasis, according to the American Academy of Dermatology Association, are salicylic acid and coal tar. They help to soften and break down the plaques that prevent cells on your scalp from building up too quickly. Each of the shampoos listed below contains one of these ingredients.
The Neutrogena T/Gel Therapeutic Shampoo ($5.99) is a gentle yet effective option that contains coal tar. It reportedly relieves itchiness and dryness caused by psoriasis on its first use, and continues to offer relief even after rinsing. However, it is noted that those with dry hair types should avoid the product due to its use of sodium laureth sulfate.
Also containing coal tar is the MG217 Medicated Conditioning Shampoo ($12.99). This shampoo claims to be effective against irritation, itchiness, redness, and scaling. This shampoo is also unique because despite its use of coal tar, it leaves a refreshing, herbal scent. It is also important to note that coal tar increases your skin's sensitivity to the sun for the next 24 hours after use.
The Kenkoderm Therapeutic Shampoo ($12.99) comes with 3% salicylic acid, which helps with itching and flakiness. According to Healthline, doctors recommend using this shampoo twice a week, and some with psoriasis say this is the only shampoo that actually helped them. However, it does contain sulfates, which is not ideal for color-treated hair.