This Show Just Won The Emmys And It Wasn't Even Nominated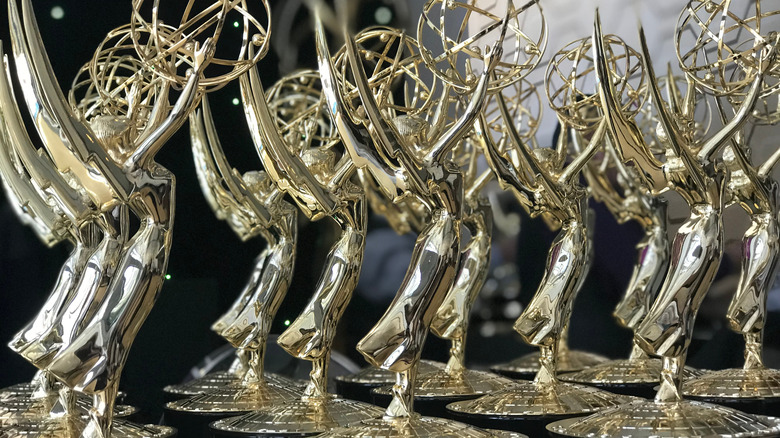 Joe Seer/Shutterstock
The 2021 Emmy for Outstanding Comedy Series went to the HBO Max show "Hacks," but it was the cast of the 2020 Emmy winner for Outstanding Comedy Series that thrilled the live audience of stars as well as the audience at home with their endearing brand of comedy — and may have very well won the night.
"Hacks" tells the story of a Las Vegas stand-up comic, played by 2021 Emmy winner for Lead Actress in a Comedy Series Jean Smart, who is trying to keep her career alive even when the casino where she performs seems to want to kill it. On stage during the 73rd annual Emmy Awards, the audience got a stand-up treat of their own from a quartet of performers who proved the chemistry they shared for six seasons on a small Canadian comedy series clearly lives on in everyone's hearts and minds.
Twitter goes crazy for the Roses back together again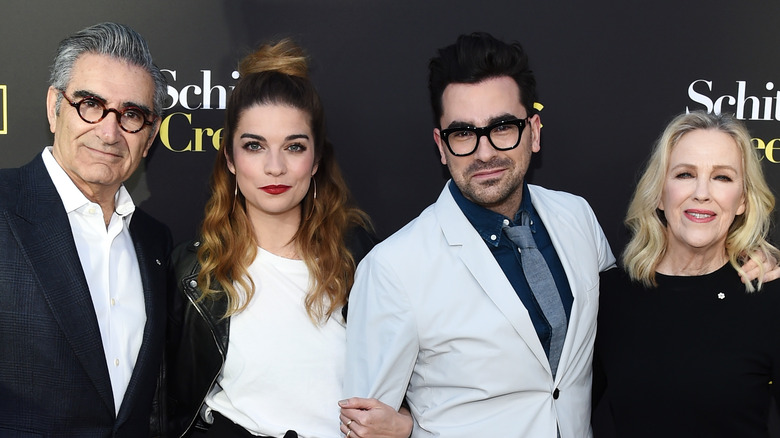 Amanda Edwards/Getty Images
When "Schitt's Creek's" Rose family walked out on stage, the audience cheered for Eugene Levy, Dan Levy, Catherine O'Hara, and Annie Murphy, but things immediately seemed amiss as Dan Levy didn't see any words in the teleprompter. His father, Eugene Levy, admitted in what was clearly a comedy bit that he asked for the writers to play with the script a little, prompting faux outrage from his son for angering the writers. When the gang returned to present the award for Outstanding Directing in a Comedy Series, O'Hara endearingly allowed her "Schitt's Creek" husband to read the winner.
And Twitter went insane, as social media gurus admitted how much they absolutely miss the show. "Hear me out — an award show but the only hosts and presenters are the cast of @SchittsCreek," one tweeter wrote.
"OMG I am living for @SchittsCreek's iconic cast presenting at the Emmys!" tweeted another fan missing this beloved sitcom crew.
"I am personally offended it was not a complete standing O for #SchittsCreek cast! Come on people!" wrote another.
Lucky for fans, the Levy brand of humor is coming to Netflix, as Dan Levy just inked a development deal with the streaming channel (via Variety).