How Conan O'Brien Completely Stole The Emmys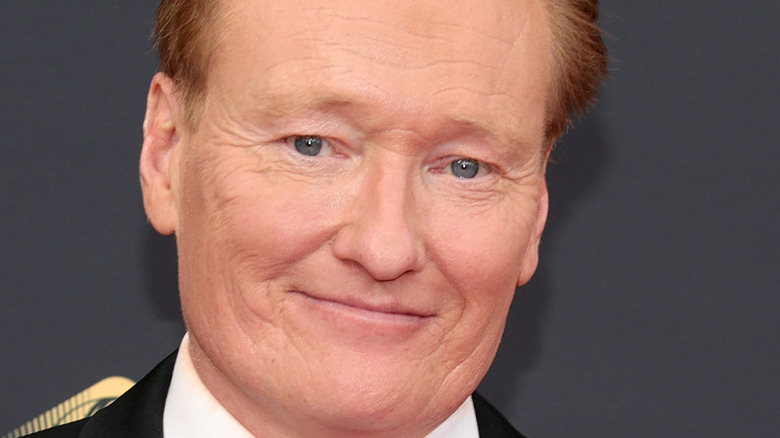 Rich Fury/Getty Images
Three decades is a long time to be doing just one thing, so late-night talk show fans watching the 2021 Emmys live or at home can be forgiven for thinking comedian Conan O'Brien would be up for some kind of Emmy recognition for his work in the medium (via Vulture). However, O'Brien's show "Conan" did not take home the award for Outstanding Variety Talk Series. Instead, that award went to John Oliver, who gave a shoutout to the late-night host on stage, saying, "Like many in this room, I was kind of rooting for Conan [O'Brien], so this is bittersweet" (via The Hollywood Reporter). 
Although, Oliver later said "[O'Brien] can take [the award] from my cold, dead hand," according to Deadline. However, there was little opportunity for O'Brien to step into the spotlight, so it appeared the comedian decided to create moments for himself. During the show, O'Brien gently heckled Television Academy President Frank Scherma by giving him an over-the-top round of applause, according to The Wrap, and then, leapt onstage when Stephen Colbert won an Emmy for his November 2020 election night special (via Twitter). 
Because this is live television, there was no way to predict how Conan O'Brien's antics would go down. In any case, it was striking enough to get social media talking.
Social media was divided by Conan O'Brien's antics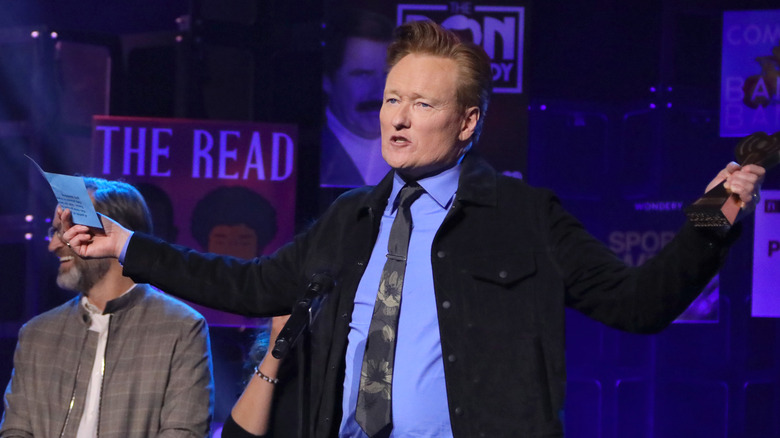 Jc Olivera/Getty Images
As with many things, Conan O'Brien's antics had social media divided. "I think [Conan O'Brien] should get an award for his shenanigans during the [Emmys]," one social media user said (via Twitter). Another sent a question into the Twitter void, asking, "How drunk is [Conan O'Brien] right now at the #Emmys?" But there were more than a few who were not impressed by O'Brien's antics, including this Twitter user who huffed, "WTF is wrong with Conan O'Brien? Besides the fact that he stood up shouting from the audience and interrupting the speaker but he was just on stage with his fly open on the [Emmys]?"
While some were a bit stunned when Conan crashed Stephen Colbert's acceptance speech, there was one Twitter user that pointed out an important exchange between the two: "Colbert waved him on and said come on. They're very close friends. You guys don't get friendly banter."
If there was any doubt about how his peers felt about him, John Oliver summed it up perfectly, saying, "It's hard to overstate the influence he's had on comedy writers. There's a whole generation of comedy writers who look to Conan to see what their sense of humor on TV for the first time. He's a monumentally influential figure to a lot of us" (via Deadline). 
Now if only the television academy could have parlayed that into a statue.