Queen Elizabeth's Former Royal Piper Made This Touching Revelation About Her Behavior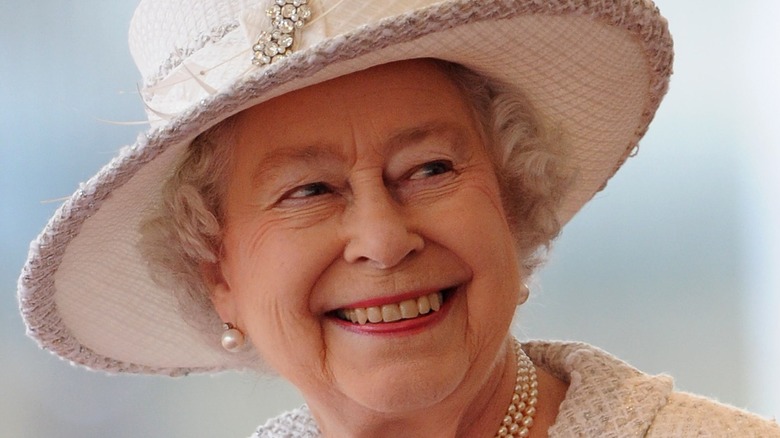 Wpa Pool/Getty Images
To most of the world, Queen Elizabeth can come across as a formidable figure. After all, she has ruled the United Kingdom for nearly 70 years. During that time, the queen has endured wars, social changes, natural disasters, terror attacks, family scandals, and personal tragedies — and stayed unflappable throughout. 
But one of her former staff members has seen a very different — and heartwarming — side of her personality. Scott Methven was the official Piper to the Sovereign for four years, a position created by Queen Victoria in 1843. The position involves playing the bagpipes every morning under the queen's window (much more dignified than using an alarm clock), as well as whenever the monarch wants a bagpipe tune (via Hello! Magazine). During the queen's stays at her Windsor Castle, Balmoral, or Holyroodhouse residences, the Piper also plays at the dinner table. He also supervises the bagpipe troupe that plays at state banquets.
Methven recently shared with People the warm relationship he has with Queen Elizabeth during his stint as her chief bagpiper. Far from being forbidding or cold, the queen showed her caring side toward Methven from the start, asking him how his first day on the job was going. When the British Army veteran admitted to not knowing his way around the palace, she assured him that she and her sister, Margaret, used to get lost too. "That's the best way to get around because you have to find your way back all the time," she told him.
Queen Elizabeth saw her chief bagpiper through his darkest time
Scott Methven describes his relationship with the queen as being full of lighthearted "banter" and "one-liners" (via People). The monarch even enjoyed ribbing him good-naturedly about his short height, but it was during a personal crisis that the queen truly came through.
In 2017, Methven and his family were staying in Balmoral so he could continue his duties during the queen's summer vacation. His wife, Morven, had been feeling ill, and the royal physician advised her to go into the hospital for tests. The news was grim and Morven had end-stage metastatic cancer. Following the diagnosis, Methven was prepared to play his evening shift, but the queen wouldn't hear of it. "Her Majesty says to me 'No. You're not playing. You're going to go to the hospital right now and sit with your wife.'" The palace staff looked after Methven's young children so that he could be at Morven's side.
In the months that followed, Methven had to cut back on his duties in order to support Morven through her cancer treatments. The queen resisted the British Army's suggestion that he be replaced with a less busy piper. Methven recalls, "She said 'I've got one Queen's Piper. And the reason he isn't here is that he's away caring for his wife. So, you are not replacing him under any circumstances.' ...To have someone of that position do that ... she was just brilliant."
The queen still keeps in touch with her former chief piper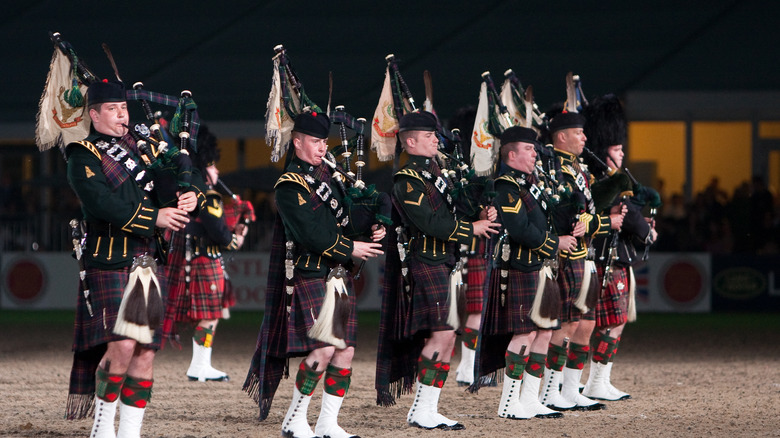 Kevin Day/Shutterstock
Tragically, Morven Methven died a little over a year after her diagnosis. Queen Elizabeth sent her equerry — her official representative — to the funeral, and after Scott Methven returned to work, she made it a point to ask how his children were coping. "All that sort of stuff," he told People, "Just really caring again. A typical sort of granny." 
Methven has since retired from his prestigious job, but he still plays at weddings and other events, per his Instagram page. His former boss still sends him "a wee message every now and then" to check in, which he finds "very endearing ... All the way through this the Queen was absolutely fantastic."
The royal tradition still continues, however, with the current Piper to the Sovereign playing a wake-up serenade to Her Majesty at 9 a.m. sharp. Presumably, this bagpipe expert has as good a memory for music as his predecessors; it's said that the queen doesn't like to hear the same tune twice, so her musicians have to have an extensive repertoire ready.