Middle Part Vs. Side Part: Which Is The Best Style For Your Face Shape?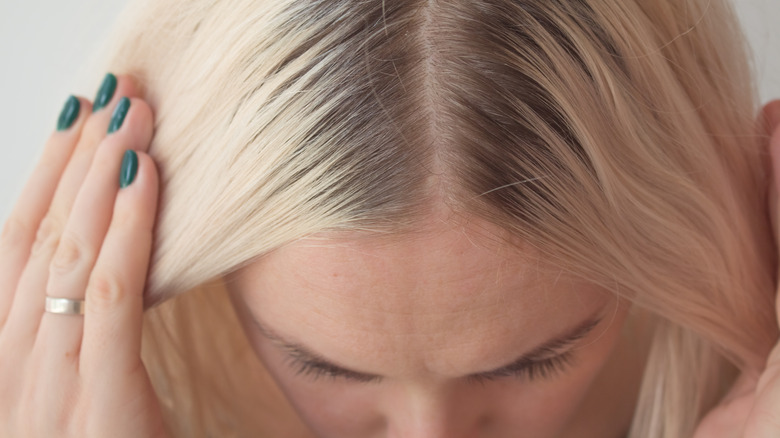 Vovk Natalia/Shutterstock
The battle between middle parts and side parts has been raging for decades, but the argument became even more heated when it started to pit Millennials against Gen Z. Gen Z firmly believes side parts are the way to go, whereas Millennials are convinced that middle parts are more flattering. So, who's right? 
Well, according to celebrity stylists, it depends on the shape of your face more than it depends on your age. 
According to the beauty guru Eva Scrivo, "if your face is square or round, an off-center part will make it look slimmer. A deep side part can add instant glamour and a 'red carpet' feel." (via Gotham). Scrivo is one of several stylists who have weighed in on the middle part vs. side part debacle, most of whom share the same thoughts when it comes to which part is most flattering for which face shape.
We've taken a closer look at the accumulated information to help you determine exactly which part is best for you—and to hopefully settle the debate once and for all!
Side parts work best for these face shapes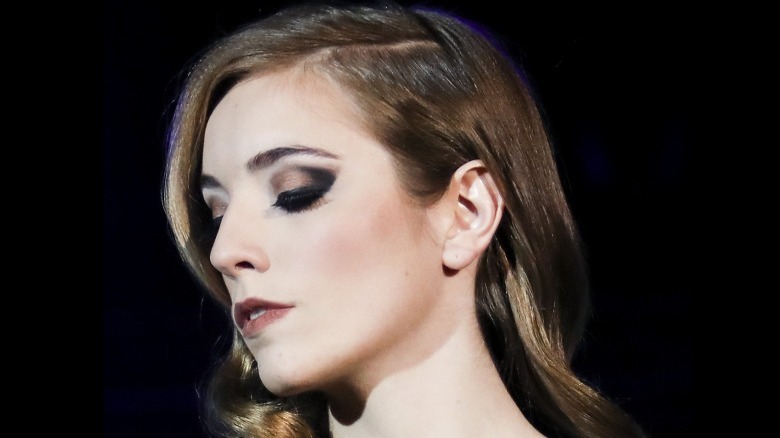 Rosdiana Ciaravolo/Getty Images
Beauty experts examining the middle part vs. side part discussion have offered some helpful advice in terms of what style is best for your face shape. Julien Farel, the creative director and owner of Restore Salon and Spa, had this to say: "For a square face, I recommend an extra-deep side part to highlight your features" (via Gotham). Farel added, "A heart-shaped face does well with a deep side part which breaks up the chin line that can be pointy and will soften and highlight your cheekbones."
In addition to providing this useful starting point, Farel mentioned to Gotham Mag that people who have strong cheekbones can generally rock a side part regardless of their overall face shape. InStyle suggests that side parts also work well for people with oval face shapes, especially if you have a strong brow.
If you're realizing that you've been parting your hair wrong this whole time, there's no need to panic. Farel has you covered here, too. "Use a fine-tooth comb to direct your hair in the new direction of your part and then the blow dry will keep the part perfect." Add some light hold gel the first few times you part your hair differently to ensure it holds properly.
Middle parts are best for symmetrical face shapes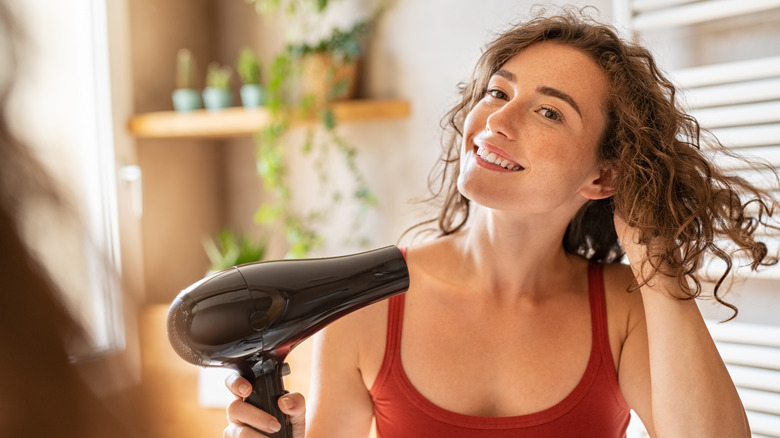 Rido/Shutterstock
Celebrity hairstylist Cheryl Bergamy says that middle parts work best for people whose faces are more or less symmetrical (via InStyle). Eva Scrivo echoed this sentiment and said, "A center part works well on women with symmetrical face shapes, as the hair is equally balanced from left to right. It also has a more casual, relaxed feel to it and perhaps less professional" (via Gotham). L'Oréal Professionnel national artist Brandon Curtis also recommends a middle part for people who want to conceal thinning hair or hair loss because of this balanced look (via Hair.com).
If you have a symmetrical face but a high forehead, Scrivo recommends blow-drying the hair forward to soften the overall look. This works well regardless of whether you're straightening your hair, wearing it curled, or allowing it to dry into its natural shape and texture.
Even though these guidelines exist, the way you part your hair is ultimately down to your personal preference. Play around with your part to see which style you like best and find most flattering for your particular taste, and then wear the look with confidence!