Meet Joshua Bee Alafia, Yaya DaCosta's Ex-Husband
Larry Busacca/Getty Images
Actress Yaya DaCosta has created a name for herself in Hollywood. Although she is perhaps most well known for her breakout role portraying Whitney Houston in Lifetime's "Whitney" in 2015, DaCosta has a long history in acting. Following her days on "America's Next Top Model," she had over 33 roles in several television shows and movies, per IMDb. In an interview with Essence, the actress recalls the experience of portraying the cultural icon, who she idolized growing up.
"When I was growing up," she explains, "I was a fan of hers. I was a little sister of hers, a daughter of hers. I just saw myself in her so much, especially as an adolescent trying to come into my own and trying to feel beautiful in a community where the very slender girl isn't always seen that way." 
Since then, the former model has continued to delve further into the entertainment industry. From 2015 to 2021, she played April Sexton on "Chicago Med." Newsweek reported that DaCosta is leaving the hit television show to head the cast of Fox's "Our Kind of People." She will play a haircare mogul attempting to reclaim her family's name among the elite Black families of Oak Bluffs.
We know a lot about DaCosta, but who is Joshua Bee Alafia, her ex?
Who is Joshua Bee Alafia, Yaya DaCosta's ex?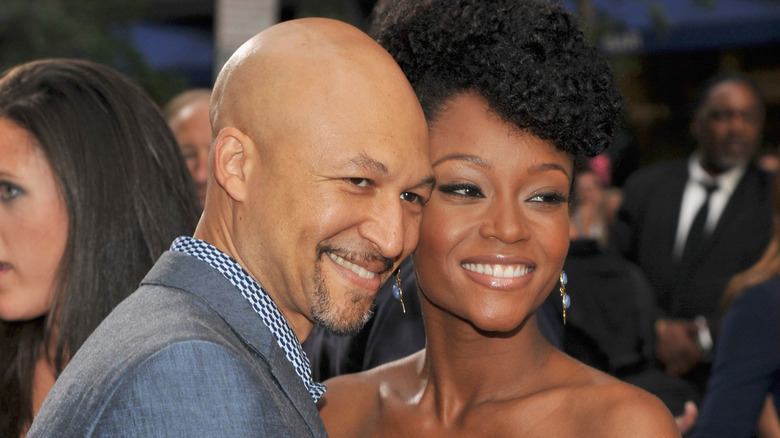 Kevin Mazur/Getty Images
Yaya DaCosta was previously married to independent film-maker Joshua Bee Alafia, who has numerous credits on his IMDb page. Along with making films, Alafia is a meditation teacher. In an interview with Buddhify, Alafia explains how his passion for meditation and filmmaking intersect. "I approach filmmaking with the same kind of reverence and honor as teaching meditation," Alafia states. "You're in the position of guiding the mind through a story in a very meticulous methodical way, releasing information as it's appropriate. You don't just cut to the moral of the story in the first two minutes, you know? It's a journey. A lot like the journey of leading someone into relaxing the body."
DaCosta explains that she and Alafia broke up after the birth of their son, Sankara, born in 2013. Reports show that she filed for divorce in 2015 in Manhattan Supreme Court, according to Page Six. Per Essence, Alafia and DaCosta wed in June 2012. However, after filing for divorce, DaCosta told MadameNoire that she never married Alafia.
"Because I never talk about my personal life, it's hard to dispel rumors," DaCosta said in response to a question regarding her divorce. "But no, I never got divorced because I was never married." Whether or not the couple was actually married is still up for debate, but it appears both parties are working toward a healthy co-parenting relationship.
"I definitely make it a point to ensure that my son has a relationship with his father," she shared with MadameNoire.