This One Product Is The Worst Thing LuLaRoe Ever Made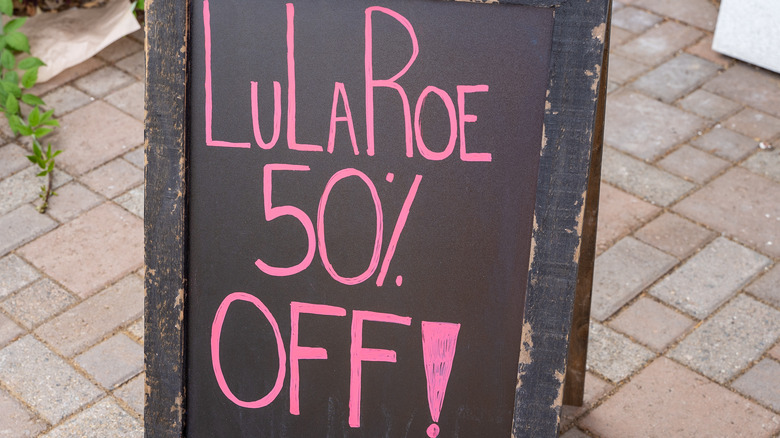 melissamn/Shutterstock
California clothing company LuLaRoe has been making headlines in 2021 not for its brightly-patterned leggings, but thanks to the Amazon docu-series, "LuLa Rich." The four-part series takes a look inside the brand and how it went from "selling girl-boss dreams" to being accused of operating as a multi-level marketing scheme. 
LuLaRoe was first birthed as a company in 2012 by CEOs DeAnn and Mark Stidham and is named after the couple's granddaughters: Lucy, Lola and Monroe. It started with DeAnn selling maxi-skirts out of the trunk of her car, but by 2016, was worth over $70 million (via New York Post). This is in part due to Mark's idea of requiring "start-up" fees and paying consultants for new recruits. Eventually, the majority of the company's income was coming from recruits as opposed to the actual merchandise.
Reminiscent of old-school MLM brands like Amway, the company was especially attractive to stay-at-home moms as an opportunity to make their own money on their own time. Unfortunately, the wide-spread success was short-lived and after a slew of lawsuits against the company including copyright infringement, quality control issues, unfair refund policies and deceptive practices, LuLaRoe was forced to pay a $4.75 million fine (via Good Housekeeping).
LuLaRoe is still up and running today, including many of the same styles that first attracted its target customer base. However, there's one clothing item that has TikTok ranting and raving.
The LuLaSuit is just adult pajamas
LuLaRoe's signature "LuLaSuit" features matching head-to-toe outfits in various patterns including flowers, animal print, and yes, even hot dogs. TikTok user Roberta Blevins took to her account to describe these unique "lewks," calling the LuLaSuit "a matching top and bottom ... it almost seems like a joke, but it's LuLaRoe so it almost seems like it could be real."
The matchy-matchy nature of these bright, incredibly loud outfits confused many a TikTok follower. The number one question being, what type of event are these pajama-style outfits meant to be worn to? According to Blevins, these fashion statements have been worn to a Fourth of July barbecue, the grocery store, DisneyLand, and even on a romantic cruise. 
Despite these questionable outfit choices, along with their previously mentioned legal troubles, LuLaRoe remains in business today. It's unclear how well the brand is doing compared to their mid-2010s boom, but if you dare venture to their website, you'll find a clear mission statement for the future: "to provide an opportunity for people to create freedom by selling comfortable, affordable and stylish clothing" (via LuLaRoe). Apparently style is in the eye of the beholder.