The Truth About Prince Charles' Alleged Affair With William And Harry's Nanny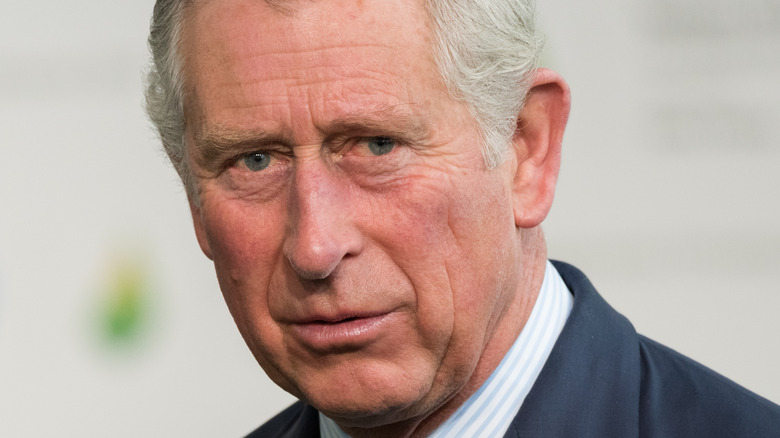 Frederic Legrand - COMEO/Shutterstock
There have been long-standing, long unproven rumors that Prince Charles may have been unfaithful to Princess Diana with his sons' nanny, Tiggy Legge-Bourke. People Magazine reports that Legge-Bourke was hired by the royal family in 1993 to help care for Charles and Diana's two young sons, Prince William and Prince Harry. Diana and Charles had separated at the time — although they had not yet divorced. 
Legg-Bourke soon became close enough to the royal family that she accompanied them on vacations. She has since maintained a close relationship with both princes, who attended her wedding in 1999, at which time she stopped working for the royal family. In addition, Legge-Bourke was a guest at Harry's wedding to Meghan Markle in 2018 and later named the godmother for his oldest child, Archie.
However, before Diana's death in 1997, the princess reportedly had strong suspicions that Charles may have cheated on her with Legge-Bourke. Rumors ran wild about the alleged affair, especially after Charles was photographed kissing Legge-Bourke on more the one occasion ... although on the cheek (via Daily Mail). It was even suggested that the nanny may have become pregnant with Charles' baby at that time. Those rumors were intensified after journalist Martin Bashir reportedly used deceitful methods to get an interview with Diana, in which he allegedly presented her with a fake "receipt" for an abortion (via The Telegraph). According to Daily Mail, Bashir also whispered to Diana that her husband had vacationed with Legge-Bourke in secret. 
Tiggy Legge-Bourke's enduring relationship with the royal family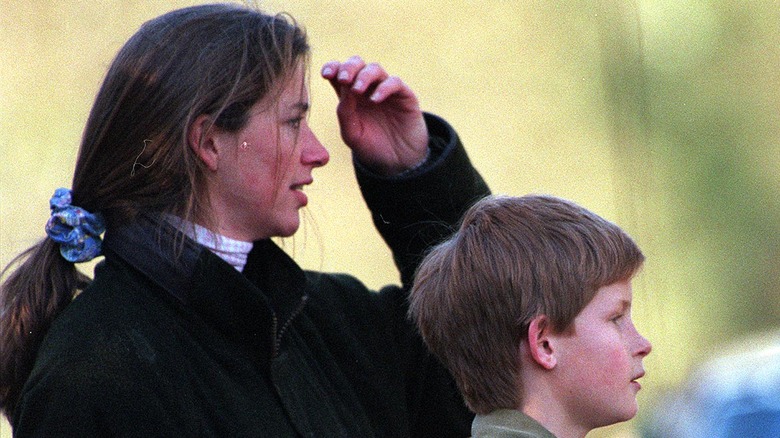 Anwar Hussein/Getty Images
Media rumors may have largely misconstrued Tiggy Legge-Bourke's (non)relationship with Prince Charles, but the gossip columns seem to have been right about another thing: the nanny's close bond with both William and Harry. While in the royal family's employ, Tiggy allegedly began calling the two young princes "my babies." Insiders, Express assures its readers, described Legge-Bourke as simultaneously "a loving, liberal mother and a slightly wild big sister." For example, whispers Daily Mail, it was (maybe) Tiggy who gave Harry his first taste of cigarettes. Certainly, it was Tiggy who a 13-year-old William invited to his school's June celebrations — in place of either of his parents.
To this day, Legge-Bourke has seldom publicly talked of her time with the royals –  good or bad. In the absence of words, actions point to strong and enduring, familial bonds with her former charges. Beyond attending each others' weddings, Tiggy, William, and Harry have all taken formal steps to ensure that their relationships will last a lifetime. As per Daily Mail, William is godfather to his former nanny's youngest child, Tom. Harry is godfather to her oldest child, Fred. And, of course, Legge-Bourke is godmother to Harry's oldest, Archie. 
Legge-Bourke, clearly, has maintained her close relationship the princes. She also, however, seems to still be nurturing wounds from past media reports which disparaged her name and strained her relationship with Diana. Now, after a recent months-long investigation into Bashir's methods to obtain the interview with Diana, Legge-Bourke is seeking justice for the rumors that were exacerbated during the televised interview.
Tiggy Legge-Bourke to get six-figure payout decades after pregnancy rumors surfaced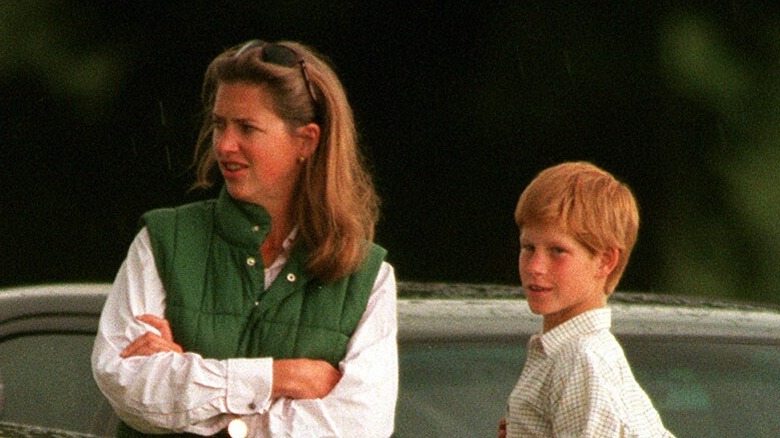 Anwar Hussein/Getty Images
According to Yahoo, the rumors that Tiggy Legge-Bourke not only had an affair with Prince Charles during his marriage to Princess Diana but also became pregnant with his child have basically been put to rest thanks to the investigation into Martin Bashir's BBC interview with the Princess of Wales. Now that Bashir's dishonest methods used to secure the interview with Diana have come to light, Legge-Bourke is said to also be getting some justice for the decades of rumors that have followed her around.
"Tiggy Legge-Bourke was right at the centre of Bashir's manipulation and it is right that the damage caused to her is recognised by the BBC," a source told The Telegraph. While the amount that the former royal nanny is being offered remains private, it seems that Legge-Bourke will likely receive a six-figure payout in the near future. Legge-Bourke has yet to publicly comment on the settlement, according to People. 
For his part, Bashir has claimed that he "deeply" regrets his actions when it comes to his interview with Diana, but claims that the Princess of Wales made the "personal choice" to "take part in the interview."
While no amount of apologies can change the impact of that interview or the rumors, it seems that Legge-Bourke's substantial payout will at least offer some amount of justice for William and Harry's former nanny and friend.