Brazilian Blowout Vs. Keratin: Which Is The Better Treatment For You?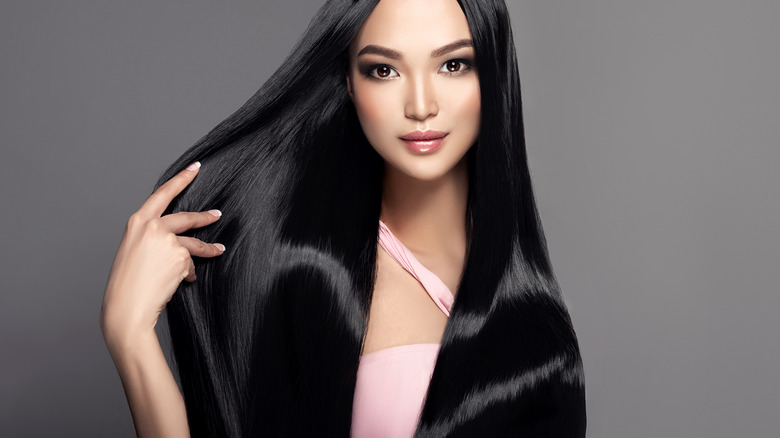 Sofia Zhuravetc/Shutterstock
Keratin and Brazilian blowout treatments took the world by storm when they hit the mainstream in hair salons in the 2000s (via The Full Spectrum Hair Salon), back when straight hair was all the rage. These treatments are ideal for those who suffer from frizzy and unmanageable hair, or just prefer to achieve that glossy, shiny look.
Many might think of the labels "keratin treatment" and "Brazilian blowout" as interchangeable, but this is actually not the case. While each treatment is a non-permanent, protein adding smoothing process that leaves you with less frizzy, shinier, and more manageable hair for about 12 weeks (via The Upper Hand), there are distinct differences between keratin treatments and Brazilian blowouts that the average person may not know. So if you're looking to get one of these treatments, but don't know where to start, keep scrolling to find out which one is best for your particular hair needs.
Brazilian blowouts tend to be more versatile than keratin treatments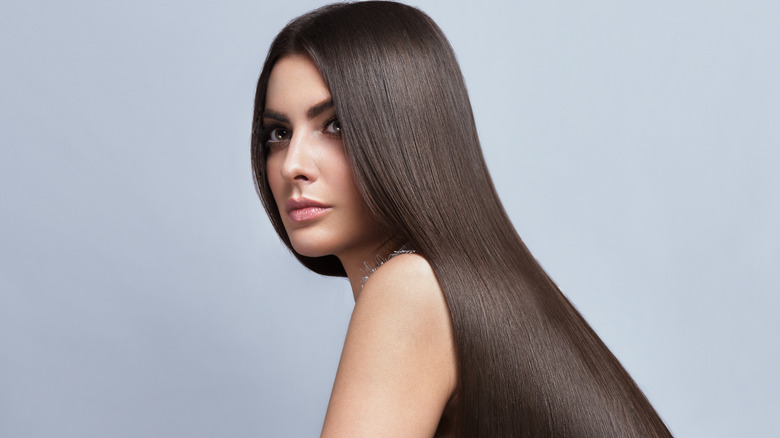 KOBRIN PHOTO/Shutterstock
The main differences between keratin treatments and Brazilian blowouts is that Brazilian blowouts are the "lighter" option, and are more versatile when it comes to the type of results you want with your locks. If you're not looking for a bone straight look, you can work with your stylist when it comes to a Brazilian blowout, as they can adjust the temperature of the straightener for what's right for you (via InStyle). However, if you have wild or unruly hair, a keratin treatment is the stronger option, and may be what you need to tame your hair for that ultra sleek effect. 
"Generally speaking, you will get more of a smoothing and deep-conditioning effect with a keratin treatment ... as it contains less harsh chemicals and silicones, which weigh down the hair and clog the scalp as compared to a Brazilian blowout," salon owner Arsen Gurgov told Today, who also commented that modern keratin treatments are more gentle and have been using less heat.
Another thing to note about keratin treatments is that if you have colored hair, keratin treatments actually lock in the pigment to make the color last longer while increasing vibrancy (via Setsuko Salon). It should also be noted that with keratin, you must wait 72 hours before washing or styling your hair, whereas with Brazilian blowouts, you're free to go about your hair care routine as soon as you leave the salon.