What Does It Mean When You See A Teal Pumpkin At Halloween?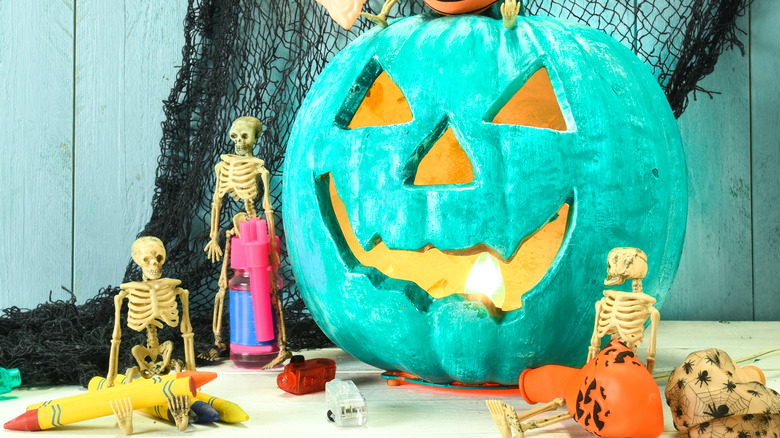 Lost Mountain Studio/Shutterstock
Halloween has evolved over the years from a simple spooky holiday to a month-long extravaganza. Even before the last of the summer heat has faded, homes start to glow in orange and purple lights, store shelves overflow with bags of candy and skeleton décor, and cable schedules are packed with scary dessert-making competitions and repeated airings of "Hocus Pocus" and "Beetlejuice." 
But some things never change about All Hallow's Eve, and the tradition of trick-or-treating is among them. Although the COVID-19 pandemic reduced the number of treat-seekers on the streets in 2020, the 2021 turnout promises to be much higher. There are time-honored points of etiquette for trick-or-treating, such as only visiting houses that have their porch lights on. In recent years, another tradition has taken root: the teal pumpkin.
If you see a pumpkin painted that pretty shade of greenish-blue on a front porch on Halloween, it's not just a random style choice. The unusual decoration is actually a signal that the household is safe to visit for families whose children have food allergies. According to FARE (Food Allergy Research & Education), the organization who created the trend, one in 13 American children currently has allergies to foods such as nuts, eggs, wheat, dairy, seafood, and other ingredients (via FARE). For these children, being exposed to the allergen can cause reactions ranging from rashes and stomachaches to life-threatening anaphylactic shock. Their parents quickly learn to be vigilant about reading food labels, asking restaurants about their ingredients, and looking for signs of distress.
Here's how you can make Halloween fun for all trick-or-treaters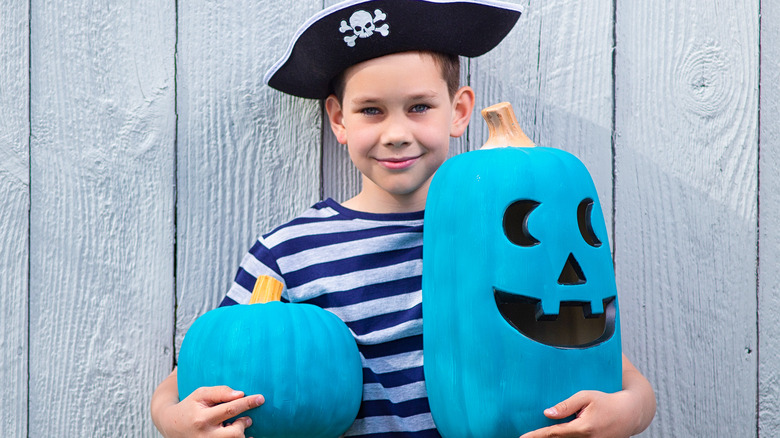 EvgeniiAnd/Shutterstock
For parents whose children are affected by food allergies, Halloween can be a stressful time. They have to make sure their excited trick-or-treaters don't sample their loot before the wrappers can be inspected for allergens. (Mini-candy bars may not have the same ingredients as their regular-sized counterparts.) Parents also have the tough task of explaining to disappointed children why some of their candy haul has to be thrown out or given away. The Teal Pumpkin Project aims to make these families' lives easier. People who display these special pumpkins have committed to offering non-food treats along with (or instead of) candy. 
Anyone can participate in the Teal Pumpkin initiative. All you need is the pumpkin itself (available at Michaels and other craft stores, or paint your own), plus a collection of alternate items such as stickers, glow sticks, mini-playing cards, or plastic jewelry. FARE suggests posting a sign on your door or porch announcing that you have alternate treats for kids with allergies.
Another Halloween option for families affected by food allergies is the "Switch Witch." As detailed by the Switchwitches website, the Switch Witch is a kind magic-maker who needs lots of candy to make her broom run. After trick-or-treating, families leave out the candy the kids can't eat, and overnight the Witch trades it for small toys, books, and other non-food treasures. Kids find it easier to give up some of their hard-earned loot if they know they'll get something just as nice in return.