Inside Megan Fox And Kourtney Kardashian's Relationship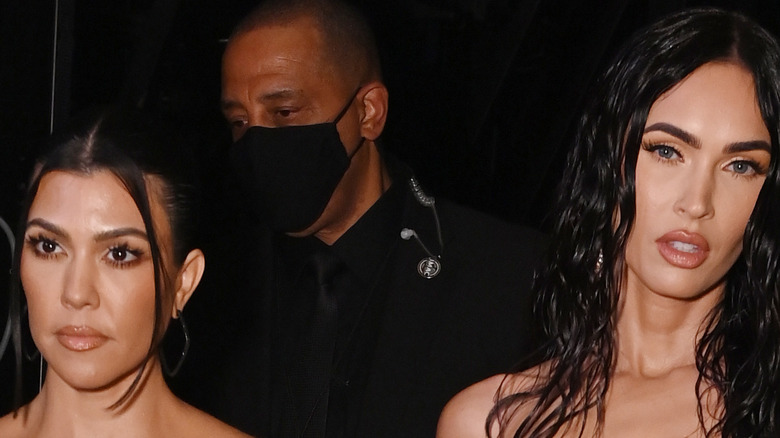 Bryan Bedder/mtv Vmas 2021/Getty Images
Machine Gun Kelly and Travis Barker are both known for blowing up the music scene, but recently their collaborations have been sending fans into a frenzy. The rockers have been making headlines for their collaborations, and even performed together at the MTV Video Music Awards earlier this month (via Billboard). However, their friendship isn't a new one. The pair have actually known each other for quite some time. During a recent interview, Kelly opened up about his hit record "Tickets To My Downfall," and how Barker helped him make the album.
​"This whole thing started out with one studio session. We've been great friends for a decade. So this was just like, ​'Hey, let's just do a random day of work.' The energy was so immense that came from it," Kelly confessed (via Kerrang). "It was so powerful that Travis was like, ​'F*** it, I'm blocking off two months of my life and we're doing this album.' So I know it has some of that feel and some of that album's classic nostalgia in this because otherwise we wouldn't have just stopped everything we were doing to do this."
Since Kelly and Barker are such good friends, and obviously spend a lot of time together both in and out of the studio, it seems fitting that their girlfriends, actress Megan Fox and reality star Kourtney Kardashian would also be friends.
Megan Fox and Kourtney Kardashian have grown very close thanks to their boyfriends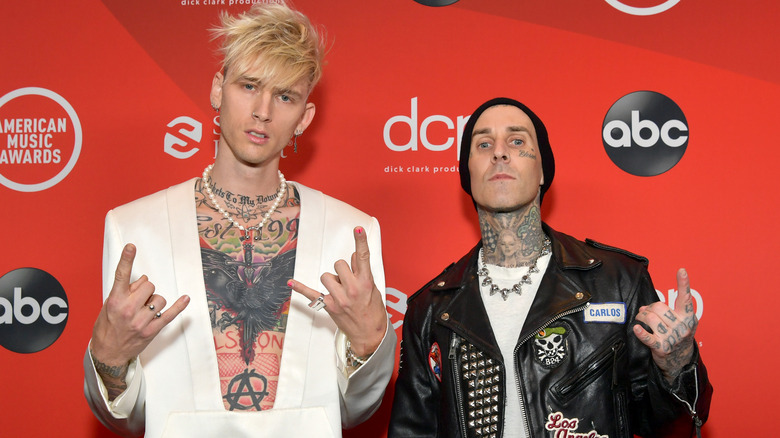 Emma Mcintyre /ama2020/Getty Images
Us Weekly reports that Machine Gun Kelly and Travis Barker hang out a lot, and they often have their girlfriends Megan Fox and Kourtney Kardashian with them. So of course the two women have struck up a friendship themselves. The couples appear to have a lot in common and share similar vibes, which may make them perfectly suited to be friends.
"Megan and Kourtney have grown closer as friends over the last two months. They act like best friends when they're together," a source told the outlet. "Kourtney has been spending more time with Megan than some of her sisters. It's mainly because she and Travis are inseparable, and Travis and Machine Gun Kelly are very close, so usually, they bring along their girlfriends to hang out with them."
The source went on to add that the two sets of lovebirds often go out for date nights together, and enjoy doing a lot of the same activities. "Travis has a recording studio in his house so him and MGK will jam out there a lot. Travis introduced Kourt to Megan through MGK," the insider said. "As a group, they like to go on double dates, concerts, events together — it spices things up. Travis and MGK are happy Megan and Kourtney have gotten to bond and get along well with each other," the insider dished.
The couples have definitely been making a splash with their relationships over the past year, and many fans are loving the dynamic between the four stars.