Mary Trump Shares The Harsh Truth About Don Jr.'s Role In The Trump Family
If there's anyone who knows the Trump family dynamic inside and out after observing it up close and personal throughout her childhood and off and on during her adult life, it's Mary Trump, niece of the former president and daughter of Donald Trump's late older brother, Fred Trump. Mary's first book, "Too Much and Never Enough: How My Family Created the World's Most Dangerous Man," tells the story of the Trump family and how she feels her grandparents' rigidness and neglect led to her uncle becoming emotionally damaged.
The former president's niece can often be found giving her opinions on Donald and other family members based on knowing them throughout her life and from what she observes in the media. When it comes to Donald Trump Jr., the eldest Trump son who frequently posts incoherent rants about his father's perceived enemies on social media, his cousin Mary has some solid opinions on what his role is as part of the Trump clan.
Mary Trump compared Don Jr. to her own father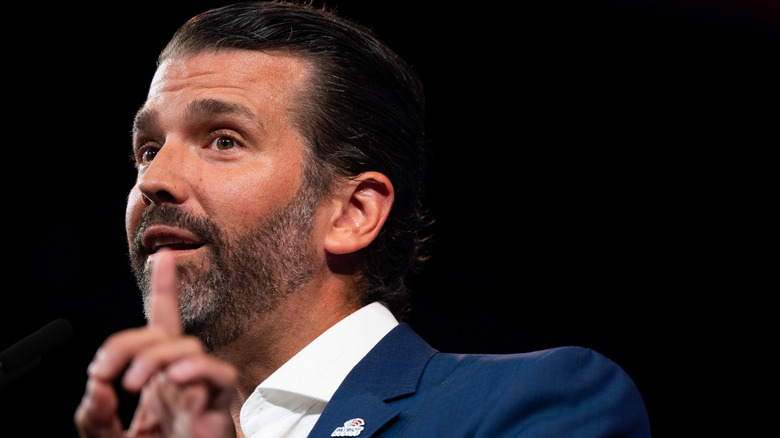 Brandon Bell/Getty Images
Although Donald Trump Jr. is considered a senior advisor to his father as of this writing, and the pair offered commentary on a pay-per-view heavyweight fight on the 20th anniversary of the September 11 attacks this year, it was not Don Jr. who Donald Trump wanted with him during his four years in the White House. Instead, it was Donnie's younger sister, Ivanka Trump, who was there every step of the way, along with her husband, Jared Kushner.
On the podcast "Unpresidented," Mary Trump spoke with John Aravosis and Cliff Schecter on September 21, 2021 and explained that Don's place in the family has echoes of her own father's place. Fred Trump Jr. was the eldest of Fred Trump's sons, and both his refusal to work for the family business, as well as his premature death, led her uncle to become the favored child and heir apparent the same way Ivanka seems like her own father's favorite.
Mary Trump explained why her uncle favors Ivanka over Don Jr.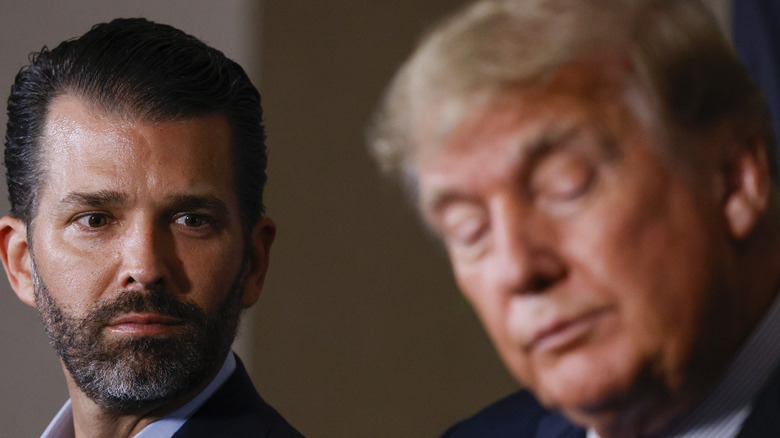 Douglas P. Defelice/Getty Images
While Mary Trump admitted that her father and Donald Trump Jr. didn't grow up with the exact same situation and are not the same people, she does understand how Don Jr. seems to get the short in the sibling rivalry game.
"Just in terms of the situation into which he was born, he shares that with my dad," she said. "You know, the oldest son of a 'powerful person' ... I think Donnie was born with the same expectation that my father was born with, which was, you're the oldest son. You carry the name ... and you must follow in the footsteps and surpass what your father has accomplished, and you have to do it exactly according to his preferences," (via Raw Story).
Mary went on to explain her cousin's predicament further and also noted that he is allegedly the least intelligent of the Trump children.
"[Donnie] had no intention of striking out on his own. He had no intention of doing anything but sucking up and toeing the line, and the problem is — one of the problems is — and who knows how this happens — but kind of the same problem that happened to him happened to my dad," Mary said. "My grandfather, for whatever reason, didn't like my father and saw something in his sibling Donald, and the only thing that's weird is that Donald did the same thing but with Ivanka." (via Raw Story)