Bar Soap Vs. Body Wash: The Best Brands For Each
Olena Yakobchuk/Shutterstock
We may receive a commission on purchases made from links.
We all want our skin to have a squeaky clean feeling after we step out of the shower, but how exactly does one achieve this? The answer is with a trusty cleanser that dislodges dirt from your pores. However, many might not know that there are two main types of body cleansers out there on the market today: bar soaps and body washes. But what's the difference between the two, and which one should you choose? While bar soap dissolves dirt on the skin's surface, body washes do the same thing while also containing a mixture of ingredients that can treat the skin. Healthline reported that bar soaps are best for those who have allergies, as bar soaps are easier to make hypoallergenic, and are also better for the environment due to their packaging. On the other hand, body washes are reportedly better for those with dry skin, acne, rosacea, and psoriasis, due to their hydrating ingredients.
While neither is inherently superior over the other, you may be wondering where to start in purchasing these cleansing products depending on your skin's needs. Luckily, we're here to help. Here are the best brands for both bar soaps and body washes.
The best brands for bar soaps are affordable options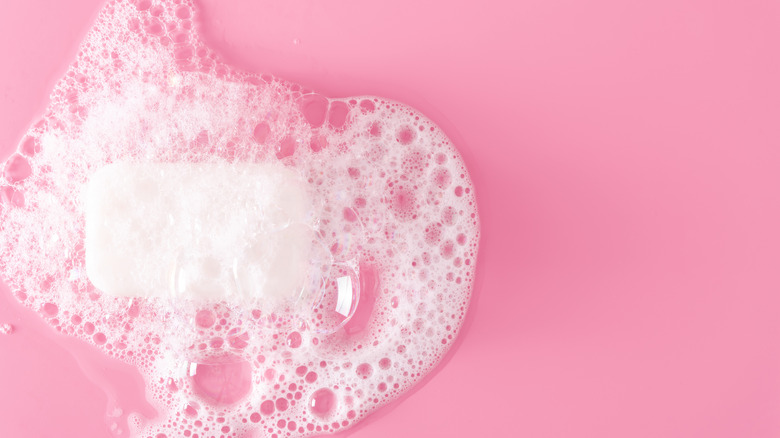 All for you friend/Shutterstock
Although they're called bar "soaps," a more correct term would be bar "cleansers," as soaps tend to disrupt the pH balance of the skin. To avoid this, make sure you're using a product without sulfates (via Women's Health).
Widely considered to be the original cleansing bar, Dove's White Beauty Bar Soap ($5.59) is a mild yet moisturizing formula that can be lathered on either the face or body without making your skin feel too tight. The best part? A little goes a long way, and the product itself lasts for a very long time (via Allure). CeraVe is a brand that's been formulated by dermatologists (via CeraVe), and their Hydrating Cleanser Bar ($5.49) lives up to their standards. Formulated with the brand's signature hydrating ceramides that restore the skin's barrier, you'll be left with a plumper, more youthful complexion (via Byrdie).
The L'Occitane Shea Butter Extra Gentle Soap ($10) is one of the brand's best selling products, according to their website. Byrdie reported that it is one of the best options for oily skin, because it replenishes the moisture it needs with its shea butter, without making your skin feel too greasy.
The best brands for body washes will clean and moisturize your skin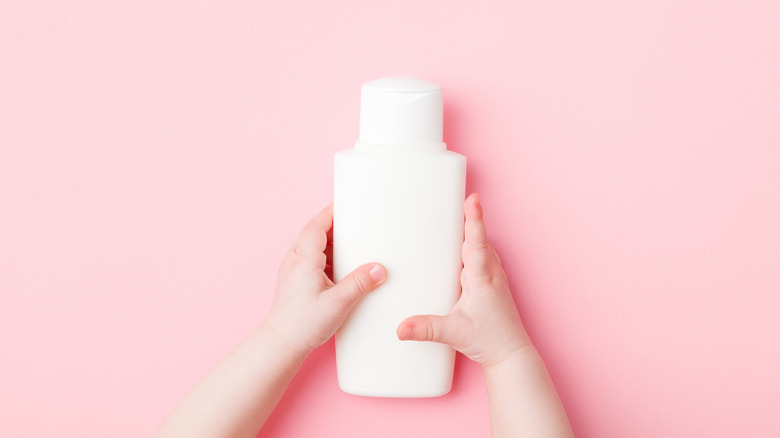 FotoDuets/Shutterstock
To make sure you have a body wash that doesn't strip the skin, look for one that's formulated with moisturizing ingredients such as shea butter, coconut oil, and glycerin.
The Olay Ultra Moisture Shea Butter Body Wash ($7.99) cleanses while moisturizing at the same time, making it ideal for those with dry skin. Its creamy formula leaves your skin feeling soft and hydrated, according to Allure. "It's very luxurious, moisturizing, and nourishing, and a little goes a long way," dermatologist Peterson Pierre told Byrdie. For a fragrance free option, the Cetaphil Ultra Gentle Body Wash ($27.99) is also ideal for those with dry skin, because it contains a moisturizing ingredient, glycerin, that draws water into the skin. People with sensitive skin will also benefit from this body wash because it is not irritating, and users report a lack of sticky residue after usage (via Byrdie).
Sol de Janeiro's Brazilian 4 Play Moisturizing Shower Cream Gel ($25) not only smells great, but has a rich formula with coconut oil that won't leave you feeling greasy. And according to The Chicago Tribune, you'll be left with silky skin with improved elasticity.