These Are The Anti-Aging Secrets Kourtney Kardashian Swears By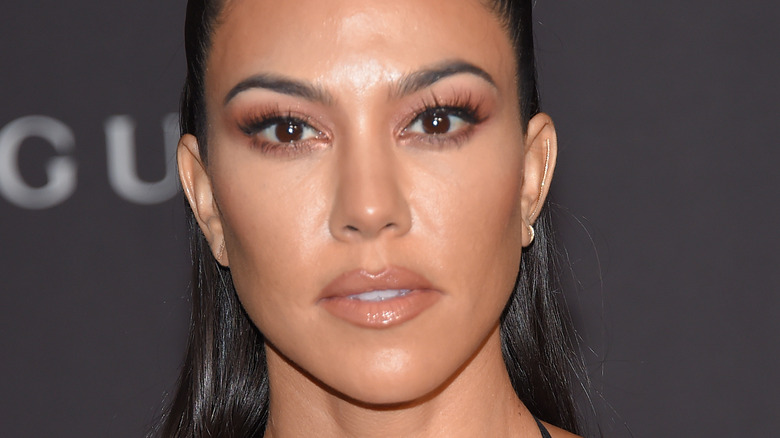 D Free/Shutterstock
Kourtney Kardashian's 40 and your mom's 40 may look slightly different. The reality star and mother of three keeps a close eye on wellness trends and likely gets help from a plastic surgeon, but she also has a few other anti-aging tricks up her sleeve that anyone can follow.
For instance, Kardashian only lays her head on silk pillowcases, Poosh reports. Known to reduce pulling on your delicate facial skin and even support healthy hair growth, this bedroom addition will likely leave you with noticeably softer skin. Since every tug and pull on your face can lead to sagging and wrinkles, it's worth investing in a smooth pillowcase to sleep on. Plus, she even has a tip for all of those old lotions that are sitting in your bathroom cabinet. The outlet notes that Kardashian takes old serums and moisturizers that didn't work well on her face and applies them to her body. Instead of letting them collect dust, your body will reap the benefits of the thicker products and reveal a softer appearance as well.
Of course, her diet is really strict. But, adding a daily collagen supplement is an easy way to support your hair, skin, and nails — just ask Kourtney! The outlet notes that collagen serves as the main protein in the body, and thus supports healthy cells across the board. Get ready for plump, supple skin from the inside out.
Kourtney Kardashian mainly uses natural skincare products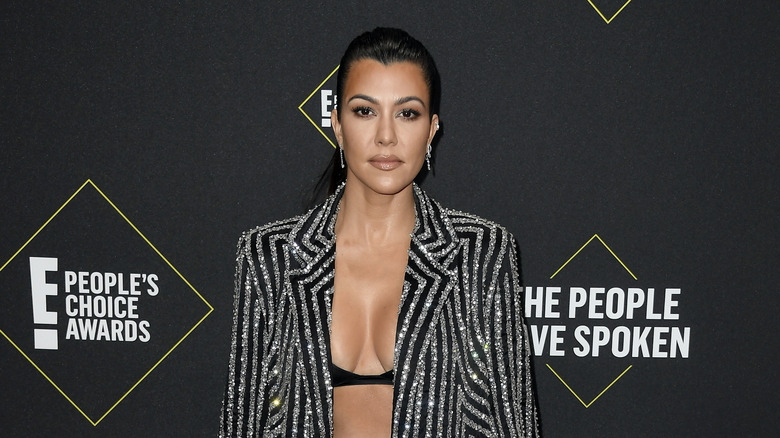 Frazer Harrison/Getty Images
Armed with a silk pillowcase, collagen supplement, and moisturizer, you can do Kourtney Kardashian's anti-aging routine too. However, the reality star also maintains a pretty firm stance on using only natural self-care products. She spoke with Vogue and revealed her skincare routine, starting with a homemade mask with honey. Once her skin is clean, she'll apply a charcoal mask and dab on hyaluronic acid afterward. After she spritzes with a hydrating mist, she tops off with sunscreen.
Kardashian then walked through some of her makeup staples, including a Make Up Forever concealer, and went on to explain that, while she tries to keep everything as clean as she can, it's not always possible. She works closely with the Environmental Working Group, an organization that lobbies for healthier personal care products. Their system scores different products based on the safety of their ingredients. "In living your best life, not every single thing [has to] score perfectly well," she explained to the outlet, "but we do our best."
By keeping things as natural as possible, Kourtney Kardashian glows from the inside out. Luckily, these tricks and tools aren't too far out of reach for the rest of us either!