Thick Vs. Thin Hair: The Best Shampoos For Each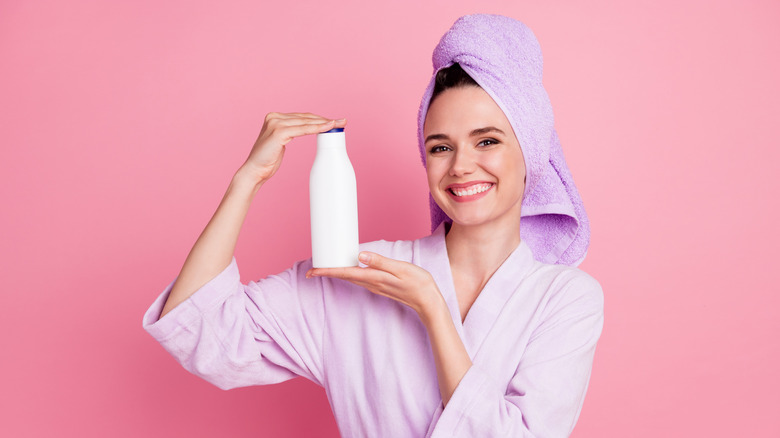 Roman Samborskyi/Shutterstock
We may receive a commission on purchases made from links.
The differences between thin and thick hair are within the width or diameter of a single strand, according to StyleCraze, and thin and thick hair tend to have very different needs when it comes to what products you should be using.
The Sun noted that those with thick hair often struggle with dry strands, so finding a shampoo that hydrates, strengthens, and softens while using a reasonable amount of product is ideal. They also said that for thick haired friends, it is best to gravitate towards ingredients such as oils and keratin for the ultimate moisturizing effects, and to stay away from sulfates as they can be too drying.
For thin haired owners, NBC reported that you should be looking for a shampoo that's clarifying, detoxifying, and deep cleansing, along with thickening and volumizing properties to avoid looking too limp.
Regardless of whether your hair is thick or thin, you might not know where to start when it comes to finding the right shampoo for you with the vast options out there. Luckily, we're here to help. Keep scrolling to find out about the best shampoos for both thick and thin hair.
The best shampoos for thick hair lock in the hair's moisture
Body Stock/Shutterstock
If you're looking for shampoo to tame your thick head of hair, you're in luck. The Garnier Fructis Sleek and Shine Shampoo ($4.49) is formulated with argan oil to help control frizz and add shine. It also has proteins that strengthen the hair, and fatty acids that add moisture. It also works well against humidity, is paraben free, and even offers UV protection (via StyleCraze).
The Kérastase Discipline Bain Fluidealiste Shampoo ($21) is ideal for thick hair because it is specifically formulated for unruly hair, which tends to be a common trend for those with thick locks. It not only cleanses and improves fluidity and movement to the hair with its morpho-kératine complex and ceramides, it locks in nourishing hydration as well, which is essential for thick hair's manageability.
The R+CO Bel Air Smoothing Shampoo ($29) is especially formulated for thick hair, because its non-greasy sulfate free formula is smoothing and balancing, and also allows for stronger, softer, glossy, and frizz free locks that fight against dryness and frizziness. It is also ideal for color treated hair, but due to its ingredients of plum seed oil and broccoli seed oil, it may leave oily hair looking too greasy.
The best shampoos for thin hair are gentle and nourishing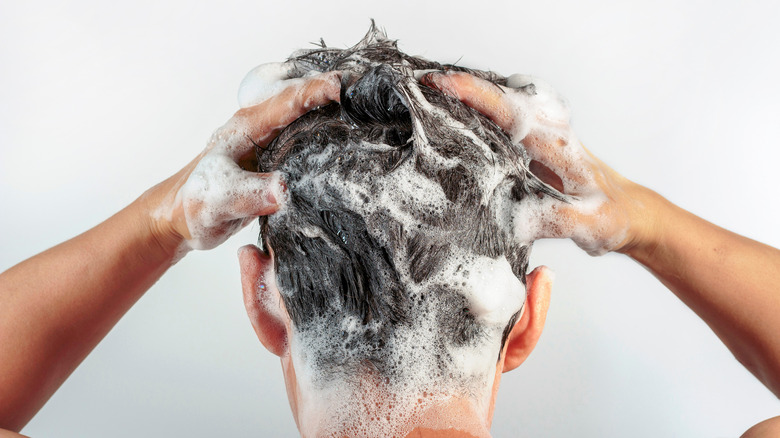 TanyaKim/Shutterstock
If you haven't been blessed with super thick hair, don't take it as a negative — there are shampoos out there that are designed for you. The L'Oréal Paris Serie Expert Density Advanced Shampoo ($14.54) not only volumizes and cleanses the hair, it thickens each strand and improves density with its rich lipid compounds and hair strengthening and stimulating formula. It also leaves a healthy shine after each use (via StyleCraze).
The Biotique Bio Walnut Bark Body Building Shampoo ($50) is ideal for those with frail strands, and is gentle and sensitive while also preventing further hair loss with its pH balanced formula for overall thicker, more voluminous, and softer hair along with a nourished scalp. However, it is important to note that it may take a few washes to notice results, and its formula is likely too mild for those who have dry hair.
The Giovanni Root 66 Max Volume Shampoo ($13.96) helps thinning hair and prevents further fallout and breakage with its horsetail plant extract, while adding volume and strengthening the roots. With no sulfates or parabens, it can also be used on dry, brittle hair as well.