When Should You Wear A G-String Or A Thong?
maxstockphoto/Shutterstock
Depending on your wardrobe, you might use thongs and g-strings interchangeably for the lingerie you own that leaves much of your backside bare. However, according to Leaf TV, the two types of panties, while similar, also have some notable differences. Although small, the thong typically includes more fabric than the g-string. A thong has a slightly thicker strip of cloth that goes over your backside and creates a v-shape at your lower back, which some people refer to as a "whale tail," especially when it shows over the waistband of your jeans. Meanwhile, a g-string consists of far less fabric, typically. Fleur du Mal founder and designer Jennifer Zuccarini told Refinery29 that, "G-strings are usually a small triangle of fabric in the front, and just elastic or straps everywhere else."
According to Refinery29, fresh underwear serves as the backbone of any good wardrobe, and the publication suggested you own both a g-string and a thong. If you have both, you might have questions about the purpose of each type of panty, so read on to find out when you should wear a thong and when you should pull out your g-string.
Here are crucial tips for wearing a g-string or a thong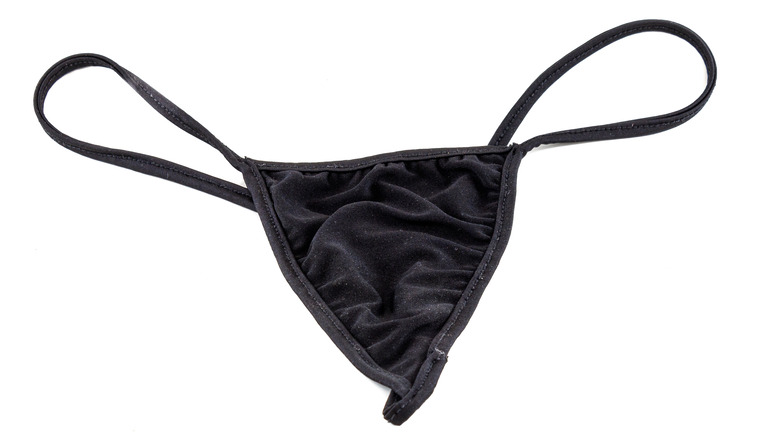 Aaron J Hill/Shutterstock
According to Leaf TV, designers often market thongs as swim or activewear, which means they use a heavier material to create it versus what they might use for a g-string. A well-made thong might work well under your yoga leggings or other workout clothes when you're breaking a sweat. Of course, daintier versions of thongs exist, but they still have the thicker strip of fabric that flows into a v-shape at your lower back. Sarah Jenkins, head of communications and strategy for Damaris and Mimi Holliday, explained the thong to Refinery29. "It's [the thong] considered, by some, to be the G-string's more comfortable counterpart," she said. You probably use one under any outfit that tends to show a visible panty line.
The skimpiest of underwear options, often called "floss," you might choose to wear a g-string for a romantic evening out, sleeping, or as a lingerie accent piece (via Leaf TV). Negative cofounders Marissa Vosper and Lauren Schwab told Refinery29 when a g-string works best. "G-strings are useful under body-con dresses and skirts, where you might otherwise go commando but aren't quite down with that program," they noted.
One caveat for both underwear styles — you need to be especially careful with your hygiene when wearing thong and g-string panties to help avoid infections.