Urgent Care Vs. The Emergency Room: Which Should You Go To For Your Ailment?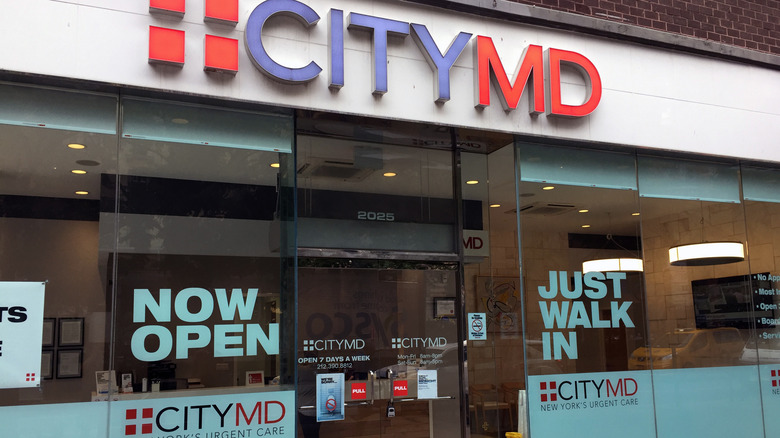 NYCStock/Shutterstock
Urgent care clinics have become as common in our neighborhoods as Starbucks cafés and dollar stores. With their convenient hours and short wait times (the average wait at walk-in clinics is 15 to 45 minutes, per Solvhealth), they're a godsend for anyone who needs quick medical attention but can't get to their primary care doctor. They also save hospitals a ton of time and money by freeing up staff and resources for true emergencies. According to a report from the Centers for Disease Control, nearly 80% of adults who visited hospital emergency rooms in 2011 — well before the boom in urgent care clinics — did so either because their own doctor's offices were closed, or because they had nowhere else to go for help.
But when you or a family member suddenly becomes sick or injured, it can be hard to judge whether to head for the clinic or the local ER. What do you do for that deep cut that won't stop bleeding? Is that weird rash anything to worry about? Is that discomfort in your chest just heartburn, or is it a heart attack? And what if you think you've been exposed to COVID?
As the Scripps website explains, the name "urgent care" can be misleading. The medical staff at urgent care clinics are equipped to take care of a variety of ailments that are serious but not life-threatening.
Urgent care is a good option when your regular doctor isn't available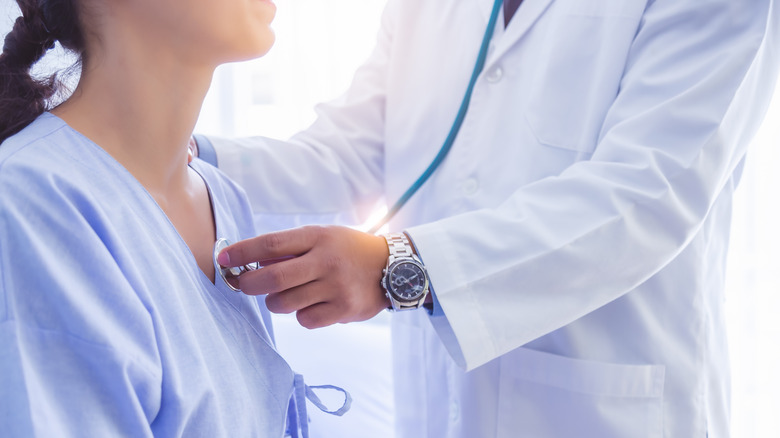 Nutlegal Photographer/Shutterstock
Muscle strains and sprains, vomiting and diarrhea, fever, simple earaches, wheezing, upper respiratory or flu-like symptoms, and urinary tract infections can all be treated at urgent care if your primary care doctor isn't available, says Mayo Clinic Health System. Urgent care facilities can also take X-rays, stitch small cuts, and perform tests for COVID, strep, and flu.
Walk-in clinics — the kind you see at some retail pharmacies — are a good option for symptoms that are bothersome but not serious. The staff there can treat symptoms such as sneezing, sore throat, mild cough, rashes without fever, eye redness, and painful urination. They can also conduct physicals for school or sports.
If you do opt for an urgent care facility, you'll make the process easier by coming prepared. Have your health insurance card handy if you have one, plus the names and dosages of any medications you currently take. You'll be asked about your medical history and your smoking and drinking habits; women may also be asked the date of their last period. Be ready to describe your symptoms, when they came on, whether they've worsened over time, and any treatment you've already tried (such as a pain reliever for a sore throat). If you're going to urgent care for a COVID test, you may be asked if you're experiencing any symptoms of the virus, or if you've had close contact with someone who tested positive.
Some symptoms should always be treated in the ER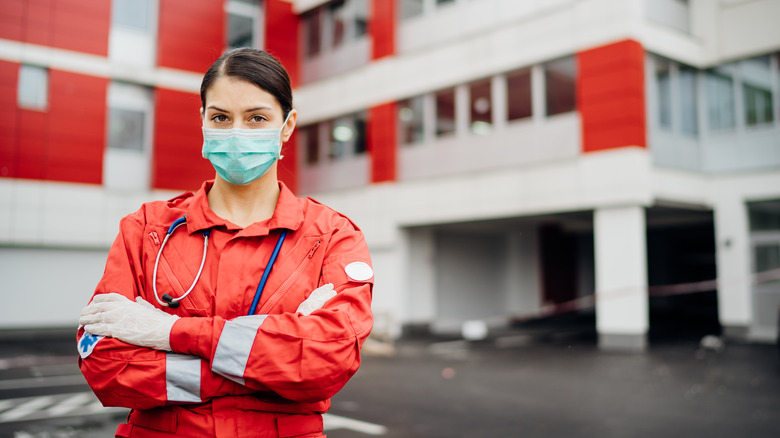 eldar nurkovic/Shutterstock
Other, more serious symptoms should always be treated at a hospital emergency room. These include chest pain or pressure, difficulty breathing, choking, broken bones, severe cuts or bleeding, severe head or eye injury, serious burns, seizures, rashes accompanied by fever, and stroke symptoms such as slurred speech, weakness on one side of the body, severe headache, and disorientation. Babies under 3 months old should also be seen in an ER if they run a fever above 100.4 degrees, and infants age 3 to 12 months need emergency care for fevers higher than 102.2 degrees (via Mount Sinai Health). A hospital is also the better option for sick patients who are also immunocompromised or being treated for a condition such as cancer. 
Hospital staff can treat a wider variety of symptoms and conditions than doctors at urgent care clinics. They have labs on-site for faster diagnoses, and if needed, they can admit patients for observation, further testing, and surgery. 
The important thing is to trust your judgment and err on the side of caution. That persistent pain in your chest may simply be heartburn or a muscle strain, but it doesn't pay to take chances; get to the ER right away. And if you're experiencing chest pain, faintness or shortness of breath, don't try to drive yourself to the hospital; call 911. In an emergency, getting prompt treatment can save your life.